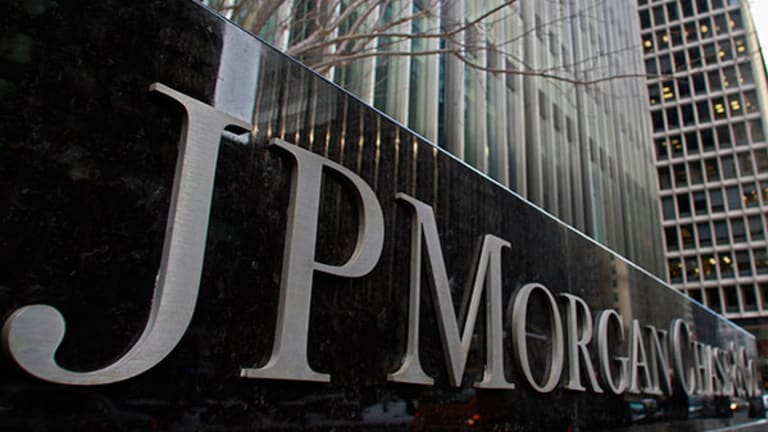 Publish date:
5 Big Breakout Trades to Buy This Week
Here's a look at how to trade some of the biggest stocks on Wall Street right now.
Here's a look at how to trade some of the biggest stocks on Wall Street right now.
U.S. markets managed an about-face on Wednesday, with the big market averages swinging from big losses early in the session to end the day squarely in positive territory.
Those same big stock indices are still down in 2016, but buyers are finally starting to assert themselves again. That's proving especially true in some corners of the market. While positive performers were few and far between this time last month, some 35% of the S&P 500 is up year-to-date.
And as stocks start to rebound at the end February, we're actually seeing breakout potential in some of Wall Street's biggest names. To take advantage of the turnaround, we're turning to the charts for a technical look at which big stocks are breaking out this week – and when to buy them.
First, a quick note on the technical toolbox we're using here: Technical analysis is a study of the market itself. Since the market is ultimately the only mechanism that determines a stock's price, technical analysis is a valuable tool even in the roughest of trading conditions. Technical charts are used every day by proprietary trading floors, Wall Street's biggest financial firms, and individual investors to get an edge on the market. And research shows that skilled technical traders can bank gains as much as 90% of the time.
Every week, I take an in-depth look at big names that are telling important technical stories. Here's this week's look at five big stocks to trade.

Altria Group


Up first on the list is Altria (MO) - Get Report . Altria is a perfect example of a stock that's "working" in this environment. This $121 billion tobacco stock is up more than 5.4% since the calendar flipped to January, outperforming the rest of the S&P 500 by double digits in the process. But zoom out, and Altria's recent move starts to look even more significant in the long-term. Shares look ready to kick off a second leg higher in March.
That's because Altria has spent the last few months forming an ascending triangle pattern, a bullish continuation setup that's formed by horizontal resistance up above shares (at $61 in Altria's case), and uptrending support to the downside. Basically, as Altria bounces in between those two technically significant price levels, shares have been getting squeezed closer and closer to a breakout above their $61 price ceiling. When that happens, we've got a buy signal – shares are flirting with a breakout this week.
Relative strength (not to be confused with RSI at the top of the chart) adds some extra confidence to the upside in Altria right now. That's because this stock's relative strength line is holding its uptrend line from last summer, indicating that shares are still beating the broad market in 2016. If Altria bulls can put some distance between its price and our $61 price ceiling, it's time to join the buyers. At the moment, shares are too close to $61 to call the breakout confirmed.
Analog Devices
Meanwhile, things haven't looked so hot in shares of Analog Devices (ADI) - Get Report . This $16 billion semiconductor stock has tumbled alongside the broad market this year -- and shares are down almost 20% since last October. But long-suffering shareholders could be in store for a reprieve here. Analog Devices is starting to look "bottomy" this month, and the buy signal comes with a push above $54.
Analog Devices is currently forming a double bottom pattern, a bullish reversal setup that looks just like it sounds. The double bottom in ADI is formed by a pair of swing lows that bottom out at approximately the same price level -- those lows are separated by a peak that forms resistance for the pattern. That's the previously mentioned $54 level.
Momentum, measured by 14-day RSI up at the top of the chart, made a pair of higher lows at the same time Analog Devices' price was bottoming out at a prior low. That's a bullish divergence that tells us buying pressure has been quietly building behind the scenes in this chipmaker. If shares can push above $54, Analog Devices becomes a buy.

Constellation Brands
Constellation Brands (STZ) - Get Report  was one of the market's most notable leaders in the early weeks of 2016 -- Constellation was one of the few large-caps that actually managed to end January higher than it started. But shares rolled over hard in February, making up for lost time and catching up to the S&P's negative territory. That's the bad news. The good news is that this month's correction in Constellation looks like it's just that: a correction. And this stock's chart is showing traders a simple buying opportunity this week.
Since last summer, Constellation has been bouncing its way higher in a well-defined uptrending channel. That price channel is formed by a pair of parallel trend lines that have bounded Constellation's price action for that entire period -- and they're being tested this week. Put simply, every test of trend line support so far has provided traders with a low-risk, high-reward buying opportunity for Constellation Brands. And shares are testing that level again this week. From here, it makes sense to buy the next bounce higher.
Actually waiting for a bounce is important for two key reasons: It's the spot where shares have the most room to move up before they hit resistance, and it's the spot where the risk is the least (because shares have the least room to move lower before the channel breaks, and you know you're wrong). Remember, all trend lines do eventually break, but by actually waiting for a bounce to happen first, you're ensuring Constellation Brands can actually still catch a bid along that line before you put your money on shares.
JPMorgan Chase
2016 gave investors the worst start to the year in stock market history, and without a doubt, the financial sector has taken it the hardest this year. Case-in-point: JPMorgan Chase (JPM) - Get Report . This gigantic $209 billion financial stock has shed more than 15% of its market value this year, selling off about three-times as hard as the average stock in the S&P over that same timeframe.
The good news for JPMorgan shareholders is that this big stock is finally starting to show signs of a reversal. Here's how to trade it.
JPMorgan Chase is currently forming an inverse head and shoulders pattern, a classic reversal setup that signals exhaustion among sellers. You can spot the inverse head and shoulders by looking for two swing lows that bottom out around the same level (the shoulders), separated by a bigger trough called the head; the buy signal comes on the breakout above the pattern's "neckline". That's the $60 level in JPMorgan.
This is another stock where momentum is confirming upside. Our momentum gauge has been in an uptrend since the pattern started forming in JPMorgan, making higher lows on each of this stock's price lows so far. Once shares are able to catch a bid above $60 again, the breakout is complete and it's time to be a buyer.
Wells Fargo
It shouldn't be a surprise that we're seeing nearly the exact same price setup in another giant financial sector stock right now: Wells Fargo (WFC) - Get Report . Like JPMorgan, Wells is forming an inverse head and shoulders pattern after starting 2016 with a selloff. For Wells Fargo, the breakout level to watch is up at $50.
Why all of that significance at the $50 level? It all comes down to buyers and sellers. Price patterns, such as this inverse head and shoulders setup in Wells Fargo, are a good quick way to identify what's going on in the price action, but they're not the actual reason a stock is tradable. Instead, the "why" comes down to basic supply and demand for Wells' shares themselves.
The $50 resistance level is a price where there has been an excess of supply of shares; in other words, it's a spot where sellers have previously been more eager to step in and take gains than buyers have been to buy. That's what makes a breakout above $50 so significant -- the move means that buyers are finally strong enough to absorb all of the excess supply above that price level. Don't try to get into the Wells Fargo trade early; it doesn't become a high-probability trade until $50 gets taken out.
Wells Fargo is a holding in Jim Cramer's Action Alerts PLUS charitable portfolio. Cramer and co-portfolio-manager Jack Mohr wrote recently:
"WFC benefits from a talented management team, diversified business mix and a retail deposit base that helps drive the highest net interest margin among its U.S. large-cap peers. We expect its cross-selling transaction initiatives to continue as it drives further revenue, expands capabilities and continues to capture expense synergies from its Wachovia acquisition. Its 3.1%+ dividend yield is not only stable but attractive to any investors looking for safe income."
Exclusive Look Inside:
You see Jim Cramer on TV. Now, see where he invests his money and why Wells Fargo is a core holding of his multi-million dollar portfolio.

Want to be alerted before Jim Cramer buys or sells WFC? Learn more now.
Disclosure: This article is commentary by an independent contributor. At the time of publication, the author held no positions in the stocks mentioned.