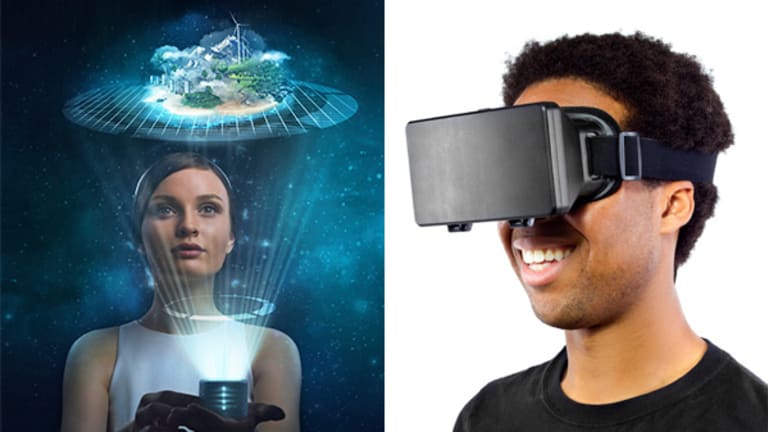 5 Best Stocks to Invest in the Growth of Virtual-Reality Technology
It is one of the hottest tech sectors, and investors can still profit from its rise. These stocks are the best bets right now.
It is one of the hottest tech sectors, and investors can still profit from its rise. These stocks are the best bets right now.
Although it is still in the nascent stage, virtual reality is one of the hottest areas of technology growth and innovation, with a potential impact in many sectors.
As VR's use evolves from gaming and entertainment, it can be disruptive for sectors such as real estate, where customers can get a virtual tour of a house while sitting in even a different country.
Many companies are also looking to VR to shore up their bottom lines. One of the best ways to build wealth is to invest in fast-moving trends, and VR fits this description.
When Facebook purchased VR player Oculus for $2 billion in 2014, it trusted its foresight and was prepared to wait for the sector to completely take off.
Now just two years later, Facebook, along with HTC and Sony plan to sell more than 2 million VR Tethered Head Mounted Displays, which can be used with a game console or personal computer. The application of VR is limited to gaming using the Oculus Rift headset or entertainment aided with a smartphone using Google Cardboard.
Theme park operator Six Flags Entertainment is smartly saving on the cost of building new roller coasters simply by providing riders Samsung VR headsets to give them the experience of a brand-new ride on an old roller coaster.
Meanwhile, eBay's StubHub, an online marketplace for tickets to entertainment events, is trying out technology that will allow viewers to see from various seat locations before purchasing tickets.
VR will account for hardware revenue of up to $2.3 billion this year, with the adoption of the technology expected to see explosive growth by 2020, according to the first worldwide forecast for the sector from International Data Corp. 
Although the total number of shipped headsets is expected at 9.6 million units this year, this number is expected to be 110 million units by 2020.
Here are the five best plays now on this accelerating tech trend. These companies should be growth stock winners this year.
1. Alphabet (GOOGL) - Get Report
Alphabet has both the high and lower ends of VR covered.
The company's relatively inexpensive and smartphone-enabled contribution should find widespread consumer acceptance.
At $2 a unit, Google Cardboard is literally a cardboard viewer that requires a user to place a smartphone within it and use related apps that can be downloaded from the Google app store.
After already distributing 2 million Cardboard viewers, Alphabet will possibly next look at improving its wearable device Google Glass for VR. In 2014, the tech giant also invested $542 million in an augmented reality start-up, Magic Leap.
Alphabet is a holding in Jim Cramer's Action Alerts PLUS Charitable Trust Portfolio. See how Cramer rates the stock here. Want to be alerted before Cramer buys or sells GOOGL? Learn more now.
2. Facebook (FB) - Get Report

By shipping the first Oculus headset in March, Facebook already has a head start in the VR sector.
At $600 for the headset and at $1,500 combined with a compatible PC, the product seems a little pricey. However, prices should soon come down as Facebook achieves economies of scale and the technology becomes more mature.
In fact, by 2025, Facebook plans to build a teleporter with Oculus Rift to transport its users wherever they like.
Facebook is a holding in Jim Cramer's Action Alerts PLUS Charitable Trust Portfolio. See how Cramer rates the stock here. Want to be alerted before Cramer buys or sells FB? Learn more now.
3. GoPro (GPRO) - Get Report
This stock is the riskiest of the lot, with many predicting that the company's heyday is past.
The company's stock has been battered in the recent past and isn't for the faint of heart, but with a little appetite for risk, investors could reap unparalleled returns if the company succeeds with its plans in the VR sector.
GoPro's camera business might be languishing, but with new bets on VR, GoPro might just be able to turn itself around.
In a shift to professional camera offerings, GoPro has finally shipped its Google Odyssey VR rigs that can capture spherical video using 16 simultaneous cameras. The device, which captures 360-degree videos, is also equipped to run with Alphabet's Jump open-source VR platform.
4. NVIDIA (NVDA) - Get Report
The company makes superior gaming graphics processing units and graphic cards that fuel VR headsets.
The company at its own GPU Technology Conference this year showcased its capabilities and plans for VR.
With technology such as IrayVR, which allows users to make visual and physically correct predictive designs, and collaborations with NASA for developing a Mars VR experience, NVIDIA is firing on all cylinders in this sector.
5. Sony (SNE) - Get Report
Sony's PlayStation already has a huge and loyal user base.
Consequently, analysts expect the company to strike investment gold with the launch of the PlayStation VR in October, which features a treasure trove of third-party content and compatibility. For the unparalleled gaming experience of Sony, users likely won't mind ponying up $399 for the VR headset and gaming console.
Although analysts at large investment banks such as Goldman Sachsalso recommend the above stocks, other VR plays on which it is bullish include HTC and Samsung.
HTC's Vive headset could rival Facebook's Rift, Samsung has already bundled its own headset Gear VR with Galaxy phones and has even brought down prices to $100 to $200 for its VR offerings to drive sales of compatible products.
---
This 85% accurate trader gives his personal guarantee: "Give me nine minutes a week, and I guarantee you $67,548 a year." He turned $50,000 into $5 million trading this way, and for a limited time, he is guaranteeing investors at least $67,548 per year in profitable trades if they follow this simple step-by-step process. Click here to see how easy it is to collect thousands of dollars in "free money" every month.
This article is commentary by an independent contributor. At the time of publication, the author held no positions in the stocks mentioned.