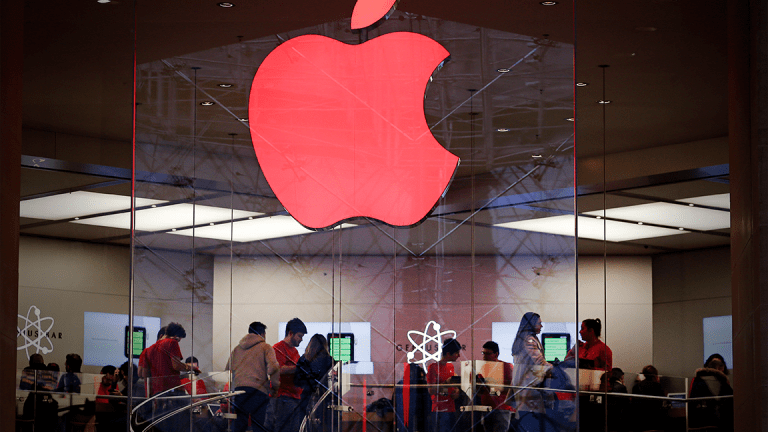 5 Big Apple Predictions for 2018
Among other things, look for the tech giant to put its offshore cash to use and make progress with its iPad Pro strategy.
By any standard, Apple (AAPL) - Get Apple Inc. (AAPL) Reporthas had a pretty good 2017. Its shares have risen over 50%, Mac and Apple Watch sales surged, iPad sales finally bounced and its services businesses hit a $30 billion run rate. And outside of short-term production issues, that smartphone launch Apple did in September went pretty well.
This column was originally published on Dec. 20.
What does 2018 have in store? With the caveat that predictions such as these rarely have a 100% success rate, here are some things that I think have a good chance of happening over the coming year.
1. Apple takes mid-range smartphone share.
Investors widely expect the iPhone X and its successor(s) to do brisk sales in 2018, and with good reason. What might not be as well-appreciated is how Apple is positioned to gain ground in a mid-range segment dominated by Android OEMs.
In tandem with launching the iPhone X and 8/8-Plus, Apple decided to keep not only the iPhone 7 and 7-Plus around at $100 discounts to their original prices, but to also do the same for the iPhone 6S (now starts at $449) and 6S-Plus ($549), instead of discontinuing them as tradition would dictate. The company also cut the starting price of the 4-inch iPhone SE (reportedly due for a 2018 refresh) by $50 to $349.
Apple seems to be betting that the iPhone X, replete with an edge-to-edge OLED display and Face ID support, will prevent its large high-end base from being tempted to buy mid-range models. And that this, in turn, allows it to be more aggressive in going after cost-sensitive Android users via phones prices between $350 and $600.
This strategy could do much to strengthen Apple's position in China, where the mid-range offerings of local vendors such as Oppo, Vivo and Huawei have been providing stiff competition. As well as to grow iPhone sales in India and other emerging markets that have been seeing healthy growth off of small bases.
2. The iPad Pro wins over some notebook users.
Apple has long been pitching the iPad as a notebook alternative, but with only modest success. 2018 won't necessarily cause a sea change in the attitudes of notebook owners, particularly since the PC's keyboard/mouse interface still has its advantages, but the company could gain more converts than in recent years.
iOS 11, which brought an array of iPad multitasking features reminiscent of things one normally sees on Windows or macOS, will naturally help Apple's cause. So could 2018 iPad Pro launches: Apple is reportedly prepping a high-end tablet that (like the iPhone X) supports Face ID and does away the home button, and as a result has a display that takes up most of its front. Apple's reported plans to let developers design apps that could run on either iOS or macOS might also help.
Throw in the iPad Pro's True Tone and ProMotion display technologies, and the advantages the tablets bring in terms of security, portability and versatility, and the company's sales pitch to "mainstream" notebook users doesn't look so bad.
3. Big capital returns are announced.
The tax bill that President Trump is set to sign calls for a one-time 15.5% tax on corporate offshore cash holdings. It also enacts a territorial tax system that features a minimum 10.5% tax rate on foreign profits, but lets companies deduct foreign tax payments from that bill. Apple, which had $252.3 billion in offshore cash as of September and got 62% of its revenue from outside the U.S. last quarter, has to be pleased.
Look for Apple to use some of the $213 billion in offshore cash (post-tax) it will be free to repatriate to lower a debt load (created to pay for buybacks) that stood at over $115 billion as of September. And the company could keep a chunk of that cash as dry powder for future acquisitions and investments.
But it's also quite likely that big new stock buybacks will also be announced, and perhaps a sizable increase to Apple's dividend, which currently has a 1.5% forward yield. Especially since the shift to a territorial tax system means that Apple will be able to use future overseas profits to finance capital returns without worrying about a big new tax bill. The company has traditionally announced changes to its capital return program in tandem with its March quarter earnings report.
4. Apple's car strategy comes into focus.
In June, Tim Cook confirmed something that was widely reported: Apple is working on an autonomous driving system for cars. But little remains about just how far Apple, which in 2016 was reported to have abandoned plans to launch a fully-fledged electric car, has gotten towards creating a self-driving system that's competitive with what Alphabet's (GOOGL) - Get Alphabet Inc. Class A Report Waymo unit has developed to date. Or for that matter, Tesla's Autopilot system.
Should Apple bring a self-driving system to market, it will be battling with Waymo, which has a big head-start in terms of improving its software with the help of real-world driving data, for deals with tier-1 automakers. It will also be competing against auto parts giants such as Delphi and Bosch, and with the internal efforts of automakers nervous about becoming dependent on a third-party supplier for self-driving hardware and software.
Does the progress that Apple has made to date leave it confident it can overcome such challenges? We might know soon: Bloomberg reported in October 2016 that Apple has given its self-driving team until the end of 2017 to "prove the feasibility of [its] self-driving system and decide on a final direction." Should Apple choose not to push ahead with this effort, it could settle for pitching automakers on the car operating system it's reportedly developing.
5. Apple gets serious about investing in video
Apple has reportedly set a $1 billion budget for investing in original video content through the end of 2018, and has inked a deal with NBCUniversal to revive Steven Spielberg's Amazing Stories. With the company now having over 30 million Apple Music subscribers to serve as an audience for its video bets, and with a lot of offshore cash set to come home, the stage could be set for even larger moves.
One possibility is that Apple, once rumored to have shown preliminary interest in Time Warner (TWX) , will use some of its offshore cash to buy a content owner -- perhaps a company like Viacom (VIA) - Get Viacom Inc. Class A Report or CBS (CBS) - Get CBS Corporation Class B Report ? But to make such a deal pay off, Apple would have to be comfortable continuing the distribute the acquired company's content through a variety of channels, rather than just its own.
Whether or not such a deal happens, Apple Music seems on its way to evolving from just a music service to a media subscription service for Apple's giant iOS installed base. That opens up a lot of possibilities.
Jim Cramer and the AAP team hold positions in Apple and Alphabet for their Action Alerts PLUS Charitable Trust Portfolio. Want to be alerted before Cramer buys or sells APPL or GOOGL? Learn more now.
More of What's Trending on TheStreet: