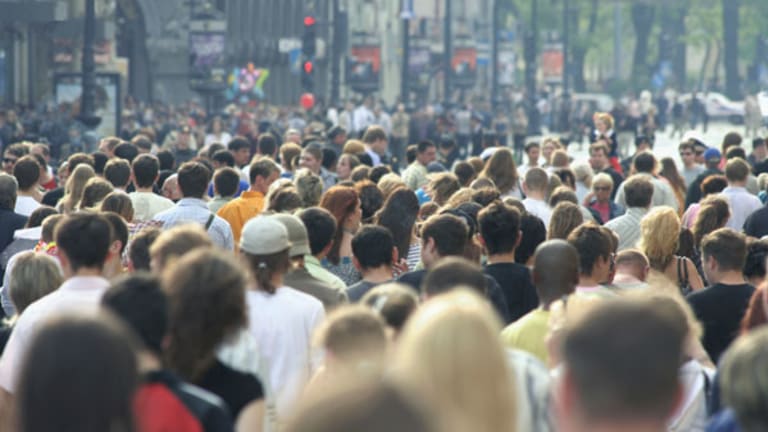 4 Ways Crowdfunding Can Make You a Better Investor -- Just Ask Buffett
Crowdfunding is a new way to help you work your way up to profit like Warren Buffett, Peter Lynch or a poker champ.
NEW YORK (TheStreet) -- Crowdfunding has become much more prominent after Facebook (FB) - Get Facebook, Inc. Class A Report recently bought crowd-funded virtual-reality headset maker Oculus for $2.1 billion. In September of 2012, Oculus was financed by nearly 10,000 individuals for over $2 million through KickStarter, a crowdfunding platform.
The crowdfunding principle -- when individual investors finance a project over the Internet or at live events -- can result in more profitable investing in stocks, too. Let's look at Peter Lynch and Warren Buffett -- two of the best investors in history -- Andy Frankenberger, winner of the World Series of Poker, and Dom Einhorn, founder of crowdfunding site Born2Invest, as they talk about investing principles relevant to the new crowdfunding movement.
1. Lynch: The individual's advantage over the giants
Peter Lynch wrote in One Up on Wall Street that individuals sometimes have an advantage over institutional investors, as individuals can see what is selling at the local mall. If running shoes are hot, then buy stock in Nike (NKE) - Get NIKE, Inc. (NKE) Report. If no one shops at the mall, then short Sears Holdings (SHLD) and JC Penney (JCP) - Get J. C. Penney Company, Inc. Report.
Individuals can select which crowdfunding projects to finance from this superior local knowledge. If the crowdfunding is for an area business that is not publicly traded but has lines out the door, then the individual waiting for the product knows it is doing well.
2. Buffett: Learning from investments in the little guys
In an interview with Fortune, Warren Buffett stated that the investment he gained the most from was See's Candies, a $25 million buy back in 1972, not Coca-Cola (KO) - Get Coca-Cola Company Report or Wells Fargo (WFC) - Get Wells Fargo & Company Report, the two largest holdings of Berkshire Hathaway (BRK.A) - Get BRK.A Report (BRK.B) - Get Berkshire Hathaway Inc. Class B (BRK.B) Report.
"The Oracle of Omaha" said, "It's one thing to own stock in a Coca-Cola or something, but when you're actually in the business of making determinations about opening stores and pricing decisions, you learn from it. We have made a lot more money out of See's than shows from the earnings of See's, just by the fact that it's educated me."
It is much easier to learn from a crowdfunded investment than it is a Coca Cola or a Wells Fargo. The management should be more accessible. The facilities can be visited to watch the operations.
Combining the advice of Peter Lynch and Warren Buffett here, crowdfunding offers the opportunity to both learn from and profit from an investment where the individual has an advantage over Wall Street.
3. Frankenberger: Manage risk
These advantages from crowdfunding allow for superior risk management, too, which is the critical factor according to Andy Frankenberger, who beat gambling legend Phil Ivey in the World Series of Poker in 2012.
Frankenberger, a former derivatives traded, stated about his victory, "It's all about risk management. If the market goes against you and you're wrong, you get out. A lot of poker players don't know how to do that because it looks weak."  
4. Einhorn: Start small
On the same note, Dom Einhorn, founder of crowdfunding platform Born2Invest, added, "While any early-stage investing, including crowdfunding, is risky, it is mitigated in crowdfunding because of the ability to allocate small amounts to specific ventures. This results in a front-row seat with limited financial exposure, allowing for gauging the viability of the project before committing larger funds."
All investing is about putting the odds in your favor.
Crowdfunding can improve the investing skills, and returns, of an individual investor. And those benefits can apply to the stock market too.
That's not arcane financial theory. It's the proven result of investing legends such as Peter Lynch and Warren Buffett.
>>Read More: Electric Cars Won't Make Your Air Any Cleaner
>>Read More: Netflix Has an Enormous Opportunity Sitting in Front of It
>>Read More: Microsoft Knows Where It Is Going, but Who Will Follow?
>>Read More: Foot Locker and Hewlett-Packard Lead 9 Stocks Pre-earnings
At the time of publication, the author held no positions in any of the stocks mentioned.
This article represents the opinion of a contributor and not necessarily that of TheStreet or its editorial staff.