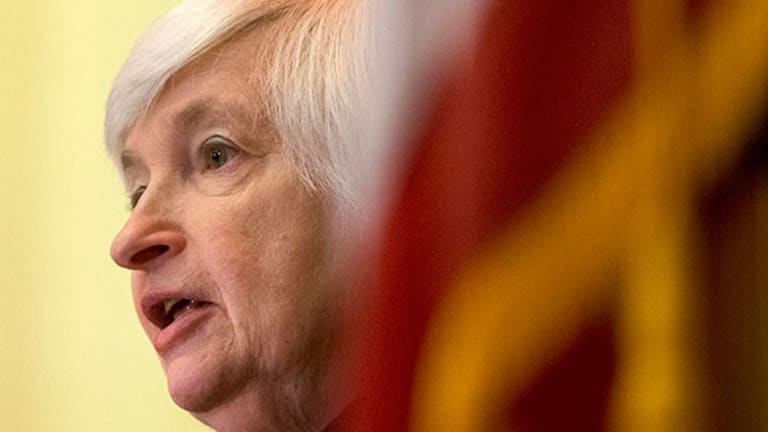 4 Uncertainties That Could Delay the Fed's Decision to Lift Rates
How the Federal Reserve proceeds depends on a number of factors. Although tightening monetary policy may be in the cards, the time frame for that happening is unclear.
Last December, the Federal Reserve lifted the federal funds rate by a quarter percentage point after keeping it close to zero for seven years.
But whether the Fed will raise interest rates at its meeting next Tuesday and Wednesday is an open question.
The Fed meets eight times a year to decide how to use monetary policy to meet its economic goals.
By controlling the fed funds rate, the Fed tightens (by raising rates) or eases (by lowering rates) monetary policy. This indirectly helps achieve high employment, stable prices (low inflation) and sustainable output.
A rate hike is the decision made by the Fed when the economy is strong and needs to slow down.
Fed Chair Janet Yellen on Monday seemed optimistic about the U.S. economy.
In a speech before the World Affairs Council of Philadelphia, she said that even though the recent developments were mixed, the U.S. economy showed "considerable progress over the past several years toward the Federal Reserve's goals of maximum employment and price stability."
She added that she sees "good reasons to expect that we will advance further toward those goals."
But even though another rate hike seems likely, when that will happen remains uncertain.
An unexpectedly weak May jobs report could be a factor in delaying increasing rates.
Yet, in her speech, Yellen said, "One should never attach too much significance to any single monthly report," adding that additional timely indicators from the employment report were "more positive."
The jobless rate fell to 4.7% in May from 5%, but this was largely due to many people "dropping out of the labor force," which isn't a very encouraging sign, according toThe Wall Street Journal.
In her speech, Yellen said that many implications for the global economy remain unclear, leading the Fed to maintain the fed funds rate this year. The risks are associated with turbulent market conditions and the slowdown in growth, despite strong progress in the labor market.
Yellen also pointed out existing uncertainties.
"Will the economic situation in Europe or China take a turn for the worse or exceed expectations? Will U.S. productivity growth pick up and allow stronger growth of gross domestic product and incomes or instead continue to stagnate? What will happen with the price of oil?" Yellen said during her speech.
Monetary policy depends on how these events shape up, she said.
Here are four uncertainties that could delay a decision by the Fed to raise rates.
1. Domestic demand. Yellen said that weak investment performance in recent months is a concern, even though U.S. markets performed better than their counterparts in other countries.
2. Global economic concerns. Although China remains on Yellen's list of uncertainties, she said that the U.K. referendum could create economic repercussions if Britons choose to opt out of the European Union.
3. Productivity growth. Calling it a "crucial part of the economy outlook," Yellen said that it is a difficult measurement to gauge.
Being considerably optimistic about future growth, she said that she sees "no obvious slowdown in pace," and the adoption of strong public policies will help in addressing problems and boosting productivity.
4. Target inflation rate of 2%. Yellen remains optimistic about inflation coming close to the Fed's goal of 2%.
In her speech, she focused on two temporary factors that are affecting inflation: oil prices and the dollar.
Yellen provided few hints as to whether the Fed is more inclined toward raising rates or maintaining them.
"What is certain is that monetary policy is not on a preset course and that the committee will respond to new data and reassess risks so as to best achieve our goals," she said.
This article is commentary by an independent contributor. At the time of publication, the author held no positions in the stocks mentioned.