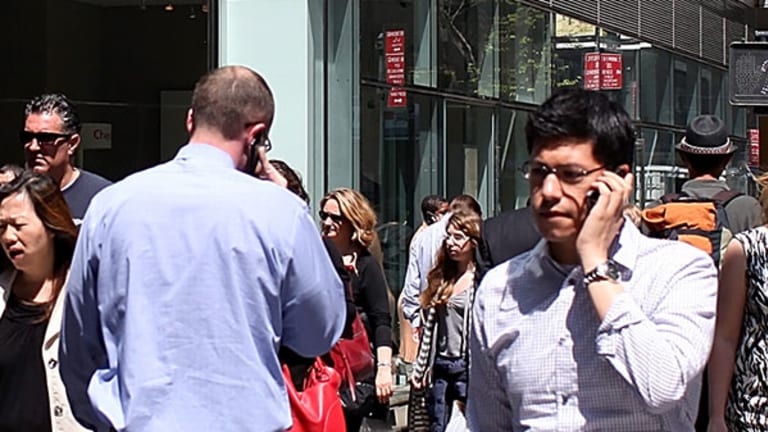 4 Tips for Day Trading With Your Smartphone
Choose a trading app that provides market updates and trends along with the usual stock price tickers.
NEW YORK (TheStreet) -- As we all know, our smartphones help us stay connected and increase our productivity. Some of the wealthiest day traders keep their smartphones glued to the palms of their hands while watching the stocks. If you want to follow in their footprints of financial success, there are a few tips to keep in mind so you don't waste your time or money while utilizing your smartphone.
Find a Helpful App
A great trading app will offer enough information to lead you toward the right trade, without overloading you with information and pushing you to make impulsive decisions. Choose an app that provides market updates and trends along with the usual stock price tickers. Apps from Morningstar, Bloomberg and MarketWatch are free and include market trends and finance news. (Some of these apps are not used for actual trading but can be helpful.)
Here are a few other apps you should consider downloading to your smartphone:
Keeper: When you're talking about money and online transactions, security is always a concern. Keeper helps ease your stress by storing your passwords in one location and generates random secure passwords when you need it. Don't underestimate the value of an app like Keeper that will keep hackers from raining on your day-trading parade.
Yahoo! Finance: The Yahoo! Finance app provides day traders with everything they need to successful follow the stock market, including stock quotes, market analysis, charting capabilities and in-depth news coverage. Although you can't make trades on this app, it'll hold your hand through the entire process before turning you loose to do it on your own.
Broker Apps: When choosing a broker, make sure it offers a free app so you can conveniently make transactions from any location on your smartphone. Each broker will feature an app that has varying capabilities, but don't let that be the deciding factor when choosing a broker you want to deal with. Here is a list of credible brokers to consider.

Avoid Impulsive Trading
I remember one time my smartphone saved me from losing thousands in the stock market. It was late June last year and I got a news alert on my smartphone on my way to the office that BlackBerry'sundefinedBBRY second-quarter 2014 estimates were much lower than expected. I realized I had to sell my stock before the breaking news spread out any further and as expected the stock took a nosedive. I had owned BlackBerry stock for about a decade and made a killing with it, but it was just getting too delicate and bi-polar for me now.
This just broke the camel's back for me -- it was the time for me to finally sell it. Fortunately, from the comfort of my driver's seat in the office parking lot, I was able to log on to my broker and sell my stock instantly. Within hours of the news spreading, the stock plunged and I saved myself from losing a lot of money. Ironically I made this trade from my BlackBerry, which I actually still use, I guess as a good luck charm of sorts.
Read: How the Fed Could Kill the Stock Market
The great part about being connected on your smartphone is that you have access to information about stocks at the swipe of your finger. You can receive real-time updates on stock performance and easily buy or sell from your smartphone. However, this isn't always a good thing.
If you check your stocks and see prices dropping, these changes might tempt you to sell quickly to avoid any loss. This is a classic example of impulsive trading because you're making decisions about buying or selling based off your feelings and not evidence. Falling victim to this could lead to financial ruin.
Day trading from your smartphone enables you to buy and sell quickly, but if you see market changes that spur you to trade, take a step back. Impulsive trading can make you forget things such as tax implication or trading fees.
You never want to decide on a trade under pressure, so take some time to do your research and make sure that your trade is in line with your investing goals. If you are day trading on your smartphone and multitasking in other areas of your life, you'll want to pause and make important trading decisions without other distractions.
Use Mobile Trading as a Supplement
By now you're aware of the dangers of instantaneous trading for emotional reasons, but that doesn't mean you can't use your smartphone to supplement your investing strategy. Your smartphone is still a great way to watch market trends and periodically check stock performance. This well-rounded approach means that you stay updated on trends and news while doing most of your trading from your home or office.
Read: Citigroup Cut to 'Sell' From 'Buy' on Global Threat
Use discussion boards and view prospectus information from your computer to round out your trading research. Any smartphone app for trading offers many great features but lacks the full functionality of a financial institution's Web site on your computer.
Increase Connectivity to Improve Your Trading Experience
Using multiple resources will help you make well-informed trades. In order to do this, you need to increase your connectivity to these resources. You already have a wireless carrier with a data plan to support day trading on your smartphone. Because things can change in literally a second, you'll want fast Internet in your home to access your financial institution's and broker's Web site, not only on your laptop, but it's smart to connect your smartphone to your Wi-Fi connection to save on your data plan usage.
Day trading from your smartphone is no small feat, but with the right preparation you can improve your chances of success. The key is to recognize the limitations of using your smartphone. Using the four tips outlined above will help you have a balanced approach to day trading. How have smartphones shaped the way you do your day trading?
At the time of publication the author held no positions in any of the stocks mentioned.
This article represents the opinion of a contributor and not necessarily that of TheStreet or its editorial staff.
JT Ripton is a freelance writer and day trader, while he's not painstakingly watching the market and making trades, he's writing about a myriad of interests including trading, business and technology.