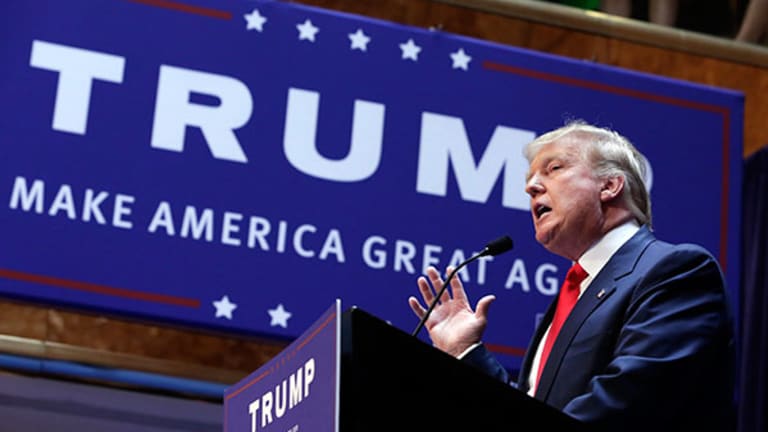 4 Times Donald Trump Was Super Savvy or Extra Shady -- You Decide
When you look at the sum of his career, Donald Trump is either really sketchy, super savvy, or a little bit of both. Now, you can vote.
NEW YORK (TheStreet) -- Donald Trump is either really sketchy, super savvy -- or a little bit of both.
The Wall Street Journal published a report on Thursday claiming Trump has made millions of dollars endorsing a multilevel marketing firm called ACN. The company has undergone regulatory investigations regarding pyramid scheme allegations in three countries -- allegations Trump told WSJ he had never heard of.
"I do not know the company. I know nothing about the company other than the people who run the company," he said.
He has also gotten into hot water recently over Trump University -- now known as the Trump Entrepreneur Initiative -- and the implications of its name. The seminar initiative has him embroiled in two lawsuits in New York and California for misleading people into believing it was an actual university.
The real-estate magnate turned presidential candidate hasn't always shown the best judgment. His list of film credits, for example, includes awkward appearances in The Little Rascals, Home Alone 2 and Zoolander.
At other times, however, he appears incredibly shrewd.
Case in point: his purchase of thousands of Web domains, many of which include his name and/or negative remarks about his businesses, as a way to keep others from getting to them.
"It's very difficult to predict what the man will do tomorrow, and whether or not any of it is rational is very difficult to analyze and assess," said Wayne Barrett in an interview with TheStreet. Barrett began covering Trump in the 1970s and published the book Trump: The Deals and the Downfall in 1992. Over the years, he has examined a number of Trump's business maneuvers and uncovered various rather unsavory details, ranging from broken promises to suspect business deals and even ties to the mob.
Even the reasoning behind his presidential bid, for Barrett, is a black box.
In a 2011 piece for The Daily Beast, he suggested that pending lawsuits and shady partners were what ultimately kept Trump from making a presidential bid in 2012. Today, however, Trump appears to have no such qualms.
"Why didn't he run in 2012, and why is he running now, and why does he say the crazy things he says? It's very, very difficult to analyze, because he's all over the map, he doesn't respond to ordinary political analysis," Barrett said. "A certain percentage of the Republican electorate doesn't care."
There is no denying Trump has had incredible accomplishments in his career, the latest being his rise to the top of the Republican presidential pool, despite multiple gaffes, each one big enough to fell much stronger candidates. 
"Trump's problem is not so much what he's done, but how he's done it," Barrett wrote in a two-part story on the now-billionaire that appeared in The Village Voice in 1979.
The assessment still rings true today. Here are four times when Trump was at his worst -- or best -- depending on how you look at it.
1. The First Deals
Trump's first major deals were facilitated by high-profile connections and unprecedented subsidies and tax breaks from the government.
His father, Fred, was a builder and real estate developer who specialized in housing projects in the New York City boroughs of Queens, Brooklyn and Staten Island. His experience and political ties -- largely through Brooklyn's Madison Club -- helped Trump to hit the ground running when he moved to Manhattan in 1971.
When the Pennsylvania Central Railroad entered bankruptcy, Trump obtained an option on its yards on Manhattan's west side and on the Commodore Hotel near Grand Central Station. He eventually transformed the yards into a convention center site and housing development, but he made arguably the biggest splash with the Grand Hyatt Hotel.
Trump obtained the hotel option in 1974 and signed a partnership agreement with the Hyatt Hotel Corporation the following year.
Wired into the administration of then-Mayor Abe Beame through his father, he then obtained unprecedented tax breaks and subsidies on the development, including a 40-year property tax abatement for rebuilding the hotel.
"The concept of giving enormous tax breaks to an economic development project selected by the government was unprecedented or at least unusual, and certainly it had not occurred in the City of New York. So the Beame administration, which the Trump family was directly tied into, they concocted a program to give to Donald," Barrett said.
The Grand Hyatt was nearly an afterthought for Trump -- Barrett pointed out that the option he originally turned in was unsigned, though no one noticed. But his dealings with it set the tone for what was to come.
"Both Fred and Donald Trump were state capitalists, they were essentially capitalists whose wealth was created by discretionary state decisions. And certainly, the baptismal project to Donald's life, the Grand Hyatt, was the beneficiary of not just city special subsidies and tax breaks but the state urban development corporation," Barrett said. "They were playing the angles, beginning with great connections to both the governor and the mayor, and they parlayed it into a great deal with city and state, without which they would never been able to do the Grand Hyatt project."
Donald Trump's early real-estate deals made millions, but were heavily aided by tax breaks and connections. in TheStreet's Hangs on LockerDome
2. The Bankruptcies
Trump treated his companies' bankruptcy filings nearly as a point of pride during the August 6 Republican presidential primary hosted by Fox News.
"Out of hundreds of deals -- hundreds -- on four occasions, I've taken advantage of the laws of this country, like other people." he said. "The difference is, when somebody else uses those laws, nobody writes about it. When I use it, it's like, 'Oh, Trump, Trump, Trump.' The fact is, I built a net worth of more than $10 billion. I have a great, great company. I employ thousands of people. And I'm very proud of the job I did."
Trump's corporations have filed for Chapter 11 bankruptcy on four separate occasions: the Trump Taj Mahal in 1991, the Trump Plaza Hotel in 1992, Trump Hotels and Casino Resorts in 2004 and Trump Entertainment Resorts in 2009. All of his bankruptcies were tied to casino and hotel properties in Atlantic City.
The first was the worst for the now presidential contender, who according to the New York Times had nearly $900 million in personal liabilities at the time. He was forced to sell his Trump Princess yacht and Trump Shuttle airline to reduce his debt and relinquished half his stake in the casino.
"The first one is where he kind of learned that bankruptcy can work for him," said Ted Connolly, a Boston bankruptcy attorney who studied Trump for his book The Road Out of Debt: Bankruptcy and Other Solutions to Your Financial Problems. "The first business bankruptcy, he had a lot of personal liabilities, guarantees on the business debt, which would have wiped him out. What he did was leverage the amount of business debt to negotiate away his personal liability. And from that, he learned not to put his personal wealth at risk anymore. And so in the next three, he didn't have any personal guarantees."
Trump's companies' money issues provided another important lessons: the power of the Trump brand.
The cost of rebranding the Trump hotels and casinos would have been very high, and many people -- bondholders, investors, partners and other parties -- believed his persona would go a long way in attracting visitors, especially in the early 90s. Thus, he was able to use his leverage for a bigger piece of equity and better deal than he probably would have otherwise gotten.
"Did he use his leverage to the maximum extent possible? Sure, he was a tough negotiator, he drove an extremely hard bargain," said Edward Weiseflner, a partner at New York law firm Brown Rudnick who was involved in two of the bankruptcies. "He didn't do anything illegal, immoral or improper, he utilized the bankruptcy laws."
Donald Trump has billions but has declared bankruptcy four times. He claims to be using the laws of the land, as a... in TheStreet's Hangs on LockerDome
3. Atlantic City
Trump's legacy in Atlantic City is among the murkiest chapters of his career.
Trump began purchasing properties in Atlantic City in the early 80s and soon became, by and large, the king of the city. He opened and operated entities including the Trump Taj Mahal and Trump Hotel and Casino, and at his peak moment, he owned what Barrett estimates to be 40% of the city's hotel rooms.
But over the years, things went sour.
Trump's Atlantic City ventures resulted in all four of his companies' bankruptcy filings, and his Trump Plaza closed its doors in September 2014. Trump also failed to keep up his end of the bargain regarding housing development agreements.
"If you go to Atlantic City and look at it now -- it was this way when he started there, I'm not saying he made it this way, but he certainly didn't do anything to change it. It's desolation," Barrett said. "He made promises, he didn't keep them, and Atlantic City is a disaster. It's what America might look like with Donald at the helm."
In 2014, Trump told Bloomberg he got out of Atlantic City years ago. "I think everyone knows that I'm gone. Atlantic City was a place that I really loved, I did it for a long time in Atlantic City. But a lot of people say that when I left, that's when it went bad, and in one way, I'm honored by that statement, but in another way, I feel badly about Atlantic City," he said.
At the July 6 debate, Trump's tone on the topic had become a little less nostalgic. He said he had the "good sense" to leave Atlantic City before it "totally cratered."
Donald Trump says he left the the seaside gambling resort town before it went downhill. in TheStreet's Hangs on LockerDome
4. Net Worth
In a press release accompanying his disclosure report filed to the Federal Election Commission in July, Trump's campaign declared his net worth to be in excess of "TEN BILLION DOLLARS" (emphasis the release's, not TheStreet's).
But not everyone agrees. In fact, his personal wealth has for a long time been a point of contention for Trump.
Forbes acknowledges his billionaire status but estimates his net worth to be about $4 billion, not $10 billion. The publication has stood by its assessment of the Republican presidential candidate's wealth and in June responded to his claims that he was worth nearly $8.7 billion (the number he provided when he announced his bid in June).
"Every year, Trump shares a lot of information with us that helps us to get the figures we publish," wrote staff reporter Erin Carlyle. "But he also consistently pushes for a higher net worth -- especially when it comes to the value of his personal brand."
Trump estimates his licensing deals, brand and branded developments to be worth upwards of $3 billion. According to Forbes, that number is about $250 million.
Journalist and author Timothy O'Brien has painted an even more distinct picture of Trump's wealth -- and he has been taken to court over it.
In 2005, O'Brien published TrumpNation: The Art of Being the Donald. The book included estimates that Trump was worth $150 million to $250 million, and in the wake of its publication, the real estate magnate filed a $5 billion lawsuit for defamation.
O'Brien prevailed after years of litigation, but the issue still hasn't been dropped entirely. In July, he published an editorial article in Bloomberg in response to Trump's most recent wealth claims titled "Dear Mr. Trump: I'm Worth $10 Billion, Too."
"Donald and I haven't been in touch much recently. But when he announced his presidential run last month, waving a document showing a net worth of more than $8.7 billion, I paid attention. When he filed with the Federal Election Commission last week, his net worth had risen $1.3 billion over the course of a month to $10 billion. A warm glow washed over me," he wrote. "After all, I have feelings, too. So I roughed out some numbers over the weekend, and here's how I feel about the $10 billion I've amassed."
Ironically, Trump's companies' bankruptcies may have contributed to his inflated assessment of the value of his name and brand.
"He was able to leverage better deals because [creditors] still wanted him involved, they wanted his name," Connolly said. "He must have seen through these that he was worth something himself, his brand."
Trump representatives have not responded specific questions for this article.
Donald Trump says he's worth "more than $10 billion." Others say less. in TheStreet's Hangs on LockerDome
This article is commentary by an independent contributor. At the time of publication, the author held no positions in the stocks mentioned.