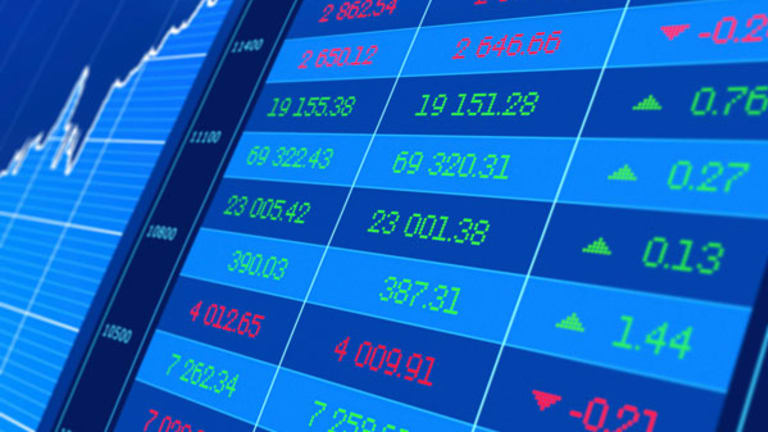 NEW YORK (TheStreet) -- Here are four of our swing trade ideas -- and all of them appear to have more room to run.
1. Arris Enterprises
Arris Enterprises (ARRS) - Get ARRIS International Plc Report was up another 44 cents on Thursday, or 1.3%, to $33.35 on 1.6 million shares. On Friday at 1 p.m., shares were trading at $33.20.
After a several-week up-move, the stock recently stalled and formed a little flag. That flag may have been broken to the upside on Thursday, although the volume wasn't great.
If the stock does extend, the parallel channel could point the stock to $37 to $38.
2. InterMune
InterMune (ITMN) has a very nice pattern and is setting up very well. It has a solid rising channel underway, and may be coming out of a flag of the last couple weeks.
The stock has closed up three days in a row, gaining 91 cents to $40.87 on Thursday on nearly 1.8 million shares. On Friday as of 1 p.m., InterMune was up again -- trading at $41.49.
Our target is the top of the channel at $48 to $49.
3. Ophthotech
Ophthotech (OPHT) - Get IVERIC bio, Inc. Report is looking great. It popped two to three weeks ago, and then formed a little mini-wedge on low volume. That chart convinced me it was going higher.
It certainly has, rising from about $36.50 up to Thursday's high at about $45.50. Friday that softened slightly as of 1 p.m., to $45.21.
The stock still looks like it can achieve higher levels -- maybe $47.
4. Sanmina
Sanmina (SANM) - Get Sanmina-SCI Corporation Report may have broken out of a six-week coil on Thursday, jumping 48 cents, or 2.3%, to $20.85 on 593,500 shares traded. That's average volume for this stock. On Friday as of 1 p.m., the stock was up again, to $21.22.
Let's see if it can accelerate with volume and take out the $21.80 area, after which $25 to $26 would be the target.
See Harry's video chart analysis on these stocks.
>>Read More:
Twitter Namo Buy Challenges Google and Facebook in Mobile App Ads
Apple Slowdown Not in the Cards This Year
Bluebird, Agios: Preview of Next Week's Important Pipeline Updates
Yahoo: Marissa Mayer's Huge Opportunity to Become Tech's Top CEO
At the time of publication, the author held no positions in any of the stocks mentioned.
This article represents the opinion of a contributor and not necessarily that of TheStreet or its editorial staff.