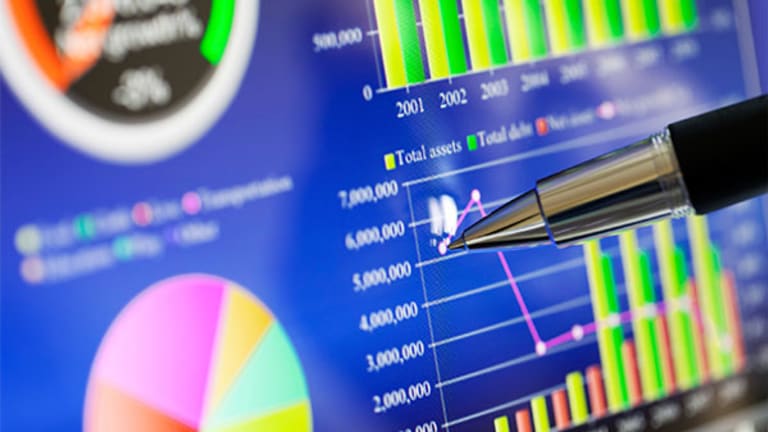 Publish date:
4 Stocks That Score High on Free Cash Flow and Other Fundamentals
Taking a page out of investor Peter Lynch's playbook, companies that have lots of cash on hand can be attractive targets for investors.
Taking a page out of investor Peter Lynch's playbook, companies that have lots of cash on hand can be attractive targets for investors.
Cash is the lifeblood of any business.
That may seem obvious, but it is something that can be easy to forget. Companies that have lots of cash on hand can also be attractive targets for investors.
In fact, some of the world's most successful investors focus on free cash flow. Generally, this is the amount of cash a company generates once the amount it takes to run its business is subtracted, including capital expenditures.
That is because having a good amount of free cash flow allows a company to build shareholder wealth by buying back stock, increasing dividends, paying off debt or making acquisitions. Let's look at free cash flow and focus on a few stock ideas with nice free-cash-flow yields. 
Free-cash-flow yield is calculated by taking the amount of free cash per share that a company is generating and dividing it by its share price. Free cash flow, some say, can be a more reliable financial indicator than net income, which can be more easily manipulated through accounting gimmickry.
Several of the Guru Strategies that run on our Validea website, each of which is based on the approach of a different investing great, use free cash flow as one criterion.
Famous investor Peter Lynch, for example, used free cash flow in his analysis. The quantitative strategy we developed based on his book "One Up on Wall Street," includes two bonus criteria: the free-cash-flow-to-price ratio and the net-cash-to-price ratio.
Lynch loved it when a stock had a free-cash-flow-to-price ratio greater than 35%, and it was an indication that the company was generating excess cash that could be used in a variety of shareholder-friendly ways.
Another successful fund manager, Bruce Berkowitz, is also a big proponent of free cash flow.
Specifically, he said, "We look at a company's free cash flow relative to its price. Ideally, we look for a free-cash-flow yield of 10% or better. Then we ask what management will do with that cash. If management has a record of investing wisely, that's great. But we also worry about what can go wrong. If there are signs that value will be destroyed by actions such as over-leveraging the balance sheet or other stupid management decisions or if there are certain questions we cannot answer, then we move on to the next investment candidate."
Using our Guru Stock Screener, we created a list of stocks with strong free-cash-flow yields that pass more than one of our guru models.
Here is the list.
1. Fossil (FOSL) - Get Report

Fossil is a design, distribution and marketing company that specializes in consumer fashion accessories. The company's markets are the Americas, Asia and Europe.
Each segment includes sales to wholesale and distributor customers and sales through the company-owned retail stores and e-commerce activities based on the location of the selling entity.
Fossil rates 100%, according to our Benjamin Graham model. The model likes the stock due to its ratio of 3.6, its long-term debt that is well below net current assets and the fact that earnings per share have grown more than 300% over the past 10 years. 
2. HP  (HPQ) - Get Report

HP is a technology company, created on Nov. 1, 2015, as one of two successors of Hewlett-Packard. It develops and provides hardware, such as personal computers and printers.
This company scores 100% under our model, which is based on the James O'Shaughnessy model, in part due to its high cash flow per share of $4.14.
According to this model, a company's cash flow per share must be greater than the mean of the market cash flow per share ($1.38). Because HP has a higher-than-market cash flow per share, it passes this test.
In addition, HP also has a strong dividend yield of 4.16%.
3. NeuStar  (NSR)

Neustar is a tech company that provides real-time information and analytics for the entertainment, Internet, marketing and telecommunications industries, and a provider of clearinghouse and directory services to the global communications and Internet industries.
This company scores 98% under our model based on the John Neff model in part due to its free cash flow of $5.78. The model likes that the free cash flow gives the company options, including potentially buying back stock.
For companies that don't pay dividends, this strategy likes to see a historical earnings growth rate between 12% and 20%. The historical EPS growth rate for NeuStar is 14%, based on the average of the three-, four- and five-year historical rates.
The projected future EPS growth rate for NeuStar is 64% for this year and 15% for the long term.
4. Sanmina (SANM) - Get Report

Sanmina is a provider of integrated manufacturing solutions, logistics and after-market services. The company provides these offerings primarily to original equipment manufacturers in clean technology, communication networks, defense and aerospace, industrial equipment, medical and multimedia.
This company scores 93%, according to our Lynch model.
The model likes the company's positive free cash flow as well as its price-earnings ratio of 5.45, which is well below its 34.18% five-year historical EPS growth rate, giving Sanmina a very favorable price-earnings-growth ratio of 0.16.
Warren E. Buffett famously doesn't pay dividends at Berkshire Hathaway because he thinks he can use the company's cash in a way that better benefits shareholders than simply paying it out in dividends. His long-term track record shows that he is right.
These companies have also proven that they know how to use their free cash and may be worth a closer look.
John P. Reese is founder and chief executive of Validea.com, an investment research firm, and Validea Capital Management, an asset management firm serving affluent investors and companies. He is also co-author of two investing books, including "The Guru Investor: How to Beat the Market Using History's Best Investment Strategies."
Under no circumstances does the information in this column represent a recommendation to buy or sell stocks.
Reese appreciates feedback. Click here to send him an email.
TheStreet.com has a revenue-sharing relationship with Amazon.com under which it receives a portion of the revenue from Amazon purchases by customers directed there from TheStreet.com.
This article is commentary by an independent contributor. 
At the time of publication, Reese was long all four stocks mentioned in this article, though holdings can change at any time.