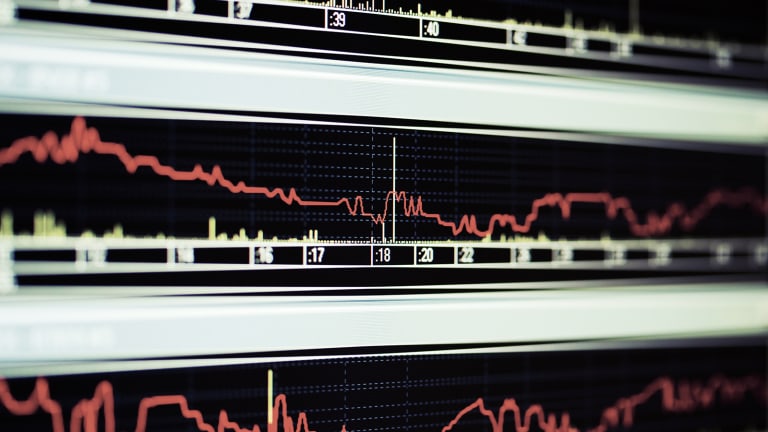 Paying too much attention to the market's day-to-day gyrations can drive any investor batty, but it's worth keeping an eye on where the most active stocks are headed.
That's because a sudden move in a company's share price-or the factors behind it-can mark the start of a powerful trend, either for the stock itself or its industry as a whole.
With that in mind, below are four stocks that have either skyrocketed or headed south so far this week.
HTZ
data by
Hertz Global Holdings (HTZ) - Get Hertz Global Holdings, Inc. Report
Hertz plunged 13% on Monday, the latest blow in a year that's seen the stock drop more than 34%.
The catalyst: a disappointing third-quarter earnings report in which Hertz posted adjusted earnings of $0.49 per share, up 11% from a year ago but still short of the $0.52 analysts were looking for. Revenue slipped 4.6%, to $2.98 billion, also missing the consensus forecast of $3.07 billion.
Every Hertz earnings report also reminds investors of the company's troubled history in this area. When current CEO John Tague took over a year ago, Hertz hadn't reported any results for 2014 and has had to re-release statements going back to 2011. That fix cut the company's yearly net income by as much as 26% between 2011 and 2013.
There are other reasons to steer clear of the car-rental space right now. For one, these companies do a lot of business overseas (42% of Hertz's third-quarter revenue came from outside the U.S.), so they're feeling the pinch from the strong greenback, a headwind that could stiffen if the Fed raises rates next month.
Uber is also throwing a wrench into things, particularly among business travelers: According to a recent report from corporate expense-management firm Certify, ride-sharing services surged from just 8% of U.S. business travelers' ground-transportation spending in the first quarter of 2014 to 34% in the third quarter of 2015. Rental cars slipped to 44% from 55%.
RAX
data by
Rackspace Hosting (RAX)
Cloud-services provider Rackspace surged 12% on Tuesday.
The catalyst: a better-than-expected earnings report after the bell on Monday. In the third quarter, the company's net income jumped 44.4% from a year earlier, to $0.26 a share, blowing past the consensus forecast of $0.20. Revenue increased 10.7%, to $508.9 million, also ahead of the $503.1 million the street was looking for. Rackspace's forward guidance also topped analysts' views.
The company works closely with its clients, offering what it calls "fanatical support," to help them maximize their cloud services without bringing in the technology and pricey talent needed to do it on their own.
In the past, the company has faced competition from big cloud players like Amazon Web Services and Microsoft Azure. In fact, it was price pressure from Amazon that hurt Rackspace's 2013 earnings, smudging a streak few other mid-cap tech stocks can boast. With the exception of that year, Rackspace has posted steadily rising profits annually since its 2008 IPO.
The solution? Join them. In July, Rackspace signed a deal with Microsoft to resell and provide support for Azure. Then in October, it did the same for Amazon Web Services. That's a big plus, because brings in extra revenue and gives Rackspace a shot at cross-selling its own services to these users.
Meantime, the company is well-positioned to ride the strong growth of the wider managed-cloud market. According to IT research firm 451 Research, managed services revenue is growing 60% faster than revenue from the installation of cloud infrastructure alone.
data by
Canadian Pacific Railway (CP) - Get Canadian Pacific Railway Limited Report
Canadian Pacific Railway leaped 7% on Monday afternoon, while U.S. counterpart Norfolk Southern Corp. (NSC) - Get Norfolk Southern Corporation Report surged 12%.
The catalyst: media reports that CP has been in talks with Norfolk Southern about a merger. With most railroads seeing emptier cars this year, mainly due to weak commodity prices, there's been plenty of chatter about consolidation in the industry, but no actual deals so far.
That's a big reason why investors got excited about this potential tie-up, which would bolster CP's network in the eastern U.S., where rival Canadian National Railway has a stronger presence.
Even so, the track ahead isn't entirely clear. For one, it's uncertain how receptive Norfolk Southern is to an offer, and this is CP's second kick at the merger can after being rebuffed by CSX Corp. last year. Regulators must also have their say, and they haven't favored big railway mergers in the past. What's more, even if it's ultimately approved, any deal could take two years or more to wind its way through the process.
Meantime, investors looking to ride the rails should also take a closer look at Canadian National, which offers a higher dividend yield than CP -- 1.6% vs. 0.75% -- and has been rewarding investors with larger payout hikes. In January, the company announced a 25% increase in its annual dividend -- the biggest in its history. That came on the heels of a 16% boost in 2014.
To top it off, CN pays out just 27.7% of its earnings as dividends, leaving lots of room for more hikes.
On the flip side, this group of 29 dangerous stocks is a terrible place for your money today. In fact, using a little-known "health test," the stocks on this list are a failure in every category! Click here now to make sure you don't make the mistake of owning one.
This article is commentary by an independent contributor. At the time of publication, the author held no positions in the stocks mentioned.