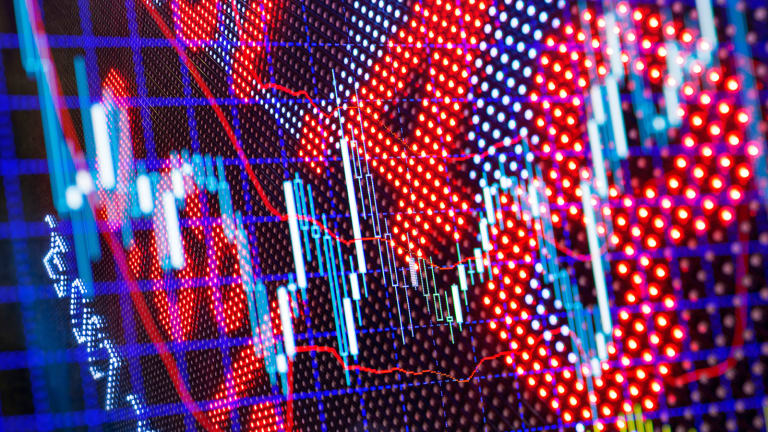 4 Steps to Protect Your Portfolio From the Looming Market Correction
It's time to prepare your investment portfolio for the correction that most analysts say is overdue and imminent.
Editors' pick: Originally published Feb. 13.
Avoid emotional extremes. You shouldn't wring your hands over daily events, but neither should you get complacent. As this bull market enters its eighth year and overvalued stocks continue to hit new highs, many investors seem to have forgotten just how nasty a correction can be.
When the inevitable trigger occurs and the panicked selling begins, will you be prepared? Or are you a sitting duck? Below are the steps you should take now to protect your wealth.
There's still enough good news to keep you in the market. The economic recovery is slowing but intact, and corporate earnings have been strong. We're not advising you to run for the exits. But it's time to beef up your portfolio hedges.
Most money managers and financial opinion leaders are calling for a stock market correction in early 2017. By definition, a correction occurs when the market falls 10% from its 52-week high.
For the last four decades, every bull market has experienced a correction, which is simply a healthy restoration of equilibrium. With stock valuations now at historically excessive levels, you should welcome a correction. It's hard to find value nowadays; a correction would put overpriced stocks back on the bargain shelf.
In the meantime, follow these four steps to guard your investments from the looming day of reckoning:
1) Ensure diversification. Diversification mitigates the impact of market gyrations on your portfolio by balancing your performers and underperformers. Diversification may preclude whopping gains, but you'll avoid whopping losses. Diversify among asset classes, sectors and geographic regions.
2) Buy bonds. Bonds provide stability and capital preservation. During a down market, they also fuel your income stream. Although bonds are less risky than stocks, that doesn't mean they're devoid of risk. You need to gauge several types of of risk when evaluating bonds, notably interest rate risk.
Interest rate risk accounts for the chance that interest rates will increase in the future, making your bonds less valuable. Your portfolio needs the safety of bonds, and not all bonds get crushed when the Federal Reserve tightens. Notably, short-term bonds are less vulnerable to interest rates than longer-term bonds.
Consequently, bond exchange-traded funds such as Vanguard Short-Term Bond Fund (VBISX) - Get Vanguard Short-Term Bond Index Inv Report or Vanguard Short-Term Bond ETF (BSV) - Get Vanguard Short-Term Bond ETF Report should perform better in today's rising rate environment than Vanguard Long-Term Bond Fund (VBLTX) - Get Vanguard Long-Term Bond Index Inv Report and Vanguard Long-Term Bond ETF (BLV) - Get Vanguard Long-Term Bond ETF Report .
3) Trim your growth stock allocation. The crashes of 1929, 1981, 1987 and the more recent tumbles of 2007-2009 are all examples of situations when investing in only growth stocks with the highest potential return was not the wisest course of action.
Credible research studies have found that asset allocation explains nearly 100% of the level of investor returns. At the heart of asset allocation is the risk/return tradeoff. Many investors make the mistake of setting their asset allocation once and then walking away. It's not a one-time task; it's a life-long process of fine-tuning.
Reduce the percentage of your assets in growth stocks and boost percentages in cash, bonds and inflation hedges. Specific percentages depend on your investment goals and stage in life. The closer you are to retirement, the more you should pare back exposure to riskier growth stocks.
4) Invest in gold. Gold isn't just for the doom-and-gloom crowd. Many advisers say you should put at least 5%-10% of your portfolio in the classic crisis hedge of gold.
The simplest, safest and most cost-effective way to gain exposure to the yellow metal is through the SPDR Gold Shares ETF (GLD) - Get SPDR Gold Trust Report .
With net assets of $31.1 billion, the SPDR Gold Shares ETF is the largest gold exchange-traded fund backed by physical holdings of bullion. Year to date, this ETF has risen 7.2%, more than double the rise of 3.5% for the S&P 500. This gold ETF is liquid and trades like a stock, whereas acquiring and storing physical bullion can be an expensive hassle. The expense ratio is 0.40%, which is reasonable for its class.
---
Boring, Predictable, No-Surprises Strategy Safely Generates $67,548
If big, triple-digit winners get your adrenaline pumping, then stop reading this right now. Because this probably isn't for you... Only traders who would calmly enjoy raking in an extra $67,548 with no surprises or hiccups will appreciate this strategy. In fact, over the course of 1,586 days, I've been leisurely collecting giant payouts with this boring approach. I win 8 out of every 10 trades - GUARANTEED. Click here to join me.
This article is commentary by an independent contributor. At the time of publication, the author held shares of the SPDR Gold Shares ETF.