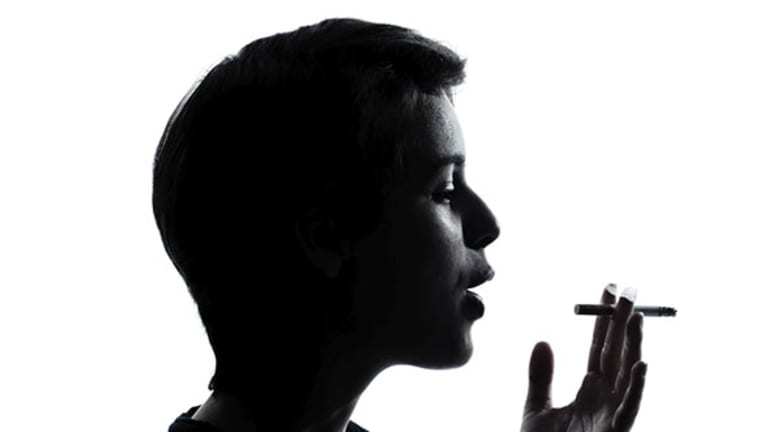 4 Sin Stocks That Reward Investors With Their Heavenly Dividends
These companies may sell morally questionable products and services, but they are also very shareholder friendly.
So-called sin stocks refer to the shares of companies that sell products or services generally regarded as bad for one's health, such as alcohol, gambling and tobacco.
Some investors think that it is morally wrong to invest in sin companies. Others think that these companies provide enjoyment to adults who know the risks.
Sin stocks have an advantage in that they sell addictive products. It isn't easy to quit smoking, and Alcoholics Anonymous and Gamblers Anonymous are a testament to the problems that can develop with those who abuse these products.
Whatever one's feelings about these stocks, it is clear that these businesses make money hand over fist, thanks to their addictive products and intelligent marketing.
Here are four sin stocks that return their earnings to shareholders in the form of dividends.
One is a dividend growth machine, despite being in a declining industry. 
Another is one of the world's leading gambling businesses, with operations both in the United States and abroad that has an extremely high dividend yield of 6%.
The other two sin stocks are well-known alcoholic-beverage companies. One has a large market share of the United States beer market, while the other has a tremendous portfolio of well-known hard liquors.
1. Altria  (MO) - Get Altria Group Inc Report
There is arguably no more well-known sin stock than Altria. The company manufactures and sells cigarettes, cigars, chewing tobacco and wine.
In Wharton professor Jeremy Siegel's legendary investing book The Future for Investors: Why the Tried and the True Triumph Over the Bold and the New, Altria was found to be the stock with the highest returns from 1925 to 2003.
Shares of Altria returned 17% per year over that time frame, according to his research.
Altria's flagship brand is Marlboro. Its other brands include smokeless products such as Copenhagen and Skoal, and Altria also operates Chateau Ste. Michelle, a winery in Woodinville, Wash.
Primarily, however, Altria is a cigarette company, with smoke-able products making up nearly 90% of its total sales and profits. And the tobacco business is extremely lucrative.
Altria's operating costs are very low, thanks to its distribution network and benefits of scale. In addition, Altria is banned from advertising in the United States, as are all tobacco companies.
This keeps costs down, allowing the company to generate very high returns on invested capital each year. Last year, Altria generated $5.81 billion of operating cash flow and used just $229 million in capital expenditures.
As a result, Altria's free cash flow was $5.58 billion, which represented 22% of revenue last year, which is very high as a percentage of sales.
With such massive cash flow, Altria is freely able to return cash to shareholders, which it does through dividends. Altria maintains a clear dividend policy, which is to distribute about 80% of its adjusted profit each year.
And, the company regularly raises its dividend. Altria has increased its payout 49 times in the past 46 years.
Altria's huge free cash flow and commitment to paying a high dividend are why the stock performed so well over the past several decades.
The company pays an annualized dividend of $2.28 a share, which amounts to a hefty 3.5% yield.
2. Anheuser-Busch InBev (BUD) - Get Anheuser-Busch InBev SA/NV Report

This company is a juggernaut in the beer industry. It is a massive conglomerate, with a portfolio of more than 200 brands, 19 of which have sales in excess of $1 billion each year.
Anheuser-Busch InBev's brands include the flagship Budweiser and Bud Light, but it also owns Beck's, Brahma, Corona, Skol and Stella Artois.
The company's huge success is due largely to its acquisition strategy. Management's over-arching goal is to acquire strong brands with above-average growth potential, then squeeze out huge cost savings to generate earnings growth.
There was the huge $52 billion deal that combined Anheuser-Busch and InBev in 2008. Then, in 2013, Anheuser-Busch-InBev purchased the remaining portion of Grupo Modelo that wasn't already under its control for $20.1 billion.
The results are clear: Anheuser-Busch InBev's earning before interest, taxes, depreciation and amortization grew to $16.8 billion last year from $13.8 billion in 2010.
And, of course, there is the huge $108 billion pending merger between Anheuser-Busch InBev and SABMiller, which would see the world's No. 1 and No. 2 beer companies join forces. This deal is right in Anheuser-Busch InBev's wheelhouse, in the sense that the combined entity would be able to generate a huge amount of cost savings each year.
International expansion is a key aspect of Anheuser-Busch InBev's growth strategy. Largely due to its aggressive acquisitions, the company derives 64% of its annual EBIDTA from outside North America.
Anheuser-Busch InBev has a huge opportunity in the Asia-Pacific region, particularly in markets such as China and India. Budweiser is the leading premium brand in China and posted solid volume growth last year, investors should expect management to focus even more intently on these regions.
After all, China and India are both building their economies at rates far higher than global gross domestic product, they have emerging middle classes and both nations have populations of more than 1 billion.
This will be key to Anheuser-Busch InBev increasing its profits, and consequently, its dividends.
In February 2015, the company raised its dividend by a whopping 45%. The stock yields 3.7%.
3. Diageo (DEO) - Get Diageo Plc Report
In the alcoholic-beverage industry, while Anheuser-Busch InBev dominates beer, Diageo dominates spirits. 
Diageo might not be a household name, but it has a stable of popular brands including Captain Morgan, Crown Royal, Guinness, Johnnie Walker, Ketel One and Smirnoff.
Over the first half of fiscal 2016, Diageo's revenue was up 1.8%, due to a 1% increase in volumes. Thanks to cost controls, earnings per share grew 7% in the period, with Diageo's earnings benefiting from a 4.7% reduction in marketing spending.
This was a marked improvement from previous periods.
In the second half of fiscal 2015, Diageo reported a 0.1% increase in revenue. Both developed and under-developed markets improved for the company in the first half of the current year.
Organic revenue was flat in Diageo's developed markets, which reversed a 1.3% organic revenue decline in the previous six-month period. And, Diageo's sales in under-developed nations rose 4.4%.
In addition, a few of Diageo's smaller products are quickly becoming very popular. Sales of Bulleit rose 26% in the first half of fiscal 2016, while sales of Don Julio jumped 28% during the same period.
The company has taken steps to shore up its financial position and reduce debt, mostly through asset dispositions. Diageo has sold off some of its brands that management didn't deem critical to the company's growth.
In November 2014, Diageo sold Bushmills Irish Whiskey to Jose Cuervo for full ownership of Don Julio tequila and $408 million in cash. Judging by the massive success of Don Julio, which is a leader in the fast-growing upscale category, Diageo's portfolio reshuffling has rewarded shareholders.
The result of these actions is that Diageo has improved its balance sheet. As of December, the company reduced its debt by $1.1 billion from a year earlier.
Diageo funnels its success to shareholders, raising its first-half dividend by 5%. Based on its recent closing price, the stock offers a 2.4% dividend yield.
4. Las Vegas Sands (LVS) - Get Las Vegas Sands Corp. Report
One reason sin stocks have historically produced excellent returns for shareholders is that they often pay high dividend yields, and Las Vegas Sands has dividends in spades.
Las Vegas Sands operates its namesake casinos in the United States and internationally.
However, the company is in a difficult position because of the decline in gambling in Macau, which happens to be the only area of China where gambling is allowed.
A government crackdown on illegal gaming has suppressed gambling in general. Last year, erosion in Macau resulted in a 20% drop in Las Vegas Sands' revenue.
The Macau situation is especially troubling because Las Vegas Sands relies heavily on Macau for growth. Revenue at Sands China declined 28% last year.
But Las Vegas Sands' other businesses are performing relatively well. Revenue from rooms, conventions, food and beverages was nearly flat, while revenue from its malls rose 2% last year.
Still, casinos represent nearly 75% of the company's annual revenue, so the deterioration in Macau is a major overhang.
The good news is that Las Vegas Sands foresees a bottom in gaming activity in Macau, and management continues to strike an optimistic tone in the company's communications with investors.
Indeed, the first quarter saw a notable improvement. Total revenue declined 9.8% year over year, which certainly isn't impressive but is nevertheless a slowdown in the company's recent revenue declines.
Sands China saw a marked improvement, with revenue declining 7.9% from a year earlier.
Separately, revenue from Las Vegas operations rose 2.3%, while Sands Bethlehem posted an 8.6% revenue increase.
And, a return to revenue growth is within reach. Las Vegas Sands is set to open the Parisian Macao in September.
As a reflection of its confidence, Las Vegas Sands passed along a 10% dividend increase this year. Because the company's share price has continued to fall, which provides a massive 6.2% dividend yield.
This is basically three times the average dividend yield of the S&P 500, though sky-high dividends are sometimes a precursor to a dividend cut.
The concern for investors is whether the dividend is sustainable. Management certainly thinks so, but investors should monitor the company's turnaround closely before placing a wager on this high-yield stock.
---
Want more high-quality, high-dividend stocks? Click here to see Warren E. Buffett's 20 top dividend stocks.
This article is commentary by an independent contributor. At the time of publication, the author held no positions in the stocks mentioned.