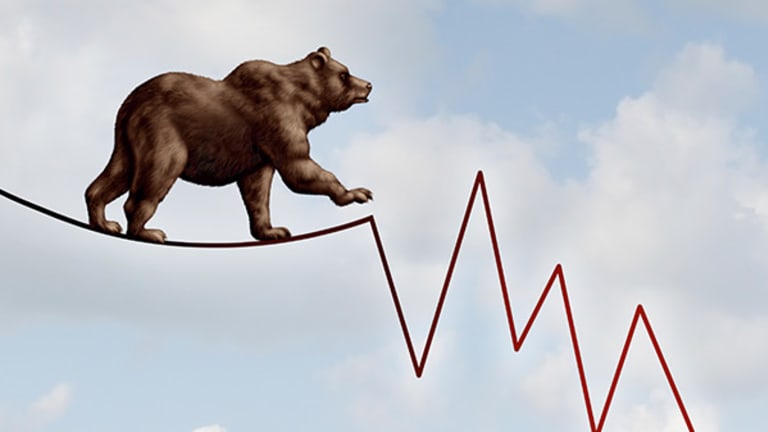 Publish date:
4 Safe, Income-Generating Plays for This Crazy Market
Are you fretting about slowing dividend growth, an uncertain bond environment, and a looming bear market? Here are four sources of reliable income in volatile conditions.
Are you fretting about slowing dividend growth, an uncertain bond environment, and a looming bear market? Here are four sources of reliable income in volatile conditions.
What a dreadful start to 2016. China's economic and currency chaos, plummeting oil prices, rising interest rates, terrorism fears, slowing emerging market growth -- it has all added up to dizzying intraday swings on global markets.
In this era of 1% CDs and extraordinary volatility, where can yield-hungry investors go for safe and steady income? The conventional sources of income -- bonds and dividend-paying equities such as utility stocks -- all face a highly uncertain year.
But income investors needn't lose hope. Here, we reveal investment strategies that can generate robust streams of income in bull, bear and even flat markets. Multiple threats on the horizon this year make these income choices all the more compelling. Each income-generating play is explored in detail below.
Fact is, income investors got some disturbing news this month. Goldman Sachsreleased a new study in January that showed dividend growth in 2015 had hit a 65-year low. According to the investment-banking firm, dividend growth last year declined 29.4% on a year-over-year basis, with the last three months alone posting a decline of 70%.
A key factor behind the drop was the U.S. Federal Reserve's increase of interest rates in December, the first rate boost since the Fed reduced rates to nearly zero during the nadir of the 2008 financial crisis. As higher rates become available in other asset classes, dividend-paying stocks lose their appeal from a risk-to-reward standpoint.
Even worse, traditional sources of dividend income -- utility stocks -- are particularly risky places for your money right now. Rate-sensitive investments such as utility stocks get hammered during periods of rising rates. Utilities must borrow large sums of money for capital expenditures. As rates rise, their increasing cost of capital weighs on share prices.
And what about bonds? They're supposed to serve as the ballast in your portfolio, steadying the ship during the sort of market storms we're seeing today. But in a rising interest rate environment, these fixed-income investments can rock the boat. Existing bonds continue to pay the rate stated when they were issued, so when interest rates rise, prices of existing bonds go down.
Likewise, the news is bleak for master limited partnerships (MLPs), which once were all the rage with income investors. Already clobbered by falling oil prices, MLPs also carry high debt and suffer when they need to refinance in a higher-rate environment. The MLP benchmark Alerian MLP ETF is down a whopping 25.68% year to date, with no sign of a turnaround in sight.
But even in these turbulent conditions, a source of consistent and safe income exists, if you know where to look.
Below are four income plays that look good now. First, let's explore an unorthodox but proven strategy that's perfectly tailored for these roller coaster markets.
1. Credit Spreads
With this simple yet powerful options strategy, you can bolster your income portfolio to secure the lifestyle and retirement of your dreams. This method is easier to execute than you might think.
With widely followed analysts this month predicting a cataclysmic market in 2016, it's an opportune time to consider this options strategy for generating income while simultaneously hedging your portfolio.
Now you may have heard that trading options is risky. And that's true... if you're an options buyer. But if you want dependable income with limited downside, that's not the best way to trade options. You should sell them. Most option buyers are speculators who place high-risk trades, hoping for a big payout. And that's why they strike out most of the time.
But when you sell options, the odds of winning tilt in your favor. Because every time the buyers strike out, you keep the money. With credit spreads, you get the opportunity to cash in not only whether the overall market is up or down, but even when individual stocks show a consistent downturn.
Credit spreads are a low-risk options strategy for generating monthly income even in down markets -- all without you having to continually monitor your brokerage account.
You're probably familiar with a "put," which is an option contract giving the owner the right, but not the obligation, to sell a specified amount of an underlying asset at a set price within a specified time. The buyer of a put option estimates that the underlying asset will drop below the exercise price before the expiration date.
A put is a bet that the price of the underlying stock will depreciate relative to the strike price. This is the opposite of a call option, which gives the holder the right to buy shares.
But we're suggesting a strategy that's far better: Instead of only selling a put contract, you trade a credit spread instead.
Credit spreads refer to options spreads that you actually receive cash (net credit) for executing them. This credit to your options trading account is why such options spreads are called "credit spreads."
With a credit spread, you sell one put contract, and you buy another one at a lower price. You pocket the difference between the two contracts. And that money is deposited into your account immediately.
Explained another way: When you write an option, you are putting on a short options position but when you buy a cheaper option on the same underlying stock using the premium received from the sale of the short options position, a credit spread is created. This low risk strategy can produce consistent income regardless of market conditions.
The beauty of a credit spread is that the two options form a "safety net" that limits any loss. The trade-off is that your gains are lower than if you only sold the puts. But there is a much tinier chance of anything going wrong.
A credit spread puts a limit to an otherwise unlimited loss potential, which is crucial in these times, as global markets subject investors to nerve-wracking roller coaster rides.
When you trade a credit spread, you're swapping a limited amount of profit potential for the opportunity to limit risk. Uncovered options, on the other hand, can have pose significant or unlimited risk.
Whether you're a beginning investor or a seasoned pro, credit spreads can work for you.
data by
2. Realty Income (O) - Get Report
Realty Income is a real estate investment trust (REIT) that holds over 4,300 properties owned under long-term lease agreements with regional and national retail chains and other commercial enterprises.
Realty Income should do well in 2016. This REIT encompasses 234 commercial tenants, 79% of which are retailers. Over the last five and 10 years, Realty Income's dividend growth has averaged around 5%-to-6% and this REIT is on a path to become an S&P Dividend Aristocrat at the beginning of 2020.
Realty Income in December added half a cent to its payout, to over 19 cents per share, the 83rd raise since the REIT went public in 1994. Current yield: 4.41%.
data by
3. JMP Group LLC (JMP) - Get Report
JMP Group is a full-service investment-banking firm based in San Francisco. Founded in 2000, JMP provides investment banking, sales and trading, and equity research.
In October, JMP's board of directors authorized the repurchase of up to one million shares of the company's outstanding common stock and extended the term of the repurchase program through December 31, 2016.
Also in October, JMP declared cash distributions of 4 cents per share for the months of October, November and December 2015.
In total, the three monthly distributions equal 12 cents per share for the fourth quarter of the year, equivalent to the distribution for the prior quarter and an increase of 71% from the cash dividend of 7 cents per share paid during the fourth quarter of 2014. Current yield: 8.59%.
data by
4. LTC Properties Inc. (LTC) - Get Report
LTC Properties is a health-care REIT based in Westlake Village, Calif. It invests in senior housing and long-term health-care properties.
LTC's portfolio consists of 97 skilled nursing properties, 93 assisted living properties, 7 range of care properties, 11 other senior housing properties, and a parcel of land under development.
In November, LTC announced that funds from Operations (FFO) increased 15.8% to $26.1 million for the third quarter of fiscal 2015, up from $22.5 million in the same period a year ago. FFO per diluted common share was 72 cents and 64 cents for the quarters ended September 30, 2015 and 2014, respectively, for a per share increase of 12.5%.
With LTC's latest increase in dividend at 5.9% to 18 cents monthly, this medical REIT offers an annual dividend of more than $2. Current yield: 4.87%.
Above, we explained the power of credit spreads to generate safe, reliable income. Other investors might not see the upside here, or the protection this strategy offers. But in the coming bear market, you'll look mighty smart while you pocket steady income and they lose their shirts. Click here to watch a free video presentation that explains exactly how credit spreads work.
John Persinos is editorial manager and investment analyst at Investing Daily. At the time of publication, the author held no positions in the stocks mentioned.