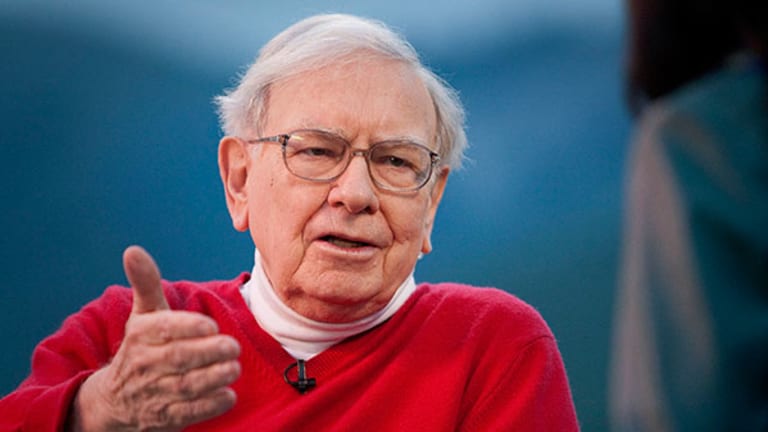 4 Rising Cyclical Stocks That a Young Warren Buffett Would Buy Today
These four stocks are classic bets on recovery, but they also provide plenty of downside protection amid political, economic and financial peril. In other words, Warren Buffett would love them.
Investors are gnashing their teeth over a litany of anxieties, including an imminent interest rate hike, terrorism overseas, a troubled eurozone, and an overall economic slowdown in Asia. However, a major bright spot is growth in the United States.
Instead of relying on a sputtering China as the global growth engine, investors are now casting their eyes to a revved-up America. The U.S. economy has unexpectedly switched roles, from tortoise to hare. Below are four cyclical stocks that profit from this growth, with built-in protection from temporary dips along the way.
Indeed, our four transportation-related stocks meet several growth and valuation criteria applied by Warren Buffett's Berkshire Hathaway, making them great "defensive growth" buys for an uncertain 2016.
Transportation is a textbook recovery play, but investors who want to leverage the economic rebound should remain leery of many cyclical stocks because they tend to falter if overall growth slows.
The shrewder approach is to pinpoint undervalued cyclical companies that also enjoy distinct competitive advantages and pricing flexibility. By dominating their respective niches over the long haul, these companies offer protection against downturns or unexpected external shocks.
Our four stocks below are riding the accelerating economic expansion but they also boast intrinsic underlying strengths that cushion them from future bumps in the road. In other words, they're all stocks that the Oracle of Omaha would love. Let's take a closer look at why you should consider adding them to your portfolio.
data by
1. Expeditors International of Washington (EXPD) - Get Expeditors International of Washington, Inc. Report
Expeditors International provides logistical services in the U.S. and internationally for air and ocean freight, including value-added distribution, vendor consolidation, cargo insurance, purchase order management and more.
With a market cap of $9.2 billion, the Seattle-based company represents a barometer of overall economic health. When recovery kicks into gear, companies increasingly rely on transportation logistics providers to meet rising demand.
Expeditors sports a superb balance sheet, with considerable excess cash, no debt and strong positive cash flows. These are Buffett-friendly criteria. As a provider of logistical solutions, the company also requires relatively little capital expenditure -- a cost-effective business model that leverages economic growth but also provides protection during lean times.
Large competitors such as FedEx and United Parcel Service are increasingly drawn to the lucrative transportation logistics field, but they lack Expeditors' focus and entrenched relationships with major shipping clients, especially in the Pacific Rim.
From its conveniently located perch in Seattle, Expeditors enjoys a far-flung logistics network that it has honed over the years, creating a daunting barrier of entry for new competitors. The company's global presence and low overhead also generate economies of scale that allow it to undercut the prices of competitors.
Expeditors reported third-quarter 2015 earnings-per-share (EPS) of 62 cents, beating the consensus estimate by 3 cents. Earnings rose 17% on a year-over-year basis.
With a 12-month trailing price-to-earnings (P/E) ratio of 21.4, the stock's valuation is right in line with its industry of air delivery and freight services. The stock also boasts a five-year expected price/earnings growth (PEG) rate of 1.74, also on track with its industry. The stock now trades at about $49, with analysts on the high end calling for a one-year price target of $67.
data by
2. Union Pacific (UNP) - Get Union Pacific Corporation Report
Union Pacific has adapted to the coal industry's long-term decline by placing greater emphasis on the rising need to ship America's glut of petroleum and natural gas. Another boon for the railroad is the growing popularity of equipment that's "intermodal," which is containerized freight that can move by either rail, truck or ship. UNP is at the forefront of the intermodal revolution.
Union Pacific reported that third-quarter EPS dropped to $1.50, compared to $1.53 in the same quarter a year ago, largely due to declining freight volume.
However, a key metric of a railroad's financial health is the operating ratio, which measures operating costs against revenue. And in the third quarter, Union Pacific once again showed that it is among the leanest and most efficient railroads in the U.S. The company posted an all-time quarterly record operating ratio of 60.3%, a two percentage point improvement from the same year-ago quarter.
The stock's trailing P/E stands at 14.58, compared to 19.79 for its industry. Now trading at $84.50, analysts on the high end are calling for a one-year price target of $115.
data by
3. FleetCor Technologies (FLT) - Get FLEETCOR Technologies, Inc. Report
Drivers with trucking fleets spend their time behind the wheel under strict management from corporate headquarters, with almost every movement planned and monitored to make that trip as efficient as possible.
A crucial logistical tool is the fleet card, sometimes called a fuel card, used to pay for gasoline, diesel, and other fuels at gas stations. Fleet cards also are used to pay for vehicle maintenance and expenses.
This trend is a long-term boon for the world's leading provider of fleet cards and related payment processes for companies and government entities in 21 countries throughout North America, Latin America, Europe, Russia, and Australasia.
FleetCor's core product is a special purpose business charge card for the commercial fuel industry. About 90% of the company's revenue derives from the sale of these cards.
Fleet cards preclude the need for carrying cash, increasing the safety of drivers. The elimination of cash also helps prevent fraudulent transactions at a fleet owner or manager's expense.
FleetCor will benefit from the trucking industry's resurgence this year, as overall economic activity improves in key markets such as North America.
The company reported third quarter earnings of $116.8 million or $1.24 in EPS, compared to earnings of $95.5 million or $1.11 in EPS in the same period a year ago. Management provided guidance for full year fiscal 2015 of EPS between $6.18 and $6.26, compared to EPS of $4.24 in 2014.
The stock now trades at about $152, with analysts calling on the high end for a one-year price target of $185.
data by
4. Wabash National (WNC) - Get Wabash National Corporation Report
With a market cap of $850 million, Wabash designs, manufactures and markets transportation products in North America. The company's core business is standard and customized semi-truck trailers, as well as intermodal equipment.
During the early stages of the current recovery, many trucking operators were reluctant to replace or even repair aging trailers because of the lingering trauma of the Great Recession of 2008-2009, which hit trucking particularly hard.
Now that the recovery appears real, these firms are whittling away at their backlog of deferred repair and replacement needs, providing a multiyear stream of work for Wabash that should withstand the next cycle of volatility.
To further mitigate vulnerability to economic ups and downs, Wabash also has been diversifying its business to offer technological solutions (such as carbon composite components) that enhance the aerodynamics and fuel performance of semitrailers.
Wabash reported record third quarter revenue of $531 million, a year-over-year increase of 8%. It also posted record operating income of $56.4 million, up 61% year-over-year. EPS of 47 cents reflect a whopping year-over-year improvement of 81%.
With a trailing P/E of only 9.9, the stock trades at a hefty discount to the trucking industry's trailing P/E of 17.9. The stock now trades at about $12, with analysts calling on the high end for a one-year price target of $18.
It's no accident that Warren Buffett is now buying select cyclical stocks such as these, which tend to rise in tandem with the fortunes of the overall economy. To find out what the Oracle of Omaha is now buying and selling, click here for a free report.
John Persinos is editorial manager at Investing Daily. At the time of publication, the author held no positions in the stocks mentioned.