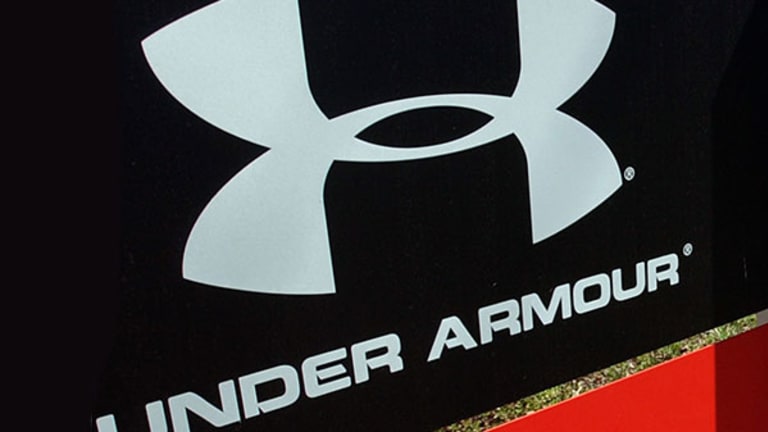 4 Reasons Why Under Armour's Shares Are Exploding Today
The athletic wear maker is bucking many of the trends that have hurt other retail and consumer companies.
Under Armour (UA) just slam dunked in the face of its critics on Wall Street.
Shares of the athletic wear maker surged 20% on Thursday following better than expected fourth quarter earnings. Amid strong sales of training gear, golf apparel and basketball sneakers, earnings came in at 48 cents a share, besting estimates for 46 cents a share. Total revenue clocked in at $1.17 billion, higher than forecasts for $1.12 billion.
"Our core business remains incredibly strong and our 31% net revenue growth in the fourth quarter is clear evidence of the continued expansion in the breadth and depth of our brand," said Under Armour founder and CEO Kevin Plank in a statement. Wall Street arguably was caught flat-footed on Under Armour.
Concerns about an unseasonably warm winter that led to weak sales of outerwear for retailers and tepid consumer spending for the holidays likely led investors to believe a less-than-impressive fourth quarter and 2016 outlook from the red-hot brand was possible. Prior to Thursday's pop, shares of Under Armour had plunged about 30% in the past six months, versus a loss of roughly 10% for the S&P 500 during that span.
TheStreet takes a look at several things from Under Armour's quarter that impressed Wall Street.
1. Sales in the U.S. rose nicely. Under Armour's fourth quarter sales in North America -- its largest market at 87% of the business -- gained 25.6% year-over-year to $1.0 billion. In light of disappointing holiday seasons for many retailers, such as department store Macy's (M) , Under Armour's sales increase was welcome news to worried investors.
2. Execs reiterated their 2016 outlook. With global stock markets plunging to start the new year due to concerns about economic growth, it was encouraging for Under Armour to reiterate its 2016 guidance. In doing so, execs signaled the first quarter of 2016 has begun on a decent enough note to warrant optimism for the year ahead.
Under Armour expects revenue of approximately $4.95 billion in 2016, up roughly 25% year-over-year. Operating income is seen rising 23% from 2015 to $503 million. Both revenue and operating income targets were reiterated from the company's investor day held in September.  
Wrote Mizuho Securities analyst Betty Chen in a note, "Impressively, management effectively navigated challenging holiday weather and footfall [mall traffic] and set a high 20s percentage sales growth rate for the first quarter, renewing confidence in [the company's] fiscal year 2016 and long-term fiscal year [financial] targets."
3. International sales surged. As companies from Apple (AAPL) to Starbucks (SBUX) warn about slower growth in Europe and China, Under Armour defied the odds in the fourth quarter. International sales, which represent about 12% of Under Armour's business, spiked 70% year over year to $138 million. Excluding the impact of the stronger U.S. dollar, international sales rose 85%.
In particular, sales across Greater China surged by a triple-digit percentage during the quarter said execs on a call with analysts.  The strong growth is important the company views it as its next big market. As TheStreet reported on Wednesday, Under Armour is poised to open 200 new stores globally in 2016, and many of those stores could be in China.
"So we see great opportunity there [China] -- it's going to be our second-largest controlled market and is growing exponentially," said Plank on an Oct. 22 call with analysts. By "controlled," Plank was referring to retail stores directly operated by Under Armour.
In September, Under Armour opened its largest international brand house store totaling 15,000 square feet on Weihai Lu Road in downtown Shanghai. Of the roughly 100 stores Under Armour planned to open in 2015, Plank noted that about three-quarters would be in China.
4. The company showed it can drive revenue from digital. Under Armour has shelled out about $710 million since 2013 to acquire three of the main health and fitness app developers: MapMyFitness, Endomondo and MyFitnessPal. The acquisitions have provided Under Armour with a community of roughly 160 million plus registered users, according to Under Armour, who log information such as what they eat and their running routes. Recently, the company launched "Healthbox", a suite of devices that track things important to workout enthusiasts such as steps, body weight and sleep.
In the spring, in partnership with JBL, Under Armour will release $250 wireless headphones that can track a person's heart rate. 
Amid these sizable investments Under Armour has made in what it calls "connected fitness," investors would understandably want to see a path toward profitability. One way to see that is by the collection of apps actually generating revenue.
Fourth quarter sales for Under Armour's connected fitness segment surged 221% to $16.9 million.
Connected fitness currently represents just 1.3% of Under Armour's overall business, but is an important area of focus by execs moving forward. "Our increased insight into the consumer will empower us with better information to make better business decisions, to build better products, while helping athletes make better choices in their own personal health and fitness, and ultimately enriching their lives," said Under Armour founder and CEO Kevin Plank to analysts on the topic of connected fitness during a Oct. 22 earnings call.
For the full year, sales for the segment totaled $53 million, up 177% year over year. The segment did, however, lose money in 2015 as the company staffs up to supports its growing user base and invests in new hardware: the segment's operating losses weighed in at $61 million.