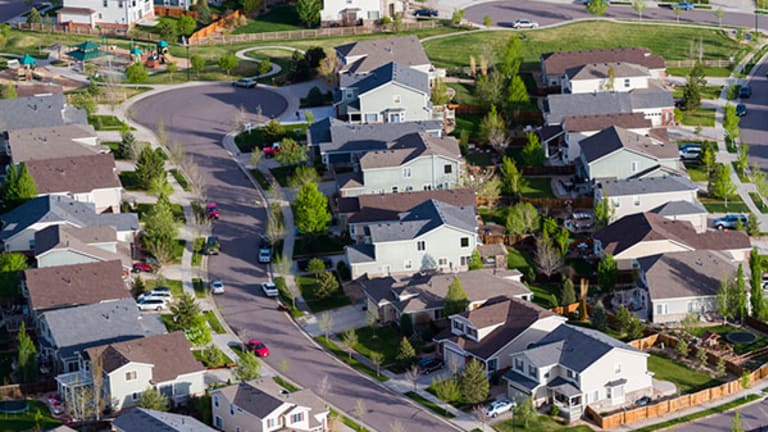 4 Predictions for the Housing Market in 2016 -- and 3 Stocks to Benefit
Look for millennials and boomerang buyers to purchase more homes.
More than seven years after one of the worst recessions in American history, the U.S. housing market appears to be on firm ground again. Despite some hiccups, it is likely that it will carry the momentum it gained this year into next.
In fact, the prospects are better than the average consumer probably thinks. In October, an index of home builder confidence at the National Association of Home Builders reached a 10-year high. 
The huge millennial population is going to be buying more homes. So-called boomerang buyers who lost their homes in the Great Recession are returning and the conditions for attaining a decent mortgage and a home at a reasonable price look solid.
Here are a few predictions for the housing market in 2016.
1. Millennials Coming Of Age
The consensus among experts has been that millennials would stimulate the housing sector. A majority of those born roughly 30 years ago are starting to realize their financial aspirations, and simultaneously entering their peak homebuyer age.
According to the National Association of Realtors (NAR), millennials are the largest population of buyers for the second consecutive year. They make up about one in three buyers. It makes sense that their entrance into the housing market will provide a boost.
To be sure, many millennials remain cautious about making big investments. As is the case with other groups, they were chastened by the declines of the Great Recession.
However, this group also represents untapped potential. The millennial home-buying momentum should pick up. Expect millennials to make up a greater share of buyers and to boost the home-buying market.
2. Boomerang Buyers To Make Their Return
Millennials were not the only population impacted by the latest recession. An estimated seven million Americans were believed to have lost their homes to foreclosure over the same period. The loss of equity resulting from the downturn, in addition to a weakened job market, made it increasingly difficult for homeowners to meet their mortgage obligations.
Many of them became renters, forgotten by institutional lenders who are hesitant to lend to individuals who had a foreclosure on their records. Over the past seven years, a number of these formerly distressed homeowners have been able to recover and represent reasonable credit risks.
The National Association of Realtors (NAR) says that about 950,000 formerly distressed homeowners are looking to buy again. Over the next five years, an additional 1.5 million formerly distressed homeowners are expected to actively participate in the housing industry. These boomerang buyers should be a boon to the housing industry.
"The deep wounds inflicted on the housing market during the downturn are finally beginning to heal as distressed sales continue to decline and home prices in some parts of the country have bounced back to their near-peak levels," said Lawrence Yun, chief economist at the NAR. "Borrowers with restored credit will likely have the ability and desire to own again, encouraged by the long-term benefits homeownership provides in a stronger economy and more stable job market."
3. Mortgage Lending Will Ease
Mortgage underwritings have undergone significant changes in a short period of time. This year, the Federal Housing Administration (FHA) dropped premiums on mortgage insurance below the standard 1.35% to 0.85%. While the decrease may not seem like much, it could catch the attention of those that have been hedging about buying a home. After all, the move is expected to save the average homeowner roughly $900 a year on mortgage insurance premiums. It is reasonable to expect the housing market to benefit from this move as early as next year.
Separately, Fannie Mae intends to make it easier for qualified borrowers to receive a loan. Households have come a long way since the depths of the recession, and underwritings are starting to reflect the improvements. In a recent move, the mortgage giant has opened the door for more borrowers to receive a loan. Qualified borrowers are now able to put as little as 3% down on a home. Perhaps even more importantly, however, is the implementation of the HomeReady mortgage program.
Unlike before, this new program will consider the incomes of others planning to live in the house, but without including them as a borrower on the loan. That way, if you live with someone, as long as they represent at least 30% of the household income, Fannie Mae will count their money towards your loan qualification criteria. If that wasn't enough, those not even living in the home can be counted toward a mortgage payment. This means millennials with parents willing to provide monetary assistance will have an easier time qualifying for a home.
The end effect: Loan requirements should ease further in the coming year. Anticipate more people qualifying for loans in 2016.
4. Growing Homebuilder Confidence
The most recent National Association of Home Builders builder sentiment index fell to 62, down three points from October's record number. 
Still, single-family home sales are surging in the final quarter of 2015, and the inventory levels are at their highest point in five years.
With the number of homes on the market set to rise in 2016, the principles of supply and demand suggest that home price appreciation will slacken. More people should be able to afford the homes that are currently for sale.
Stocks That Are Likely to Benefit
The expansion of the housing market bodes well for companies that serve the real estate and construction industries. For example, although overshadowed by Home Depot (HD) - Get Home Depot, Inc. Report , Lowe's (LOW) - Get Lowe's Companies, Inc. Report has grown its bottom line. That has been thanks largely to consumer demand for appliances and the expansion of the housing sector.
data by
Lowe's has managed to appeal to both individual consumers and professional companies. The share price has risen more than 16.5% over the past year, driven by the rebounding housing market and a growing interest in home improvement. In its recently completed third quarter, the company beat analysts' estimates for revenue and earnings a share. It posted an impressive 4.6% increase in same-store sales, better than the 4.1% that analysts had predicted.
data by
Restoration Hardware (RH) - Get RH Report operates in a smaller niche than Lowe's, the company it is also in a great position to benefit from the recent expansion of the housing sector. In its most recent quarter, the home furnishing retailer also bested analysts' estimates for earnings a share and revenues.
data by
Buoyed by its recent performance, the company announced the creation of two new businesses, RH Modern and RH Teen to address demand among specific clients. The divisions will feature their own website and targeted products. It is another sign that the housing market will continue to thrive.
This article is commentary by an independent contributor. At the time of publication, the author held no positions in the stocks mentioned.