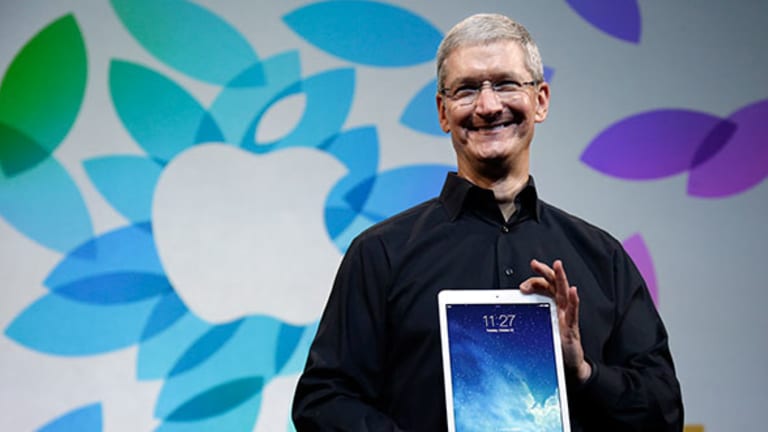 4 Pieces of Advice From Apple CEO Tim Cook That Will Make You a Better Investor
Tune out the noise and the talking heads like Apple CEO Tim Cook does and you'll be a better investor.
Tune out the noise and the talking heads like Apple CEO Tim Cook does and you'll be a better investor.
NEW YORK (TheStreet) -- It's takes a big leader to fill a power vacuum like the one left by Steve Jobs -- and Tim Cook is doing a fantastic job so far. Following his thought process can make you a better investor.
As Apple (AAPL) - Get Report CEO, Cook continues to build Apple as the company at the center of our increasingly digital lifestyles. It means knowing when to act, what projects to fund and when to bring them to market. Cook's decisions and, arguably, his decision-making process have been immensely profitable for Apple shareholders. Apple shares currently trade at near $125, up from a split adjusted $54, and that doesn't even factor in the eleven dividend payments the company has made since August 2012. Under Cook, Apple became the first company to cross the $700 billion market capitalization level.
Clearly, Cook knows a few things. In "Apple's Tim Cook leads different" by Fortune's Adam Lashinsky, the CEO shares four thoughts investors should keep in mind.
1. "Cook taught himself, he says, to block out the noise."
In today's rapid-fire world of posts, tweets and the barrage of near endless headlines across all of our connected devices, investors need to block out the noise and focus on the data that truly matters for a particular investment. It's easy to fall victim of the noise, but savvy investors are the ones that can peer into the noise and discern a meaningful signal.
2. "I have to feel myself doing what's right. If I'm the arbiter of that instead of letting the guy on TV be that or someone who doesn't know me at all, then I think that's a much better way to live."
When investing, you have to follow your own moral compass. While it's important to absorb as much information as you can when making investing decisions, ultimately, you have to decide when and how to initiate any positions. That means having a deep understanding of the companies you are investing in when managing your portfolio. That means double checking the data and information source rather than relying on any one commentator. And then act on the information you have gathered and considered (even if that means not investing): As any great athlete or investor will tell you, follow through is key to superior performance.
3. "Take mistakes in stride" and "When I informed Tim of the problem, his response was, 'Let's see what we can learn from it. We're not going to bat a thousand."
As hard as you may work to understand the intricacies of a particular company, there will be times when the investment doesn't work out. Investing is not a snapshot in time, but rather it occurs in a dynamic world that can change quickly due a geopolitical events, shifting monetary policy or a correction in the market. Keep a trading notebook detailing your learnings. It should include the reasons why you bought a particular stock and the data you frequently monitored to ensure your thesis behind owning the shares remained intact. Note any important bits of information and whether or not they raised your concerns. All the while, keep tabs on economic indicators, market valuations, and other data that will help you get a feel for the market. You can own a stock for all the right reasons, but get crushed in market pullback if you're not careful.
4. "If you're a short-term investor, obviously you've got the right to buy the stock and trade it the way you want. It's your decision. But I want everybody to know that's not how we run the company."
The key takeaway here is taking ownership of the decision making process. Too many times I've heard people complain that "so and so" told me to buy this or sell that. If that person told you jump off a bridge, would you do it? Probably not. If you want to run with the big investing dogs, then you have to own your mistakes just as you celebrate your wins. No excuses and no finger pointing -- it's your name on the account. You can get mad at yourself, but once you calm down you should review your investment notebook and trace back to what you may have missed. 
This article is commentary by an independent contributor. At the time of publication, the author held no positions in the stocks mentioned.