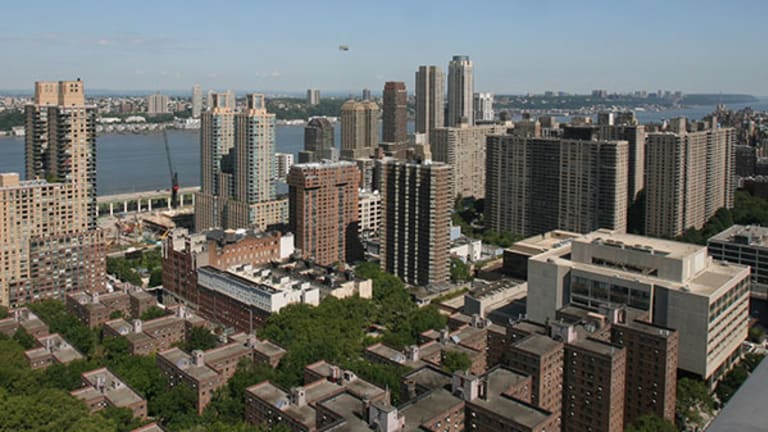 4 Overlooked Real Estate Stocks to Ride 2015 Apartment Rentals Wave
Camden Property Trust, Education Realty Trust and Preferred Apartment Communities are among a few stocks still ripe with value in this hot rental market.
NEW YORK (TheStreet) -- The charged rental market that drove a rally among stocks in the real estate sector last year is set to stay hot in 2015. But now, with a slew of overvalued stocks, the pickings are slim.
Still, a few well-positioned stocks -- particularly those targeting the burgeoning student housing market and those with a solid development pipeline and diverse capital -- are good buys.
"Our view on apartments in general is relatively positive," said Ryan Meliker, managing director of research for REITs and Lodging at MLV & Co. "With these stocks being as rich as they are, you really have to pick and choose the names that you like most."
Compared to last year, when renters spent about $20.6 million more compared to 2013, rental market growth is expected to be more tempered in 2015. But the rental market is still positioned for growth.
Why? Despite better access to home-buying and with more funds saved for down payments and an easier mortgage climate, millennials are continuing to rent for more flexibility.
Preferred Apartment Communities (APTS) - Get Preferred Apartment Communities, Inc. Report , a small-cap stock, is already up 2.6% in 2015 and is among analyst favorites. The Atlanta-based company plays "a lot of different sides of the capital structure," said Meliker. MLV has a buy rating on the company.
Preferred Apartment Communities "issue a lot of preferred equity through a retailer-broker network, they finance developments through a lending platform, and then they also own a lot of multifamily assets," Meliker told TheStreet. "They're hitting across the board on everything we like."
The company recently reported third-quarter revenue that increased 51% to $13.2 million from $8.8 million a year prior. Its adjusted earnings were $3.9 million, or 22 cents per share, up from $2.1 million, or 19 cents per share a year prior. Guidance for the fourth quarter is 18 cents to 22 cents per share.
The company acquired four multifamily communities in September for about $181.7 million. Preferred holds a total of 3,326 multifamily units, with an additional 3,663 units which it holds an option to purchase. Those optioned units are under development or initial lease-up through its loan program.
Another strong rental stock, Education Realty Trust (EDR) - Get Endeavor Group Holdings, Inc. Class A Report , rose 44% last year and is up 4% so far in January. Education Realty Trust has a solid footing in student housing, where demand is strong as more colleges outsource housing. The Memphis-based REIT is financing the $500-million redevelopment of the University of Kentucky's on-campus housing.
"Student housing is a sector that we love," Meliker said. "The reason we like EDR the most is that EDR is smaller, so the external growth is more meaningful."
MLV has a price target of $42 for year-end 2015 for EDR, which now trades around $38 per share. Education Realty Trust's third-quarter core funds from operations were 11 cents, in line with the analyst view, according to Capital IQ estimates. Revenue was $54.7 million, up from 25.7% a year prior and above the Street consensus view.
Meanwhile, Camden Property Trust (CPT) - Get Camden Property Trust Report , a Houston-based REIT, and Mid-America Apartment Communities (MAA) - Get Mid-America Apartment Communities, Inc. Report , a Memphis-based REIT, are also both standouts among rental stocks, according to Mizuho analyst Richard Anderson, who rates them a buy.
Much of Camden Property's portfolio is anchored in energy-oriented markets like Texas, which is grappling with low oil prices. Still, analysts like Anderson point to the steady job growth -- which was 119,000 new jobs in Houston to start the year vs. the expected 75,000 -- as a reason not to fear Camden's exposure to the oil market.
"Traffic issues and a shortage of workers to begin with might actually welcome an oil pause," Anderson said in a note. "We view this as an interesting spin to keep an eye on to the extent oil prices continue to decline."
Camden Property has diverse rental properties in the Washington, D.C., region that have been yielding positive revenue that is expected to continue this year.
Finally, Mid-America Apartment Communities, also recently upgraded to buy at TheStreet Ratings, reported that during the third quarter, its strongest growth month was September, which Anderson said sets the company up for good results in the fourth quarter and in 2015.
Mizuho has an $80 price target on Mid-America Apartment Communities, which is marking new all-time highs this week at $78 a share. MAA recently increased its quarterly dividend by 5.5% to 77 cents per share.
"We think there may be 10 cents to 12 cents of additional operating synergies in 2015 over and above what has been accomplished this year," Anderson said in a note. "Meanwhile, redevelopment upside from [a recent merger] could contribute 3 cents to 4 cents in 2015."
This article is commentary by an independent contributor. At the time of publication, the author held no position in the stocks mentioned.