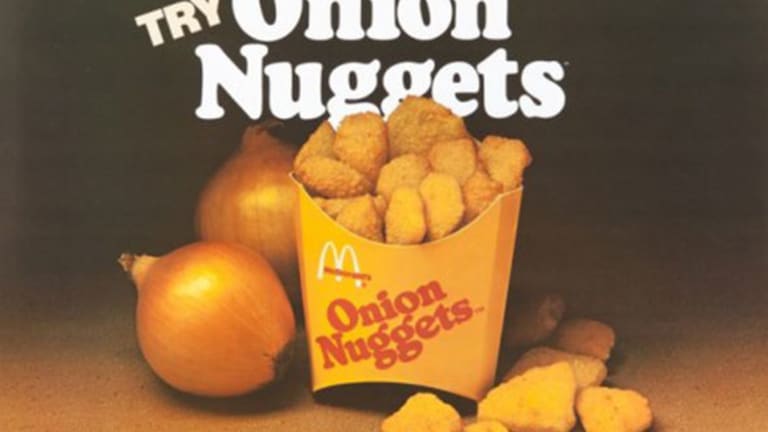 4 Menu Items From the Past That McDonald's Should Bring Back
McDonald's recently announced it's returning Chicken Selects to the menu. Here are four more items it should consider resurrecting or reinventing to help turn around its flagging sales numbers.
NEW YORK ( TheStreet) -- With their plan to return Chicken Selects to the menu, McDonald's (MCD) execs have shown an appetite for tapping the chain's enormous archives to try and reawaken flagging U.S. sales.
It's a good start, but they'll need to keep digging for additional buzz-creating blasts from menus past that are in tune with today's tastes and marketing environment.
On Thursday, Bloombergreported that Chicken Selects will be returning for a limited time starting in March, inciting a largely positive frenzy of activity on social media. Chicken Selects were a menu staple for 15 years, until McDonald's discontinued them in February 2013 as part of a move to streamline its bulging menu.
Going back to the menu vault is not without its risks, of course. McDonald's re-introduced Mighty Wings in September 2013 nationally after a year of testing, and they were a colossal failure. The product had its original launch in 1990, but had been taken off the menu in 2003. 
TheStreet takes a look at four menu items that McDonald's should consider reviving and sprucing up to cater to current consumer tastes and health preferences.
The solution? Get James and his key representatives into McDonald's vaunted Oak Brook, Illinois, test kitchen and create a signature burger or sandwich that he could chow down on during the off-season and feel comfortable promoting. 
McDonald's has done this before with basketball stars, including two of the all-time greats: Michael Jordan and Larry Bird. The Big 33/McJordan Special, as seen in the above video, was a quarter pounder with bacon and special barbecue sauce. (In some parts of the country, it was called the Big 33 after Larry Bird's number, and in others the McJordan Special, but it was the same sandwich.) Jordan and Bird appeared in numerous commercials for McDondald's back in the 1990s; the burger was discontinued in 1992.
McDonald's should consider channeling some nostalgia with a limited-time menu addition that brings back those now-retired basketball icons and their sandwich, as well as developing new items with current NBA stars such as Stephen Curry.



2. Bring back the McStuffin.
On March 27, 2014, Taco Bell made its long-awaited entry into the breakfast business nationwide. its breakfast menu consists of several sandwich options, including the Waffle Taco, a folded waffle with sausage or bacon in the middle. That one has received the most attention for its visually odd pairing.
Taco Bell also debuted the A.M. Crunchwrap, a folded, toasted tortilla filled with a hash browns, eggs, meat and cheese. The design keeps mess at a minimum, making it perfect for a drive to work. The menu was rounded out by a host of breakfast burritos stuffed with meats, cheeses, potatoes and other combinations. 
Breakfast sales now represent 6% of Taco Bell's business and produce hearty 21% operating margins.
McDonald's could easily bring back the McStuffin to compete with Taco Bell's A.M. Crunchwrap, or lighten up the crust to create something that would appeal to customers seeking a quick, and simple lunch snack.
Introduced in 1993, McStuffins were baked french bread sandwiches that resembled Hot Pockets (above). Sauces and flavorings included teriyaki chicken, barbecued beef, pepperoni pizza and cheese steak. They sold for $2 and were tested at restaurants in the Raleigh, N.C., area; Erie, Pa.; and parts of Texas. McStuffins were discontinued in 1993 after a brief stay on the menu.



3. Anyone up for an Avengers or House of Cards sandwich?
McDonald's has been keen on going at it alone with its recent TV ads that focus on ingredient quality and offering free meals for acts of love. But that wasn't always the case.
Back in 1995, Mcdonald's debuted a new limited-time burger in conjunction with the release of Batman Forever. The Triple Double Burger, as seen in the video above, was made from three beef patties and two slices of cheese, served on McDonald's famous sesame seed bun. 
While the desire for a triple burger among today's more health-conscious consumers is likely diminished, McDonald's could develop a new movie-themed sandwich that reflects current tastes for higher-quality, more nutritious ingredients. If it wanted to be creative and tap into millennial habits, it could base a sandwich or snack on original programming featured on Hulu, Netflix (NFLX)  or Amazon (AMZN) .


4. Reimagine the Onion Nugget for the year 2015. 

In a world of Tinder dating and around-the-clock meetings at work, smelly fried pieces of onion for lunch may not be the best option. And maybe it never was: The mysterious Onion Nugget was available in only four test markets, briefly, in the late 1970s.
However, the concept behind the McDonald's Onion Nugget could be reinvented to suit new consumer preferences, such as by making them out of sweet potatoes or pickles, both of which would be takes on similar items offered by up-and-coming "better burger" chain Smashburger. Such additions would also fall into the same category as Chicken Selects -- easy-to-make and potentially highly profitable menu items that could give a bit of much-needed buzz to the chain. 

This article is commentary by an independent contributor. At the time of publication, the author held no positions in the stocks mentioned.