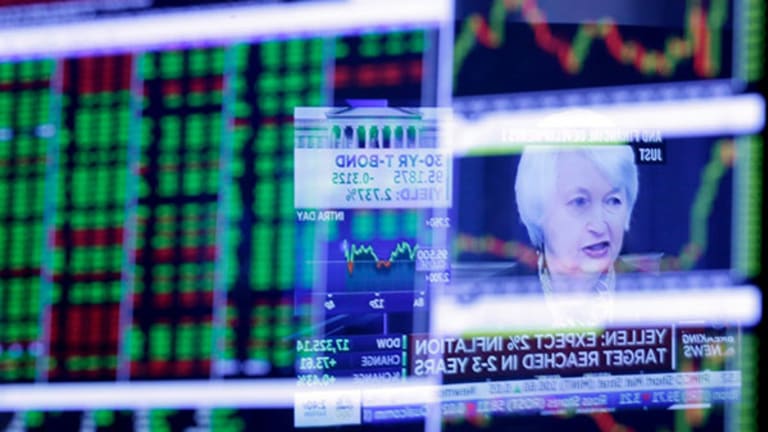 4 High-Quality Financial Stocks That Will Benefit From Rising Interest Rates
Interest rates are expected to rise again as early as June. This is bearish news for most stocks, but these four stocks stand to benefit from rising rates.
The Federal Reserve could soon raise interest rates again. Rising interest rates are not good for the stock market, and fears about rate hikes have caused the market to decline in the last few days.
When interest rates rise, the value of assets such as stocks and property decline. That's because competing asset classes (like bank accounts) have more attractive yields. Businesses that are funding their growth with cheap credit will no longer have access to historically low debt. This could slow growth for some businesses.
But not every business will suffer from rising rates. Some will profit. This article takes a look at four high- quality financial stocks that will benefit from rising interest rates. Two of them are Dividend Aristocrats, stocks with 25 or more years of consecutive dividend increases. The other two are among the largest and most profitable banks in the world. One of the businesses analyzed in this article also ranks in the top 33% of high-quality dividend growth stocks using The 8 Rules of Dividend Investing. 
1. JPMorgan Chase (JPM) - Get JPMorgan Chase & Co. (JPM) Report
Low rates are hurting JPMorgan Chase, the biggest bank in the U.S. by assets. Last quarter, its total profit fell 6.7% to $5.52 billion from $5.91 billion in the same quarter last year. Earnings per share declined 6.9% to $1.35. Still, EPS handily beat the average estimate from analysts, which was for $1.26. Total revenue fell 3% year over year to $24.08 billion, but again that was good enough to beat analyst expectations for $23.40 billion.
Not surprisingly, JPMorgan Chase's weakest-performing segments were fixed-income trading, which is highly volatile, and investment banking. Revenue from fixed-income trading and investment banking fees declined 13% and 24%, respectively, in the first quarter.
Still, shares of JPMorgan Chase are up 9% in the past three months. Investors are feeling more confident in JPMorgan Chase, as its financial performance has come in better than expected, and there is a major catalyst for future growth in the form of rising interest rates.
In December, the Federal Reserve raised the federal funds rate, which is the key benchmark rate used for bank-to-bank loans, for the first time in nearly a decade. When the Fed Funds rate goes up, it generally carries a slew of other rates higher, including those on mortgages, credit cards, and auto loans.
If the Federal Reserve raises rates for a second time, perhaps as early as June, the banking sector should see improved profitability going forward. That's because higher rates will increase the net interest spread that determines banks' profit margins. JPMorgan Chase will benefit from higher rates because the rates it charges on longer-dated loans such as mortgages and auto loans will increase at a faster pace than the rates it pays on short-term deposits.
JP Morgan is also a strong dividend stock. It recently raised its dividend by 9%, to $1.92 per share on an annualized basis. This works out to a 3% yield based on its current stock price, and the stock trades at a modest price-to-earnings ratio of 10.7.
2. Aflac (AFL) - Get Aflac Incorporated Report
At first, it might be a surprise to see an insurance company like Aflac on this list. Some investors might instinctively believe banks will be the major beneficiaries of higher interest rates.
Banks will benefit, but so will Aflac. The insurance business is a highly lucrative one. Aflac makes money in two ways. First, it collects premiums on the policies it writes. But it also earns income on its large investment portfolio. The latter area is where Aflac will see a significant increase in profit if and when the Federal Reserve hikes rates for a second time.
Aflac has a huge investment portfolio. Cash and investments stood at $114.3 billion at the end of last quarter, up from $105.9 billion at the beginning of 2016. This money is currently not earning much income for shareholders. That means that if interest rates rise, Aflac will earn much more on its massive investment pool. The company will be able to invest its insurance float into higher-yielding securities.
Aflac is among the Dividend Aristocrats, a select group of companies that have consecutively raised dividends for at least 25 years. In fact, Aflac has boosted its dividend for 33 years in a row, including last year's 5% hike.
Aflac offers supplemental insurance in the U.S. and also does a significant amount of business in Japan.
Last quarter, Aflac's revenue rose 4.3% from the same quarter last year, thanks in part to a stronger yen-to-dollar exchange rate. The exchange rate meant Aflac's Japanese unit outperformed its U.S. business. In dollar terms, premium income and total revenue both increased 3% in the Japan unit last quarter, compared with 2% growth for the U.S. segment on both metrics.
Going forward, a continuing weakening of the greenback would be an added tailwind for Aflac.
Overall, the company expects 2016 to be another highly profitable year. Management has said it expects operating EPS will be $6.17 to $6.41. That means the stock trades for only 10.9 times expected 2016 EPS, based on the midpoint of the company's guidance.
It seems Aflac is a cheap stock and perhaps undervalued. The company ranks in the top 33% of dividend growth stocks using The 8 Rules of Dividend Investing due to its quality, growth prospects and low valuation.
3. Wells Fargo (WFC) - Get Wells Fargo & Company Report
The persistence of low interest rates has also weighed on Wells Fargo, but this large U.S. bank has navigated the tough environment well.
Last year, Wells Fargo generated $86.1 billion of revenue and $23.0 billion of profit. Revenue and earnings per share increased 2% and 1%, respectively, from the previous year.
Its solid results continued into the first quarter. Revenue rose 4% to $22.2 billion. Another factor weighing on the banking sector is exposure to oil and gas loans. With commodity prices plunging, banks stand to lose money on loans made to energy firms.
While Wells Fargo's net charge-offs increased $178 million year over year in the last quarter, the bank is not as highly exposed to the energy sector as some other banks in its peer group. It has effectively managed its credit portfolio and kept its exposure modest.
Wells Fargo is a holding in Jim Cramer's Action Alerts PLUS Charitable Trust Portfolio. See how Cramer rates the stock here. Want to be alerted before Cramer buys or sells WFC? Learn more now.
The reason for Wells Fargo's steady performance is that it relies more on mortgage originations and less on fixed-income trading and investment banking. The U.S. housing market continues to strengthen, as home prices have risen in several markets over the past year.
This has benefited Wells Fargo, which exhibited 7% loan growth and 4% deposit growth last quarter vs. the year-earlier quarter. Its credit portfolio is in good condition too; Wells Fargo ended last quarter with a 10.6% Common Equity Tier One ratio.
And, because Wells Fargo is the biggest mortgage originator in the U.S., it stands to benefit a great deal if higher interest rates are coming. That's because mortgages are longer-dated loans. Wells Fargo will be able to earn more from higher mortgage rates than it will have to pay in higher short-term deposit interest. As a result, higher interest rates could be a strong tailwind for Wells Fargo's future earnings. In the meantime, it rewards shareholders with an attractive dividend.
In April, Wells Fargo raised its dividend by 1% from the dividend last quarter. The stock offers a solid 3.1% dividend yield. At a P/E ratio of 12, Wells Fargo appears undervalued.
4. Cincinnati Financial (CINF) - Get Cincinnati Financial Corporation Report
Cincinnati Financial may not be a household name, but its track record of paying and raising dividends should instantly put it on your radar. The reason is because Cincinnati Financial has raised its dividend each year for the past 56 years in a row, including a solid 4% raise earlier this year.
That long of a streak puts Cincinnati Financial in rare company. It is one of only a few U.S. companies to have raised its dividend for at least 55 years. This makes Cincinnati Financial a Dividend Aristocrat more than twice over.
Cincinnati Financial is among the top 25 property and casualty insurers in the U.S..
Last year, Cincinnati Financial grew earnings by 21%, to $3.83 per share. Its growth has accelerated into 2016 as first-quarter EPS soared 47% year over year, thanks largely to a significant increase in property casualty underwriting, as well as the benefit of lower natural catastrophe losses.
First-quarter net written premiums rose 8% year over year. Its pretax investment income rose 4% last quarter, year over year, driven by 3% growth in stock dividends and 4% growth in bond interest income. Cincinnati Financial's interest income should accelerate going forward if interest rates rise.
The company has a long track record of achieving sustainable growth. From 2010-2015, Cincinnati Financial grew diluted EPS per share and book value per share by 66% and 27%, respectively. In the first quarter of 2016, book value grew once again, by 4.5% and set a record high of $40.96 per share.
Cincinnati Financial stock trades at a P/E ratio of 16 and at a price-to-book ratio of 1.6. Cincinnati Financial's $1.92 annual dividend provides a 2.8% yield.
This article is commentary by an independent contributor. At the time of publication, the author was long AFL.