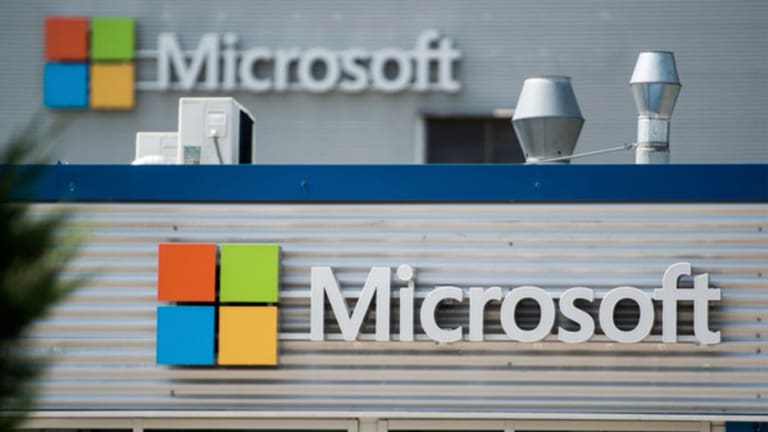 4 Dow Losers You Should Sell Now -- Plus 1 to Buy
Four of the worst-performing Dow stocks could suffer more declines, but another beaten-down stock has upside promise, according to these stock charts.
The Dow's biggest losers? It sounds like a new reality show. After looking over this list of the nine worst-performing Dow stocks this year, I found four that could well suffer more declines and one that has upside promise.
Let's first put our best foot forward:
Microsoft
Microsoft (MSFT) - Get Microsoft Corporation Report has made a little upside progress in the past 12 months, but when we view the stock from different perspectives, we have to become more excited about the bull case in the months ahead. In this daily bar chart, we can see Microsoft gap up in October and then stall out and fall back again. Another upside attempt got underway in February, but by late April we gapped to the downside. Like the selloff in January and February, the most recent pullback has not gone all that far.
Yet this weekly chart of Microsoft is pretty positive. The slope of the 40-week moving average line is positive as it has been for much of the past three years. The on-balance-volume, or OBV, line has been constantly rising the entire time, telling us that buying has been more aggressive than selling. This suggests that the sideways price action in recent months could ultimately give way to new highs for the move up.
This promising-looking OBV line on a weekly timeframe is not matched on the daily chart. While the two timeframes don't match up, the tie, in my opinion, goes to the longer timeframe. The moving average convergence/divergence oscillator is pointed down but could turn up again if Microsoft rallies.
The third chart is a Point & Figure chart. This kind of chart dates back to the 1880s in the U.S. and could well have been used by Charles H. Dow. The chart only shows price changes of a given amount (from $20 and up, it is $1 price changes and 50 cents below). Smaller price changes and volume are ignored. The price gaps we noted above also disappear.
Microsoft has been in a strong uptrend from its March 2009 low at $12.50. A new high "print" at $57 on this chart will be a clear breakout, and a move down to $47 will be a bearish breakdown. The longer-term price target this chart suggests is $72, taking the sideways movement since October and projecting it upward.
General Electric
This daily chart of General Electric (GE) - Get General Electric Company Report should be as disappointing to the bulls as it is to me. If you bought GE in August or September last year, you have a slight gain. If you bought it in December or April, you have a small loss. A decline below $27, the February low, would put months of recent longs under water and could well prompt a test of the support around $24. The OBV line is pointed down suggesting that sellers have been more aggressive than buyers. The MACD oscillator is in a bearish configuration below the zero line. The 50-day moving average line has turned down and prices are just above the rising 200-day line. It wouldn't take much to break the 200-day line.
TheStreet's Jim Cramer holds GE stock in his Action Alerts PLUS charitable trust.
"GE has the highest organic growth of any the major industrials and is about to be able to embark on one of the largest buybacks of all time but cannot do so until it is freed from government regulation," Cramer told TheStreet on Monday. "The chart you see cannot take that into account as the time of the release from government oversight is unclear."
Disney
In this daily chart of Walt Disney (DIS) - Get Walt Disney Company Report  , we can see that prices have been in an irregular downtrend the past 12 months. Prices are below the declining 50-day and 200-day moving averages. The OBV line confirms the decline and recently made new lows. The trend-following MACD oscillator also points to further declines.
I would look for Disney to retest its 2016 lows and maybe head still lower as the third quarter approaches.
 Nike
Despite the public's love affair with its products and its ability to snag high profile endorsements, the chart of Nike (NKE) - Get NIKE, Inc. Class B Report has been rolling over since July. Prices are currently below the declining 50-day and 200-day moving averages. The OBV line has been working lower the past three months, telling us that sellers have been more aggressive. The MACD oscillator is in a bearish configuration below the zero line and points to further price weakness in the months ahead.
 American Express
In this chart of American Express (AXP) - Get American Express Company Report , we can see that prices suffered a big decline the past year.  In the past four months, the stock has made only a limited countertrend rebound. Prices are barely staying above the 50-day average and remain below the declining 200-day average. The OBV line has not improved much the past three to four months and the MACD oscillator gave a bearish crossover at the beginning of May. A third quarter decline back to the February lows could well be the path of least resistance for AXP.