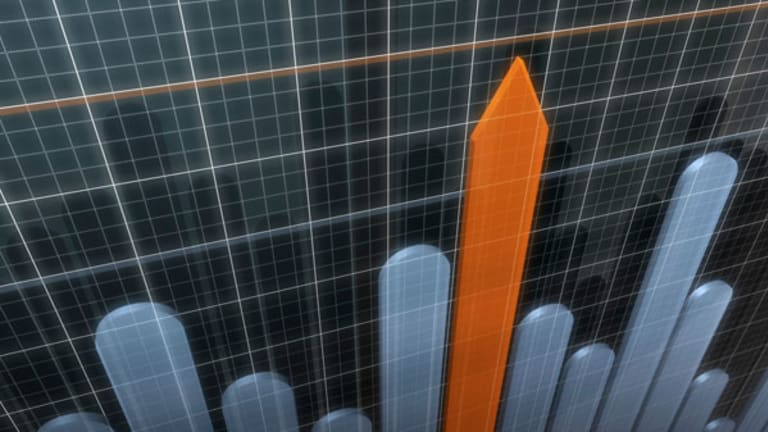 4 Buys (Yes, Buys) at 52-Week Highs
Buying strength and moving with the trend instead of against it is a proven profit method.
NEW YORK (TheStreet) -- While counter-intuitive, especially for bargain hunters, buying a stock as it's making new highs is usually more advantageous over buying a stock at a 52-week low. If you're like me, you would rather buy while a stock is cheap instead of expensive.
A stock at a high today is expensive, but if it makes new highs next week and the following week later, isn't the stock cheap looking forward? Of course, it is, and smart investors know that going with the flow is exponentially easier than fighting the trend.
I trade both. I buy stocks making new highs and making new lows. I've also made infinitely more money buying strength than I have catching falling knives. The trick is knowing what stocks are reaching an exhaustive pivot point, and those with legs able to continue higher. We don't have a crystal ball, but we can use historical chart results to position our portfolios like a casino and only take bets when we have the best of it.
During the process of selecting companies, I utilize the following criteria:
A minimum trading threshold eliminates the thin stocks.
Improving year-over-year results relative to the stock price increase.
Analyst price targets that are higher than the current price.
Low short interest: I consider short sellers to be the smart money. There is no reason to bet against them when we have plenty of stocks to pick from.
United Insurance Holdings (UIHC) - Get United Insurance Holdings Corp. Report operates as a property and casualty insurance holding company that sources, writes and services residential property and casualty insurance policies in Florida, Massachusetts, New Jersey, North Carolina, Rhode Island, South Carolina and Texas. United Insurance Holdings Corp. is based in St. Petersburg, Florida and trades an average of 235 million shares per day with a market cap of $337 million.
52 Week Range: $6.00 to $16.50
United Insurance is firing on all cylinders. Insiders are net stock buyers (no shares sold within the last six months), revenue per share is exploding higher, free cash flow is at the upper range in the last seven years, and net income during the latest reported quarter set a new record.
I like this stock and company for the above mentioned fundamental reasons and or its chart patterns. I like it so much that I wrote a Real Money Pro post with exact entry, profit target and stop loss prices. From a technical analysis perspective, the shares are trending higher on the monthly, weekly and daily chart. Trend followers love this type of pattern and will stick with it until a negative catalyst alters its path.
There's no reason why the stock can't continue higher for a year or more. Every time it makes a new 52-week high, more investors see it. That's how I found it, and once investors take a look under the hood and realize that insiders are participating in the rally because profits justify buying, the shares should continue higher.
The company also pays 16 cents annually in dividends for a 1.1% yield.
Wells Fargo recently initiated coverage rating United Insurance at outperform. The analyst didn't assign a price target that I read, but Zacks downgraded the stock in February, but raised the price target from $9.10 to $15.20.
I'm not sure how you raise a profit target by 50% while simultaneously lowering the rating, but I 'm willing to wager Zacks updates its rating soon. Even without a rating upgrade, if Zacks increases the price target it will have a bullish impact.
The last reported short interest is paltry and without reason to consider it a meaningful influence at only 1.9% of the average trading float. In other words, the smart money on Wall Street isn't betting against this one.
Micron Technology (MU) - Get Micron Technology Inc. Report, together with its subsidiaries, engages in manufacturing and marketing semiconductor devices worldwide. The company was founded in 1978 and is headquartered in Boise.
52 Weeks Range: $10.52 to $27.54
Price To Book: 3.1
Micron's share price is rocketing higher, taking short sellers to task. Justifying the ever-increasing share price is the real growth in revenue and strong earnings. The market doesn't believe it will continue, and that's presumably the reason it will.
In the last month alone, the shares have increased over 20%. Part of the increase is undoubtedly from a short squeeze resulting from a combination of a 10% short interest and share price appreciation. The rising price forces shorts to cover and shorts covering push the price higher. Rinse and repeat.
Micron is a volatile stock with a 1.79 Beta. Beta is a measurement of a given stocks movement in relation to the market. That tells me that we don't want to chase this one because its price movement generally allows for a buy during a pullback. Investors can use the volatility to their advantage by selling put options as an entry strategy. The risk is lower, and the premium collected goes straight to your portfolio bottom line.
Skyworks Solutions (SWKS) - Get Skyworks Solutions Inc. Report is concentrated in designing, developing, manufacturing and marketing analog and mixed signal semiconductors. The company has an $8 billion market cap and trades about 3.5 million shares a day.
52 Week Range: $20.62 to $44.17
Beta: 1.62
Price to Book: 3.53
Compared to industry peers, Anadigics (ANAD) , RF Micro Devices (RFMD) , and TriQuint Semiconductor (TQNT) , Skyworks Solutions is the highest rated by analysts. Skyworks Solutions has almost as many buy recommendations as the other three combined.
TriQuint Semiconductor's stock percentage rise beats Skyworks Solutions, but it's starting from a lower base price. Skyworks Solutions is about twice the valuation of TriQuint Semiconductor, and with $2 billion in revenue compared to slightly less than $1 billion, the valuations correlate neatly.
Skyworks began paying an annualized 44 cent dividend this month for an effective yield of 1.1%. Rising dividends (in this case the start of one) is a catalyst for dividend funds and investors to push the share price even higher as they become interested in the bull thesis. The dividend yield is smaller than Apple (AAPL) - Get Apple Inc. Report, but this company doesn't need to borrow to pay it. Skyworks is also essentially debt-free.
At the same time, because you have to go back until 2001 to find a shareholder that bought at a higher price, virtually every investor who bought is happy right now. There's no one waiting for the price to move higher "just a little more" so they can get out at even, creating strong resistance levels.
Currently, the short interest based on the float is inconsequential and not a significant concern. Short interest is 2.7%.
Interpublic Group Of Companies (IPG) - Get Interpublic Group of Companies Inc. (The) Report is one of the world's leading organizations of advertising agencies and marketing services companies. The company has a $7.5 billion market cap and trades and average of 5 million shares per day.
Interpublic Group doesn't exhibit the most stable earnings pattern you can find, however, after allowing some slack for the economic downturn in 2009 and 2010, the revenue trend demonstrates the strength in the company's ability to perform.
Because the stock trades at twice the beta of the overall market, you want to be strategic with entries and exits. Buying on a down day and selling on an up day may feel counter-intuitive, but doing what's easy isn't usually profitable. In fact, based on the chart pattern, buying after three down days is the sweetspot unless the price action changes.
Cash flow is highly seasonal, and the best method of comparison to previous periods is to analyze the company on a yearly basis.
At the time of publication, Weinstein had no positions in securities mentioned.
This article represents the opinion of a contributor and not necessarily that of TheStreet or its editorial staff.