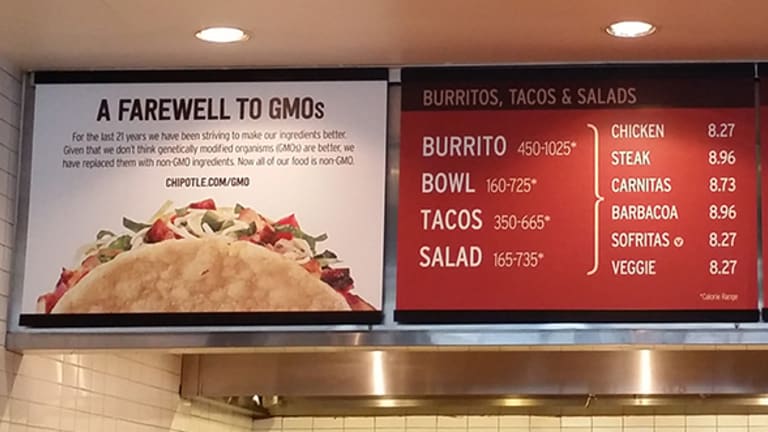 4 Bold Moves Chipotle Needs to Make Now as E. Coli Cases Mount
The burrito chain needs to take some dramatic steps to reassure consumers its food is safe to eat.
The bad news keeps coming for Chipotle (CMG) - Get Report, with news of another investigation of cases of E.Coli linked to eating at its restaurants sending shares plummeting on Monday and Tuesday. 
But what may be under-emphasized in the latest reports is that none of these new reported cases has happened in December since Chipotle completed a comprehensive reassessment of its food safety programs. The first round of cases concerned illnesses that arose from Oct. 19 to Nov. 13, and while the latest cases are slightly more recent, the Centers for Disease Control said those illnesses began in the period from Nov. 18 to Nov. 26. 
"It is important to note that the most recent of these cases visited one of our restaurants a month ago," Chipotle spokesman Chris Arnold wrote via email to TheStreet.
Now the Mexican-themed fast-food spot just has to get that message across to the once faithful legion of better burrito eaters that shot the chain to popularity, but who are foregoing visits due to fears of getting sick. 
Chipotle continues to deal with weak traffic to its restaurants, sharp criticism by people on Twitter and a pressured stock price. For instance, TheStreet found traffic at several Chipotle locations in New York City within the past week to be weak even as Chipotle's founder and co-CEO Steve Ells issued a very public apology on "The Today Show" Dec. 10.

On Monday evening, one Chipotle location in New York City was virtually empty for dinner.
Meantime, Chipotle's stock continues to react negatively. On Monday, shares of Chipotle fell about 4% and were down another 4% in mid-day trading Tuesday, bringing the year to date plunge to 24%.
Following the CDC's latest update, JP Morgan analyst John Ivankoe downgraded Chipotle to neutral and cut his price target to $555 from $630. "Even rational and informed consumers could potentially be given reason to pause when choosing Chipotle over the plethora of fast casual competition in the marketplace," Ivankoe told clients in his research note.  
When asked what else Chipotle intends to do to reassure concerned consumers, Arnold suggested the company will remain internally focused on improving its procedures, rather than taking any bold outward actions. "Our highest priority in this area is to implement the enhanced food safety plan we've developed in response to these incidents," said Arnold.
TheStreet has developed a list of four bold things Chipotle could do to reassure customers its food is safe and get them coming back to its restaurants.
1. Give food away for free for one day. Chipotle is going to have regain the trust of its customers who today, feel unsure about visiting. To get them through the door, what better measure than a national promotional plan? For instance, Chipotle could offer consumers whatever dish they so choose from noon to 6:00 pm at every single location in the U.S. Accompanying the free food giveaway would be marketing messages across print, online and social media declaring that it's safe to eat at Chipotle, guaranteed. The guarantee, plus the free food, would send an important signal to consumers that yes, Chipotle has gotten the E.Coli situation under control. No restaurant company would create a national promotion backed by a 100% guarantee if they feared customers coming in for free food were likely to get sick.


Consumers need to see more of Chipotle's founder Steve Ells.
2. Give the public more of founder and co-CEO Steven Ells on TV and online videos. So far, Chipotle has only had Ells do two primetime TV interviews to explain its new safety measures and to reassure the public -- one on the "Today" show with Matt Lauer and another with TheStreet's founder Jim Cramer on "Mad Money, where he was accompanied by co-CEO Monty Moran. But given its plunging sales and damaged reputation, it may be time for Chipotle to consider putting its founder in weekly TV and video spots to reassure customers.
In effect, Ells may need to to become a Wendy's (WEN) - Get Report  Dave Thomas-like pitchman, walking around a Chipotle restaurant with cameras rolling and explaining the company's efforts and showing a visual of him eating the food. Another spot could be taped on one of the local farms Chipotle uses to secure its produce, with an interview with the farm owner and Ells detailing new safety protocols.
Believe it or not, Ells may also want to take a page here from former owner McDonald's (MCD) - Get Report . The Golden Arches' CEO Steve Easterbrook taped a video on analyst day earlier this year, detailing problems his team was seeking to correct to improve food quality and the guest experience. In hindsight, it helped to restore some lost trust among franchisees, the investor community and consumers.
3. Close all Chipotle restaurants for a day. When Howard Schultz returned to Starbucks SBUX as CEO in 2008, he closed all locations down for over three hours in the evening so that workers could be retrained. Schultz hated how Starbucks was serving up coffee during his absence from the company -- it had become a commoditized experience instead of the theater that the founder fought hard to instill. The maneuver was unheard of at the time, and consumers were upset as well. But, in looking back, the bold action by Schultz worked. The company was able to refocus employees on what made the company great, and the stock price and sales results have zoomed since.
Chipotle might need to follow the same course of action employed by Schultz,implementing new food safety procedures and retraining workers while the restaurants are closed. Doing so would send a strong signal that Chipotle is doing everything it possibly can to make sure its food is safe.


Let Ells continue to focus on the menu.
4. Hire a chief operating officer with packaged food industry experience or a resume from McDonald's. Up until this point, Moran (a former lawyer) has handled the operational and employee culture sides of Chipotle while Ells, a classically trained chef, has focused on the menu. But, in light of Chipotle's torrid pace of new restaurant openings in the past three years that may have stressed its supply chain, it may be time to get a veteran operations guy into the mix.
Currently, Chipotle's management team is comprised of only four people: co-CEOs Moran and Ells, CFO Jeff Hartung, and chief creative and development officer Mark Crumpacker, which seems small given Chipotle's increasing complexity. By comparison, McDonald's has 19 people listed on its executive team, including a chief supply chain and sustainability officer.
To win back customers, and shareholders, Chipotle should have one person solely focused on handling operations. Ells would continue to focus on the menu, while the energetic Moran would keep working on maintaining the unique company culture that he has helped pioneer. But someone from the packaged food industry would be ideal for Chipotle's new COO position given all the wars on food quality that industry has faced basically forever. Even a person with experience at McDonald's (love them or hate them, the company churns out operational wizards) would be incredibly helpful.
Ironically, Chipotle already has two former, long-time McDonald's executives with operations experience on its board of directors in John Charlesworth and Patrick Flynn.