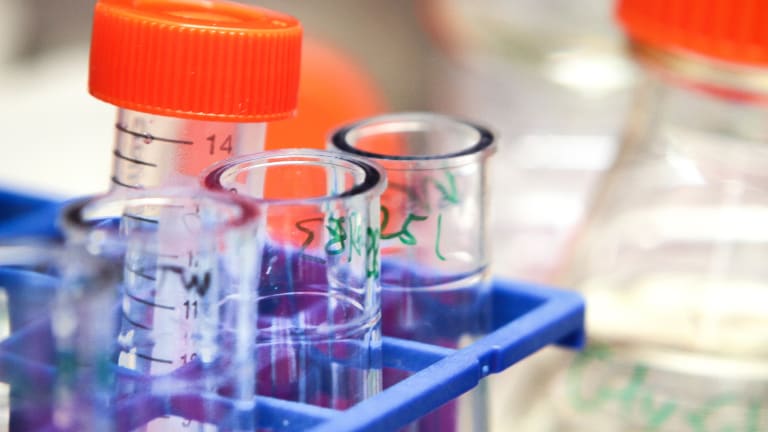 4 Biotech Stocks You Should Be Watching Right Now
Biotech stocks are dominating the strong stock charts on our radar.
Biotech stocks are dominating the strong stock charts on our radar.
Biotech stocks dominate the strong charts on our radar today.
1. Five Prime Therapeutics (FPRX) - Get Report has been in a steep, rising channel since it broke out last month. The biotech company's stock had formed an inverse head-and-shoulders pattern, bottoming near $28 in February. Up another $2.04, or 4.3%, to $48.93 on Thursday on no news, the stock is near top of the long-term channel, which now points to more than $53.
2. Inovio Pharmaceuticals (INO) - Get Report , with a similar pattern to Five Prime Therapeutics, also broke a key resistance level last month. The move has taken the stock from around $7.50 to $10.25, reaching our first swing target. The second target would be up near $13, the October high.
3. Medivation (MDVN) is acting well, up another $1.94, or 3.7%, to $53.32, on 2.5 million shares Thursday. AstraZeneca was rumored this week to be interested in acquiring the company. Much of Thursday's move came late in the day, boding well for Friday and perhaps suggesting something in the works. The stock, like the others highlighted, is in a steep up-channel off its February low. Look for something in the $60-65 range next.
4. Ocular Therapeutix (OCUL) - Get Report broke out of a wedge pattern last month, popped, and then formed another wedge. On Thursday, it broke out of that wedge, up 84 cents, or 6.7%, to $13.39 on 381,700 shares traded on no news. The next target is the gap from last October at $14.25 and then the $17.50-$18 zone.
This article is commentary by an independent contributor. At the time of publication, the author held no positions in the stocks mentioned.