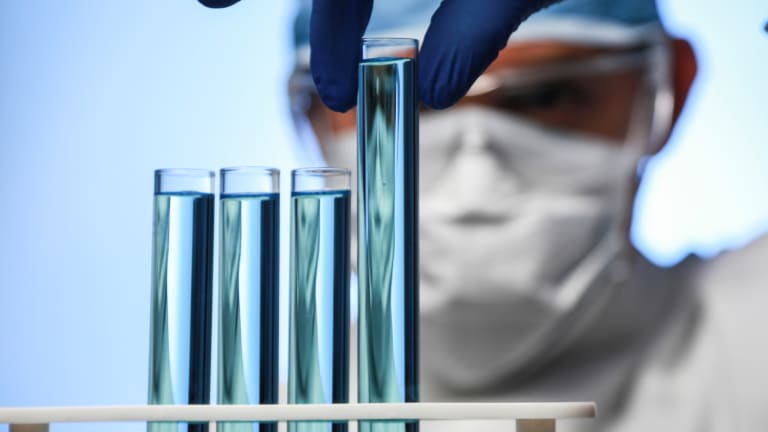 Publish date:
4 Biotech Stocks Recommended by Citigroup Analysts
A new report reveals this beleaguered sector might be due for an upswing. We spotlight a bevy of biotech beauties that are undervalued and poised for gains right now.
A new report reveals this beleaguered sector might be due for an upswing. We spotlight a bevy of biotech beauties that are undervalued and poised for gains right now.
As with practically every other sector in the markets, the biotech industry has taken a beating thus far into 2016. The iShares Nasdaq Biotechnology ETF (IBB) - Get Report is currently down more than 21% since the stock markets opened on January 4, hovering around $258, after dipping as low as $244 two weeks ago. But back in July, shares in the ETF were priced around $400. Is it time to give up on biotech, or is the sector ready for a comeback?
data by
Today, however, there's some brighter news. Robyn Karnauskas and Mohit Bansal, Citigroup analysts, have released a report opining that a bottom is near. Below, the hottest biotech stock opportunities today.
There's been no one good reason for the biotech sector to have fallen so hard. On a recent conference call with clients, Evercore ISI analyst Mark Schoenebaum chalked it up to an ongoing series of unfortunate events: uncertainty over pricing regulation; less-than-stellar earnings reports; a lack of exciting M&A deals; along with economic jitters and slowing demand from China.
Biotech has always been a volatile sector for investors. While companies' shares can jump seemingly overnight by the triple digits, there are just as many stocks that have crashed, losing as much as half of their value on one piece of bad news and in the blink of an eye. Take, for example, the appropriately named Avalanche Biotechnologies. The gene therapy company debuted in the $20s in 2014 before shooting up to $60 in January last year. However, Avalanche came crashing down and lost 50% of its value in one day's pre-market trading alone back in June due to concern over clinical trial results. Currently, it's priced around $5.
AAVL
data by
In this market, it's not unusual to see players carried off the field. But what about when the whole team appears to be injured?
Let's turn to Karnauskas and Bansal. "We think 2016 could be the turnaround story for the biotech sector because the fundamentals remain intact and the pipeline remains as rich as ever," the two Citigroup analysts write. They believe that, while concerns over pricing regulations are far from over, there are no grounds for a real impact on the companies' bottom lines.
Studying 10 historical corrections in the sector, Karnauskas and Bansal note that current biotech weakness leads them to believe a bottom is near. Recovery time could take a while, so they recommend holding stocks for the long term on expectations of a correction.
The analysts recommend Regeneron (REGN) - Get Report and Celgene (CELG) - Get Report as the top two picks for waiting out the recovery. They cite that Regeneron has performed the Nasdaq Biotech ETF during nine of the 10 last corrections.
data by
CELG
data by
The also rate Biogen (BIIB) - Get Report and Gilead Sciences (GILD) - Get Report as buys but are more cautious about Amgen, which has outperformed the ETF in only two cases that they studied.
data by
data by
If the bottom is close, today would be a good time to scoop up biotech shares at discounted prices. However, given the riskiness inherent in investing in single stocks in this sector, more cautious investors seeking steady -- albeit not as exciting -- gains might do well with IBB or the SPRS&P Biotech ETF (XBI) - Get Report . 
You see Jim Cramer on TV. Now, see where he invests his money and why Biogen stock is a core holding of his multimillion-dollar portfolio. Want to be alerted before Jim Cramer buys or sells BIIB? Learn more now.
Here's a small-cap biotech "rocket stock" that's about to take off. UCLA researchers are stunned by a Nobel Prize-winning cancer breakthrough that's proven in clinical trials to eliminate lethal forms of cancer with a single dose. One small company owns the patent to this life-saving treatment. Now trading at about $5 a share, the stock of this innovative company is projected to surge 2,700% on an imminent FDA announcement. Learn the details now, before the regulatory decision happens. To download the full report, click here.
This article is commentary by an independent contributor. At the time of publication, the author held no positions in the stocks mentioned.