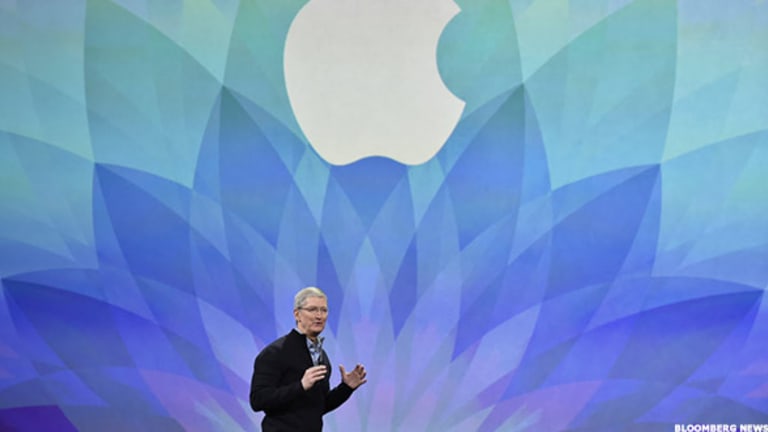 4 Big Tech Stocks on Traders' Radars -- and What You Should Do With Them
Here's how to trade some of the most active tech stocks on the market right now.
Here's how to trade some of the most active tech stocks on the market right now.
BALTIMORE (Stockpickr) -- Put down the 10-K filings and the stock screeners. It's time to take a break from the traditional methods of generating investment ideas. Instead, let the crowd do it for you.
From hedge funds to individual investors, scores of market participants are turning to social media to figure out which stocks are worth watching. It's a concept that's known as "crowdsourcing," and it uses the masses to identify emerging trends in the market.
Crowdsourcing has long been a popular tool for the advertising industry, but it also makes a lot of sense as an investment tool. After all, the market is completely driven by the supply and demand, so it can be valuable to see what names are trending among the crowd.
While some fund managers are already trying to leverage social media resources like Twitter to find algorithmic trading opportunities, for most investors, crowdsourcing works best as a starting point for investors who want a starting point in their analysis.
Today, we'll leverage the power of the crowd to take a look at some of the most active stocks on the market.
Micron Technology
Nearest Resistance: $22.50
Nearest Support: N/A
Catalyst: Q3 Earnings, Outlook Update
Up first is flash memory maker Micron Technolgy (MU) - Get Report, a stock that's getting utterly shellacked this afternoon following third-quarter earnings and an update to the firm's outlook for the rest of the year. Micron's third-quarter revenue fell for the first time in more than two years, and the firm's 43-cent quarterly earnings missed Wall Street's average 57-cent estimates by a wide margin. The firm also expects lower PC sales to impact its performance for the second half of the year, as lower-margin customers make up a bigger chunk of Micron's overall business.
Micron's chart looked pretty ugly at the start of the week, but it looks downright awful following today's huge 17% selloff. Shares have been in a downtrend since last fall, but that trend accelerated with today's big break through the bottom of the channel. Mircon looks like a stock that's best avoided here.
Intel
Nearest Resistance: $34
Nearest Support: $31
Catalyst: Sympathy Move
Intel (INTC) - Get Report is another stock that's being shoved lower by the Micron outlook. Since Intel dominates the PC processor business, a slowdown in computer sales is obviously pretty bad for business -- and this stock is correcting 2.25% this afternoon as a result.
Intel still looks a lot better than Micron from a technical standpoint, but a violation of support at $31 would set a bad precedent as we head into a historically low-volume summer trading session.
Apple
Nearest Resistance: $132.50
Nearest Support: $127
Catalyst: Technical Setup
Shares of tech giant Apple (AAPL) - Get Report are seeing another typical high-volume day this afternoon, buoyed by a long-term technical setup that's continuing to play out in shares.
Apple is forming an ascending triangle pattern in the long-term right now, and the pattern triggers a buy signal with a breakout above resistance up at $132.50. The pattern in Apple has been forming since February, and that long-term setup comes with equally long-term trading implications when the breakout does happen.
Keep a close eye on that $132.50 level this summer.
Advanced Micro Devices
Nearest Resistance: $2.65
Nearest Support: $2.40
Catalyst: Sympathy Mover
Advanced Micro Devices (AMD) - Get Report is another high-volume sympathy mover today, stumbling 2.3% this afternoon on the heels of Micron's lowered PC sales forecasts. Like Intel, AMD faces serious revenue challenges if PC sales weaken in the coming months -- and that's spurring selling today.
Technically speaking, this stock's breakout above $2.40 last week is a bullish sign, particularly given the fact that this stock has been selling off for most of 2015. That said, a return to retest newfound support at $2.40 looks likely. Long-term, I'd avoid the long-side of this stock.
This article is commentary by an independent contributor. At the time of publication, the author was long Apple.