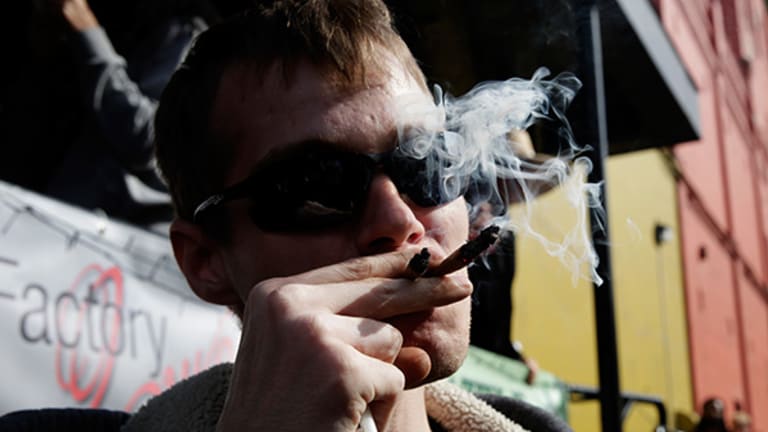 4 Top Stocks in the Growing Medical Marijuana Industry
Weed has gone from a taboo substance to a multi-billion-dollar bonanza. The growth of the marijuana sector has created opportunities for investors. Here are four to watch.
Whether you like that marijuana is getting closer to being legalized nationwide or not, as an investor, it's an opportunity that's hard to ignore. 
With four U.S. states legalizing the recreational use of cannabis and 10 more potentially following suit this year, marijuana stocks are going like hot cakes -- or brownies. This is in addition to the 24 states that allow the use of medical marijuana.
Last year, the legal cannabis market expanded 17% to $5.4 billion, with the industry expected to clock another 25% increase this year, to reach $6.7 billion, according to ArcView Market Research.
That makes pot one of the most promising investments.
Moreover, Americans are increasingly warming to the medicinal use of marijuana, with eight of 10 supporting it, according to the National Organization for the Reform of Marijuana Laws.
The $2.9 billion medical-marijuana industry would at least double in size if other states legalize the use of cannabis in medicines, according to a report from Bank of America's Merrill Lynch.
Cannabis has been used to effectively treat conditions such as chemotherapy-induced nausea and vomiting epilepsy, inflammatory diseases, neurodegenerative diseases, and post-traumatic stress disorder.
With the November elections approaching and the Adult Use of Marijuana Act possibly finding its way onto the ballots in some states, the time is now to buy pot stocks.
Below are four stocks that are poised for growth in this exploding sector. The best way to make money is to latch onto accelerating trends, and few have the sheer momentum of legalized pot.
1. AbbVie (ABBV) - Get AbbVie Inc. Report
AbbVie has been in the news for its recent acquisitions of cancer companies Pharmacyclics and Stemcentrx and for the imminent patent expiration of arthritis drug Humira.
However, AbbVie also has exposure to synthetic cannabinoids-derived medication through its drug, Marinol.
AbbVie's Marinol has already been approved by the Food and Drug Administration. This drug treats nausea and vomiting caused by chemotherapy and restores hunger in AIDS patients.
Although AbbVie doesn't announce sales of Marinol, suggesting that the drug is far from a cash cow for the company, any developments on legalization can move the needle for revenue, and thus, the share price, too.
Also, the stock's 3.68% dividend yield makes it attractive to income investors, too.
2. Cara Therapeutics (CARA) - Get Cara Therapeutics Inc. Report
Cara Therapeutics is a clinical-stage biopharmaceutical company that develops and commercializes new drugs that alleviate pain by selectively targeting kappa opioid receptors, a human protein.
The company has a more diverse and bigger portfolio of compounds focused on targeting immune cells (CB2) and unique opioid analgesics than any of its peers.
With the development of marijuana-based analgesics expected to shift toward CB2 receptors, Cara Therapeutics, with its first-mover advantage, is set to benefit.
Being bullish is an understatement for what analysts think about shares of Cara Therapeutics.
Analysts have a mean recommendation of 1.6 on the stock, with 1 being a strong buy and 5 a sell. The median stock price target of seven analysts is $24, which would represent a more than 375% jump.
3. GW Pharmaceuticals (GWPH) - Get GW Pharmaceuticals Plc Report
United Kingdom-based biotechnology company GW Pharmaceuticals is licensed to grow marijuana plants by the U.K. government and has been in the news for its cannabis based-epilepsy drug Epidiolex.
Last month, the FDA granted Epidiolex orphan status for treating tuberous sclerosis complex, a rare genetic disorder that causes epilepsy in about 80% to 90% of the patients affected. This unique status, given to drugs that treat rare diseases, would give GW Pharmaceuticals benefits such as seven-year marketing exclusivity in the United States.
Although the company is expected to confirm the benefits of cannabinoids, which are derived from marijuana and used in medicines, management said that patients who took Epidiolex, experienced 39% fewer seizures each month than they did earlier.
Furthermore, its Sativex drug to treat multiple sclerosis and cancer is already approved for use in Europe and New Zealand.
With a cash balance of $277.72 million, nearly negligible debt of $15.43 million and no dividend payments to make, GW Pharmaceuticals is in position to make significant investments in research and development to ensure the success of its cannabis-based drugs. This company should not only survive but also deliver outsized capital appreciation.
4. Insys Therapeutics (INSY)
Small-capitalization specialty pharmaceutical company Insys Therapeutics markets two drugs: Subsys, a sublingual Fentanyl spray for cancer pain, and Syndros, a generic version of Dronabinol capsules used to treat nausea and vomiting caused by chemotherapy.
The stock has fallen over the past year as the company became the subject of multiple investigations into the sales and marketing of Subsys and its management announced that first-quarter sales of the drug this year wouldn't cross $62 million, far less than estimates of $86 million. The main reason for the disappointing sales was recent public attention on the U.S. opioid epidemic, which likely made doctors reluctant to prescribe opioids, including Subsys.
However, Insysy Therapeutics delivered on its updated guidance, even coming through with an estimate-beating first-quarter profit of 11 cents a share.
Insys Therapeutics is also awaiting approval by July 1 on its reformulation of the marijuana-based medicine, Marinol, to be sold under the brand name Syndros. If approved, Syndros could account for annual revenue of $200 million.
Despite its recent problems, analysts expect Insys Therapeutics to deliver annual earnings growth of 28% over the next five years, outpacing the industry's expected growth of 25.80% and 7.46% for the S&P 500. That makes Insys Therapeutics a market-beating investment in a lackluster overall investment climate.
---
An 85% accurate trader gives his personal guarantee: "Give me nine minutes a week, and I guarantee you $67,548 a year." He turned $50,000 into $5 million trading this way, and for a limited time, he is guaranteeing investors at least $67,548 per year in profitable trades if they follow this simple step-by-step process. Click here to see how easy it is to collect thousands of dollars in "free money" every month.
This article is commentary by an independent contributor. At the time of publication, the author held no positions in the stocks mentioned.