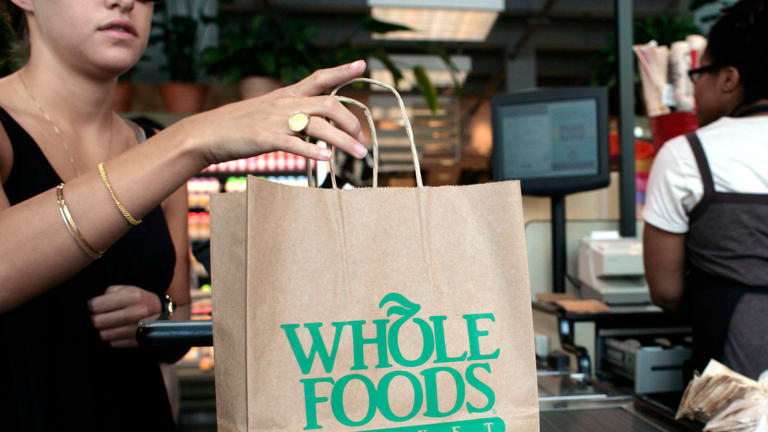 Whole Foods: We're Being Attacked From Every Possible Direction
Dreadful quarters from Whole Foods are becoming commonplace.
Updated to include comments from earnings call. 
Whole Foods (WFM) has finally swallowed some pride and admits it's no longer as relevant as it was in the past, and its sales continue to suffer as a result. 
Shares plunged 5% in after-hours trading Wednesday. The organic grocer's fiscal third-quarter earnings (ended July 3) fell 14%, to 37 cents a share, in line with Wall Street forecasts. Net sales rose 1.9% from the prior year, to $3.7 billion, also matching analyst forecasts. Same-store sales declined for the fourth straight quarter. 
"It remains a very competitive market out there, that's the world we are in," Whole Foods co-CEO Walter Robb told analysts on a call. Another exec later chimed in, "There are [now] good enough [natural foods] alternatives nearby, and people can shop for items at Wegmans or Kroger (KR) - Get Report that they only used to get at Whole Foods."
The exec characterized this as the "mainstreaming" of natural foods, and it has likely caused people to travel less far to visit a Whole Foods store.  
Here are the three additional reasons for Wall Street's negative response to Whole Foods' results other than the dreary commentary from execs.
Lower produce prices are still not driving a sales recovery at Whole Foods.
1. Same-store sales are still plunging.
Whole Foods said same-store sales declined 2.6% in the quarter even as it ratcheted up promotions in produce, meat and dairy to be more competitive with its new rivals. The result didn't improve at all from the first three weeks of the quarter when Whole Foods said its sales were down about 2.6%.
Even as it continued to lower prices on consumer staples, Whole Foods saw the number of transactions decline 2.7% in the quarter -- in the second quarter, transactions declined 2.1%. Whole Foods same-store sales have now fallen in four straight quarters, according to Bloomberg data.
For the first few weeks of the fourth fiscal quarter, Whole Foods said same-store sales have dropped 2.4%, reinforcing Wall Street's concerns about the company's fundamentals.
"Wellness has gone mass, leaving high-end specialty players like Whole Foods struggling as conventional grocers, warehouse clubs, and lower-priced, more accessible specialty concepts continue to grow their presence in natural and organic and open stores around Whole Foods," wrote Goldman Sachs analyst Stephen Tanal in a damning note on Tuesday. Tanal rates shares of Whole Foods a sell. 
People may not be hiking it to Whole Foods as they once did, says execs.
2. Profit margins are under siege.
Whole Foods' discounting took its toll on profit yet again. Gross profit margin declined 89 basis points year over year to 34.7 in the quarter. Wall Street was looking for a gross margin of 34.4%. The showing only reinforced Wall Street's hesitation on the stock.
Pointed out Pivotal Research Group analyst Ajay Jain in a Tuesday note, "If sales and gross margins remain pressured, we question whether earnings can remain flat in fiscal year 2017." 
Whole Foods partly blamed higher healthcare costs for a tepid fourth-quarter outlook.
3. Outlook is lackluster.
As a result of competitive pressures from the likes of Kroger and Target (TGT) - Get Report in organics and investments in lower prices, Whole Foods once again served up a cautious outlook.
Earnings for the fiscal fourth quarter are seen in a range of 23 cents a share to 24 cents a share. Wall Street expects 24 cents a share.