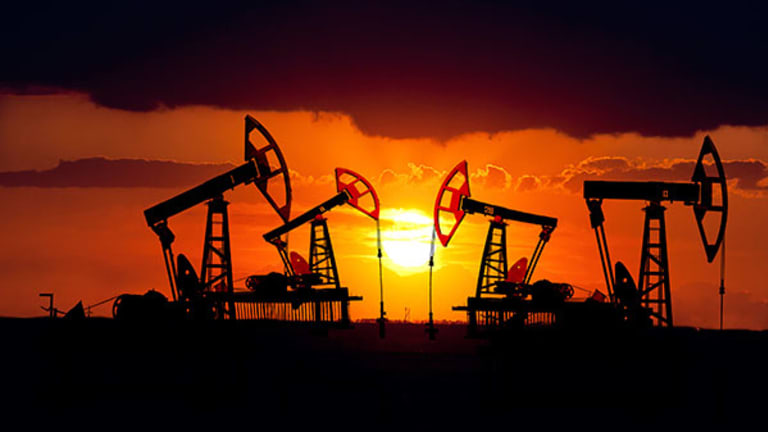 3 Ways to Profit From Saudi Arabia's Colossal Blunder
OPEC's leader has started an oil price war it can neither control nor win. Here are three safe but powerful ways to make money from the kingdom's mind-boggling misjudgment.
To Saudi Arabia's oil sheikhs, it must have seemed like a good idea at the time. Open the spigots to flood the world with cheap oil, pressuring rivals in Russia, Iran and North America. Then, once these nettlesome competitors are prostrate, cut back production to grab market share.
But wars, even those fought over price, often move in unintended directions. And this war has gotten way out of hand. The price of West Texas Intermediate crude oil, the U.S. benchmark, now hovers at $31 a barrel, a shocking decline of about 72% from a high of more than $110 a barrel in the summer of 2014. Saudi Arabia now faces an existential crisis and could very well go broke before its competitors cry uncle.
Many energy investors are pulling out their hair, but if you're shrewd and opportunistic, you should be licking your chops. Below are three sure-fire ways to make money off the energy sector's woes -- without getting involved with risky and time-sensitive options.
Oil has now settled into a 12-year low, wreaking havoc with the treasuries of major oil-producing nations and pushing scores of companies in the American energy patch into bankruptcy. The relentless plunge in energy prices will soon cause several overvalued and fundamentally unstable stocks to collapse in price.
This week, major investment banks Morgan Stanley, Goldman Sachs and Citigroup reported that they expect the price of oil to smash through $30 a barrel and down into the $20s in coming weeks, due to China's slowing economy and the global glut of oil.
Saudi Arabia has been unable to exert its influence as OPEC's leader to curtail production, as revenue-desperate countries such as Venezuela, Iran and Iraq refuse to play ball. As this dynamic continues to unfold, many stocks will go belly up in 2016.
But you should belly up to the following inverse exchange-traded securities, which move in the opposite direction of energy prices. As prices go down, the value of these funds goes up.
The nifty aspect of these exchange-traded funds and exchange-traded notes is that they trade just like stocks, so you don't have to risk losing your shirt on complex and fast-moving derivatives that can sour in a hurry. Let's take a look at each security, in ascending order of risk:
1. ProShares UltraShort Oil and Gas ETF (DUG) - Get ProShares UltraShort Oil & Gas Report
This ETF seeks a daily performance that corresponds to twice the opposite of the daily performance of the Dow Jones U.S. Oil & Gas Index. The ProShares UltraShort Oil and Gas ETF now boasts a one-year return of 39%.
DTO data by YCharts
2. PowerShares DB Crude Oil Double Short ETN (DTO) - Get DB Crude Oil Double Short Exchange Traded Notes Report
This exchange-traded note seeks to track the daily inverse performance of 200% of the Deutsche Bank Liquid Commodity index, which is composed of futures contracts on light sweet crude oil (West Texas Intermediate). One-year return: 97%.
3. Direxion Daily Energy Bear 3X ETF (ERY) - Get Direxion Daily Energy Bear 2X Shares Report
This ETF seeks a daily performance of 300% of the inverse of the Energy Select Sector Index. The fund creates short positions by investing a substantial portion of assets in futures contracts and options. As such, it's riskier than the other two securities, but it also provides the greatest potential upside. One-year return: 47%.
All three securities are poised for further massive gains in 2016, as energy prices continue their inexorable march downward. And if you already own major energy stocks such as Chevron or Exxon Mobil, you don't have to dump those blue-chips. Investing in an inverse ETF allows you to make money on falling energy prices as a way to hedge your portfolio and reserve your capital for the day when energy prices inevitably bounce back.
Energy isn't the only sector that's hurting right now. This year, the broader markets have gotten off to a dreadful start. If you want to see a list of the worst stocks you can own in today's volatile investment environment, read this shocking report called 29 Dangerous Stocks: Sell Now! Inside, you'll discover the market's most overvalued stocks, and learn the process you can use to keep avoiding them in the future. Click here now for a copy.
John Persinos is editorial manager and investment analyst at Investing Daily. At the time of publication, the author held no positions in the stocks mentioned.