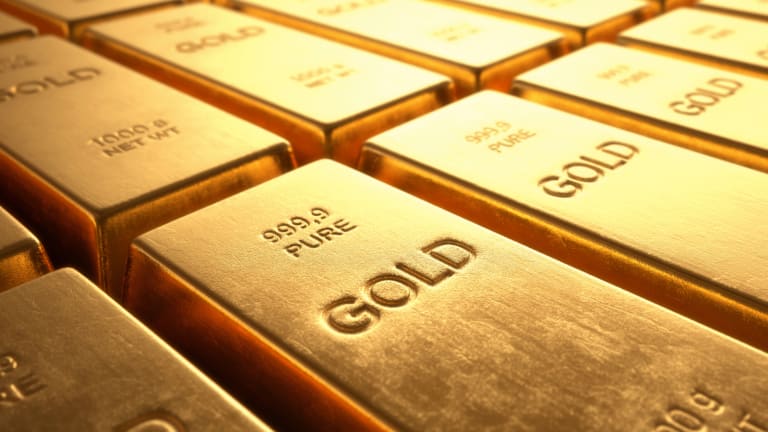 3 Ways to Invest in Gold Now to Crash-Proof Your Wealth
Warning signs indicate that the stock market could soon collapse by 10%, 20% or more. The best correction-hedge is gold. Here's how to invest in the yellow metal now.
Gold is currently reeling under interest rate fever, with the U.S. Federal Reserve expected to raise rates in December. Gold is now at its lowest level in six years, near $1,050 an ounce.
A rise in rates would result in a stronger dollar, pushing gold in the opposite direction. The fact that gold has to compete with rising bond yields doesn't help either.
But when the world was shunning equities in the wake of the financial meltdown of 2008, gold was the one asset class that continued to profit -- the savior of portfolios even as investors frantically took refuge in its safe-haven status. Gold is a proven hedge, when weak and vulnerable stocks take a nosedive. It's the kind of investment that finds many takers, largely because it's simple to understand.
Here are three ways you can use the Midas metal to make your portfolio crash-proof. 
1. Gold You Can Touch
If the sheer tangible quality of gold is what reassures you, jewelry is not your only option. Countries often mint bullion and gold coins, which can be bought from official dealers and traders, a list of which is available with the U.S. Mint.
The American Eagle, Canadian Maple Leaf, Chinese Panda, and South African Krugerrands are the most popular coins which contain one ounce of gold.
While these coins are the most direct exposure you could ask for, they come at a slight premium. For instance, when gold traded at $1,200 an ounce, dealer Harlan J. Berk was quoting $1,270/oz for the American Eagle, $1,285 for the Chinese panda, and $1,260 for the Canadian Maple Leaf.
Another deterrent to physical gold is the cost associated with physical handling -- ranging from safe storage to transportation and insurance. If these aspects are taken care of, go right ahead with the purchase.
2. The Simplicity of Stocks and Derivatives
For those who can manage the risks, holding stocks of big gold miners is another lucrative option, with the smaller, riskier ones known as junior gold stocks. The same rules of single-stock equity investing apply here, but the high leverage of these stocks is what magnifies gains or losses. Gold mining stocks may have a 3-to-1 leverage to gold's spot price to the upside down and up.
Apart from operating and management decisions, gold mining stock prices are also influenced by the price of gold. And in the event of a company crisis, even the rising price of gold may not help. So, while owning tangible gold is only tied to macro-economic risks, owning securities adds company-specific risks as well. (That's especially true in the context of fundamentally weak stocks that will probably crash before the year ends.)
One of the most popular gold mining stocks is Newmont Mining Corporation (NEM) - Get Newmont Corporation Report . The company managed to grow revenues by 15% year-over-year in the most recent quarter. Also buoying the company is its ability to cut costs from fuel to labor. In the third quarter, Newmont's all-in-sustaining costs were $835 an ounce, compared with $995 a year earlier. Bear in mind, gold needs to be above this price for Newmont to be profitable.
data by
Other stocks worth considering include Goldcorp, Barrick Gold, and Agnico Eagle Mines.
As with stocks, gold also has options and futures. Betting on the expected trend, investors can buy, call or avail options to manage large investments with limited cash. Before entering the options market, it is advisable to learn the concept of time-value for an option and understand that the majority of options expire worthless.
Taking risks to another level is the futures market, with several challenges that must be addressed before entering. For the seasoned investor with a gargantuan appetite for risk, gold futures in 100 troy ounce contracts and options on the COMEX division of the Chicago Mercantile Exchange are possibilities.
3. Paper Gold Through ETFs
A relatively cheaper and hassle-free option to owning physical gold is holding it in paper form. Gold Exchange Traded Funds (ETFs) are like mutual funds traded on the stock exchange and hold gold as their only asset, tracking its pricing trends. They can be bought or sold at any time during the trading day, making liquidity a major positive for these investments.
The beauty of ETFs is that you don't need to have oodles of investable funds to make it a part of your portfolio. Each ETF share is one-tenth of an ounce of gold. And so, when gold was $1,200 an ounce, you could own an ETF share for as little as $120. Though ETFs offer liquidity and freedom from storage worries, these costs don't disappear entirely and are built into the cost of the ETFs.
Apart from ETFs (which have gold as their only asset), several mutual funds or ETFs track gold miners. The best include Direxion Daily Gold Miners Bear 3X ETF, Market Vectors Gold Miners ETF, and Sprott Gold Miners ETF.
Gold is generally considered a safer asset in comparison to equities and is also used as a hedge against inflation (while inflation erodes the value of paper currency over time, the value of gold remains intact).
No matter the situation -- an act of terrorism or an interest rate scare -- you can't precisely predict what triggers equity markets to tank. To offset losses stemming from such developments, it's wise to reserve a spot for gold in your portfolio. It may just re-test its $1,200 levels soon.
Signs are emerging that the stock market is overvalued and ready for a correction of 10% or more. If that happens, a certain group of especially weak stocks will fall the hardest. Problem is, many of these terrible equities are quite popular. Maybe you own some of them. To make sure you don't hold any of these toxic investments, click here now for our free report on the world's worst stocks.
This article is commentary by an independent contributor. At the time of publication, the author held no positions in the stocks mentioned.