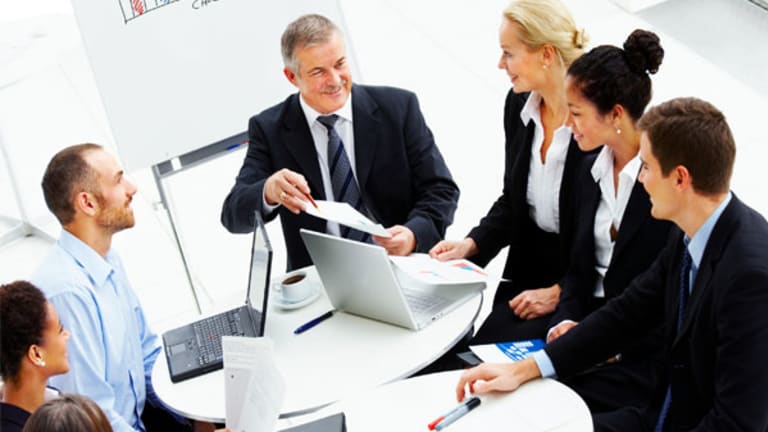 3 Ways Government Interventions Hurt
Politicians are making it difficult for American companies to adapt to changes in the business environment.
The following commentary comes from an independent investor or market observer as part of TheStreet's guest contributor program, which is separate from the company's news coverage.
NEW YORK (
) -- When repositioning
GE
(GE) - Get Free Report
, Jack Welch demanded that GE leaders, "Face reality as it is, not as it was or as you wish it to be."
American business has an excellent record of adapting to new environments. Since the 1970s, we've read that America will lose its manufacturing base. It is true that as a share of total GDP, American manufacturing has declined, but it's still doing well. Although China's growth rate is faster, the 2010 total manufacturing output of China and the U.S. were approximately the same at about $1.8 trillion.
We've also read for decades about the futility of building an economy on services. But the U.S. has transitioned to a profitable services economy. U.S. GDP per capita is still second only to Norway among advanced countries. The services economy pays us well.
However, many well-meaning politicians have trouble accepting these facts. They maintain a paradigm from an earlier era where government made decisions with impunity. That reality has changed.
Here are three examples of how government interventions hurt businesses.
1.
Sticking with the paradigm of America as a manufacturing nation with stable employment.
In the 50s and 60s America's manufacturing power was unmatched. High-paying, secure jobs with low educational requirements, generous pensions and 35 hour work weeks created a strong middle class. But that's "reality as it was." Unless the value of the dollar falls off a cliff, that world is not going to return.
Consider the federal government's recent failure to create a green manufacturing sector.
Solyndra
had every advantage with a half billion dollar government loan and favorable regulations. But after investing $733 million in a state-of-the-art robotic facility in California, Solyndra folded to lower cost Chinese competitors
Suntech
(STP)
and
Yingli.
undefined
But there are success stories.
Boeing
(BA) - Get Free Report
is America's largest exporter of manufactured goods. How does the federal government support Boeing? It is threatening to shutdown its South Carolina operations as a perceived threat to unions and to its ideal manufacturing model.
Reality today is that 75% of U.S. GDP comes from services. America's crown jewel industry is financial services.
This remarkable industry produces 29% of all U.S. profits -- yet down dramatically from 46% in 2001. Think of the implications of an industry that can produce half of all U.S. profits. And, when compared to manufacturing, financial services provides safe, clean, high paying jobs. How is our government supporting our most profitable asset? By vilifying its members and by dramatically increasing regulations. Since Dodd-Frank's passing in July 2010, the S&P is up 1% and XLF (the U.S. ETF for financial services) is down 20%.
2.
Creating regulations that make operating outside the U.S. more attractive.
With today's technologies and global reach, jobs are easily moved.Currently, 75% of
IBM
's
(IBM) - Get Free Report
employees live outside the United States. Industrial corporations like IBM and GE have become highly proficient in moving operations to wherever they get the best deal -- tax rates, wage rates, freedom from unions, etc. No deals? They leave.
3.
Taxing companies until they turn and run.
In the early 90s, when I was a young consultant, our project team visited
Coca-Cola
(KO) - Get Free Report
headquarters in Atlanta. After passing through five security checkpoints, we reached the President's office. The president, Don Keough, stunned us when he said, "Coca Cola is an international company that is currently headquartered in the U.S. But that could change at any time."
Keough was prescient. Not only are jobs leaving the country, companies are leaving, too. Consider Accenture. It started as a U.S. company, but then in 2002 became a Bermuda company to escape high U.S. corporate taxes. After enduring seven years of U.S. government harassment, Accenture became an Irish company in 2009.
Companies no longer have to accept governments that are unfriendly to business. That's "reality as it is." Consider France. It's difficult to imagine any international company that would build a regional headquarters in France.
Corporate tax rates are 33.33%, personal taxes are 40% and VAT adds another 19.6%. Most importantly, labor laws are punishing. Firing a French employee is a nightmare. In response, many multinational companies limit employment growth to sales and service personnel. New regional headquarters and global centers of excellence are built in Switzerland -- France's next door neighbor.
Switzerland's average corporate tax rate is 21%, personal taxes are 29% and VAT is 8%. And employment policies are business friendly -- if you are not happy with an employee, fire him. The result? Swiss citizens have direct access to the best and highest paying jobs in Europe and enjoy a
2Q 2011 unemployment rate of 3%. Per capita GDP is USD $42,000 compared to $33,000 in France. In trying to help the little guy by hurting the big guy, France hurts everyone.
Or, take Hong Kong. Businesses love Hong Kong's maximum corporate tax rate of 17%, maximum personal tax rates of 16.5% and no VAT. The result? GDP per capita income is at virtual parity with the U.S. By taking less, they get more. Like Switzerland, Hong Kong's paradigm is beautifully aligned with today's global world.
America's politicians must thoughtfully examine current reality and build a new growth model. They would be wise to use China's former Premier Deng Xiaoping as their role model. After years of persecuting the rich and demanding economic equality, Chairman Deng realized China's model was not aligned with reality. So he turned China's economic model on its head. "Let some people get rich first," he said in 1980 as he created the first Special Economic Zone in Shenzhen. It worked. Many Chinese have become rich. And as they became rich, virtually all have benefitted.
Can America make a similar shift?
Hall is managing director of Human Capital Systems (www.humancapitalsystems.com), a firm that designs systems for improving workforce performance. He is also an instructor in Duke Corporate Education's teaching network and author of The New Human Capital Strategy. Hall was formerly a senior vice president at ABN AMRO Bank in Amsterdam and IBM Asia-Pacific's executive in charge of executive leadership and organization effectiveness. During his tenure, IBM was twice ranked No. 1 in the world in Hewitt/Chief Executive magazine's "Top Company for Leaders." Hall completed his Ph.D in industrial-organizational psychology at Tulane University, with a dissertation on people management practices of Japanese corporations.