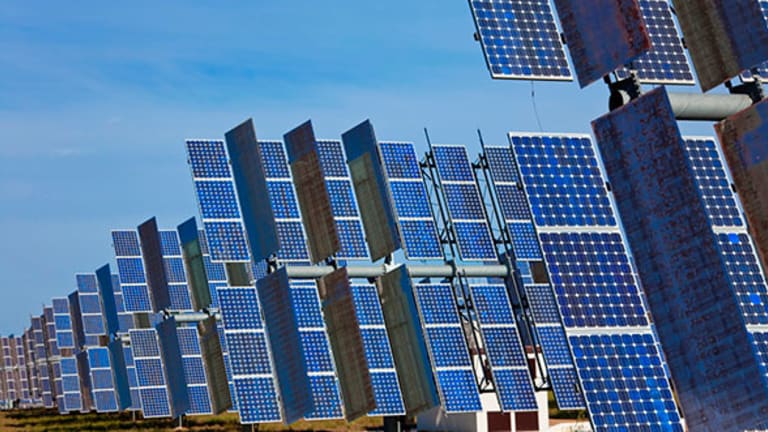 3 Undervalued Solar Energy Stocks Investors Should Buy
As the solar industry grows, these three stocks should offer market-beating performances.
NEW YORK ( TheStreet) -- Many investors think that the solar industry faces cloudy prospects, as persistently low energy prices continue to batter all types of energy-related stocks. The conventional wisdom is that low oil and gas prices motivate energy consumers to abandon solar power in favor of cheaper fossil fuels.
They should think again. If you subscribe to the common misconception that low energy prices hurt solar, you're missing one of the most exciting investment opportunities to come along in decades. Fact is, the infrastructure for the solar industry is now so pervasive and entrenched, it has precipitated a "price decoupling" between solar and fossil fuels. Solar and other renewable energies are increasingly part of the energy status quo and no longer need high oil and gas prices to attract end users.
Three solar stocks are in the best position to profit from this new pricing dynamic: First Solar (FSLR) - Get First Solar, Inc. Report , SunPower (SPWR) - Get SunPower Corporation Report and Canadian Solar (CSIQ) - Get Canadian Solar Inc. Report . While the stocks of conventional energy giants such as Chevron (CVX) - Get Chevron Corporation Report and ExxonMobil (XOM) - Get Exxon Mobil Corporation Report flounder amid low oil and gas prices, these solar stocks should soar in 2016 regardless of the fluctuations of West Texas Intermediate and Brent North Sea Crude.
Not only are these solar stalwarts the best in the industry, but they're also priced at absurdly low valuations right now. You should snatch them up today, before the rest of the investment herd catches on.
(If you're interested in other companies that are developing innovative technology, here's a small tech stock that has the potential to surge in the coming months as it gains traction). 
To be sure, the proxy for solar energy stocks, the Market Vectors Solar Energy ETF (KWT) , is down 7.27% year-to-date. However, the fund has been on a multi-year tear and was bound to take a breather. KWT's three-year return stands at an impressive 90.02%, compared to 14.5% for the S&P 500.
I expect the solar industry's upward trajectory to resume, as major developing countries such as China plow considerable resources into renewable energy and the price of photovoltaic (PV) cells continues to plummet.
Consider the announcement this week from China's National Energy Administration that the country's goal is to increase solar-power capacity fourfold by 2020. In its bid to fight chronic air pollution and pivot away from coal, the government wants to boost PV capacity by 20 gigawatts per year from 2016 to 2020.
So, put aside any outdated notions that solar power is the impractical dream of tree-hugging, Birkenstock-wearing environmentalists. Although in the doldrums right now, the industry is poised for a long-term boom that should continue generating market-thumping gains for decades.
Solar power is becoming larger in scale and cheaper to produce. The average price of a solar panel has dropped by 60% since 2011 and technological advances continue to push down costs.
According to the Earth Policy Institute, an increasing number of countries are aggressively pursuing solar power as costs lower. More than 30 countries now claim capacity of over 100 megawatts, a figure that the institute expects to double by 2018.
With a market cap of $5.3 billion and more than 6,000 employees, First Solar is the industry leader and historically has shown the most stability in an industry typically made up of smaller, more volatile players.
The Tempe, Ariz.-based company has built a 139-MW PV power plant dubbed Campo Verde Southern California to sell electricity to the utility San Diego Gas & Electric (SDG&E) under a 20-year contract.
The deal is part of the company's evolution from a mere supplier of solar technology to a strategic builder of giant utility-scale grids that produce solar power at lower cost due to economies of scale. As the largest and most established solar company, First Solar is less risky than its counterparts. However, as such, it also confers less opportunity for big gains.
With a trailing 12-month price-to-earnings (P/E) ratio of only 17, First Solar is a bargain compared to the P/E of 71.1 for its industry of specialized semiconductors.
With a market cap of $3.4 billion, SunPower is the second-ranked company among PV solar panel makers. This rapidly growing, smaller-cap firm is more enticing for investors who are willing to shoulder more risk.
SunPower's specialty is the design and installation of large, super-efficient panel arrays, which as noted above are in great demand in China. The company also boasts major clients in other Asian countries and the Middle East.
Like First Solar, SunPower emphasizes utility-scale solar power plants, because they allow SunPower to bring its value-added (and higher margin) engineering skills to bear. SunPower has made greater strides along these lines, however, with major projects on the drawing board in North America, Europe and Japan.
With a trailing P/E of 22.3, SunPower shines through as a good buy now.
With a market cap of $1.2 billion, Canadian Solar produces solar ingots, wafers, cells, modules, and integrated power systems.
Here's what's to love about Canadian Solar: the company is officially based in Ontario, Canada, but the vast majority of its manufacturing facilities are located in China. This dual presence is a shrewd strategy, because t allows the company to keep overhead low by manufacturing in China, but at the same time, it precludes many of the headaches and dangers of investing in a China-headquartered entity.
Canadian Solar is emphasizing growth opportunities in emerging markets as well as developed countries in the Eurozone. Notably, Germany has announced the goal of decommissioning all of its nuclear power plants by 2022 and converting almost completely to solar and wind power by 2050. Germany is the world's largest solar market and one of Canadian Solar's biggest clients.
With a trailing P/E of 4.9, Canadian Solar is a hugely inexpensive way to tap solar's long-term growth opportunities.
Looking for other technology innovators to skyrocket. 
John Persinos is an editorial manager and investment analyst at Investing Daily. At the time of publication, the author held no positions in the stocks mentioned.