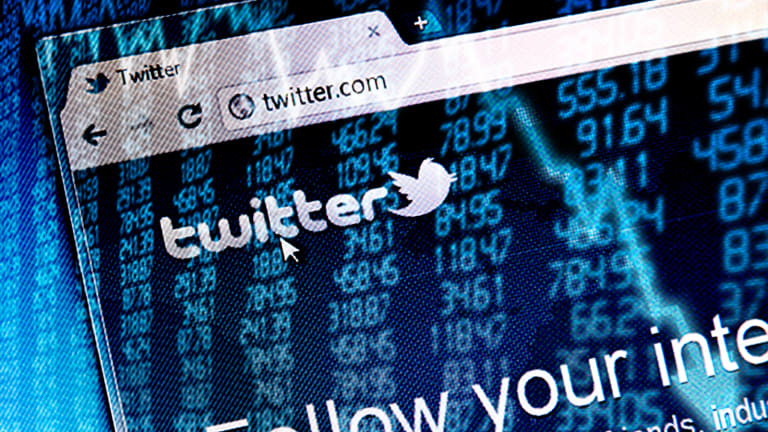 3 Tips for Using Social Media to Become a Better Trader
Traders who use social media to spot news events can get a significant lead on the competition. Here are three tips to help you profit.
Traders who use social media to spot news events can get a significant lead on the competition. Here are three tips to help you profit.
NEW YORK (TheStreet) -- On April 28 something incredible happened. Twitter's (TWTR) - Get Report earnings announcement was leaked to the general public -- on Twitter.
The company's first-quarter earnings fell short of expectations, and the stock plummeted nearly 18% that day as the market caught wind of the miss.
Aside from the obvious irony, this event is notable as a landmark in the now inextricable relationship between social media and trading. Traders today are in an environment where more and more news is breaking on social media such as Twitter instead of on traditional media.
You ignore social media at your peril. In the case of the Twitter earnings leak, it took nearly 14 minutes before the news was reported by any major news outlet. That gave a significant lead to traders who saw the news on Twitter.
Given this new reality, how can you wield social media as a valuable intelligence tool?
Here are the top three tips:
Work with a platform that provides reliable credibility assessment. Obviously, not all tweets are created equal. It's important that traders use a product that is accurately assessing the credibility and validity of sources and news reports on Twitter before they make any sort of trading decision.
Don't just use lists. It's not enough to simply create a list of Twitter sources. Thousands of other traders have done the same thing. Work with a provider who is algorithmically analyzing all potential sources on social media and providing differentiated news alerts that will provide alpha-generation opportunities.
Know the difference between event detection and sentiment analysis. Event detection focuses on finding need-to-know news to provide traders with clear actionable trading ideas. Sentiment analysis examines the positive or negative feeling towards a particular asset. There are valid cases for using both approaches, but it's important to understand the difference. Providers usually offer one or the other. There is more value to be gained from event detection where traders can clearly and quickly act on breaking news.
Using social media in trading is no longer a quirky science experiment. It's a necessity. Traders need to include social data sets for both discovery and analysis of new trade ideas.
Social media intelligence can provide the make-or-break difference for traders in generating much-needed returns in excess of the market average.
This article is commentary by an independent contributor. At the time of publication, the author held no positions in the stocks mentioned.