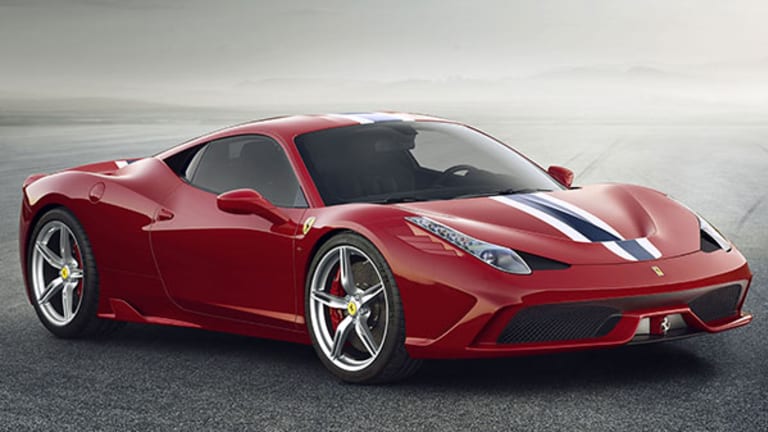 3 Things You Need to Know About the Ferrari IPO
Ferrari, the world's most famous car brands, goes public.
Ferrari, the world's most famous car brands, goes public.
NEW YORK (TheStreet) -- Ferrari, one of the world's most famous car brands, filed plans in July to go public. Fiat Chrysler Automobiles (FCAU) - Get Report, which owns 90% of Ferrari, has announced an IPO that will spin off Ferrari into a separate, stock-listed company. Similar to Fiat Chrysler, it will be listed in the U.S. and on a European stock exchange. However, individual investors will have difficulty buying Ferrari shares due to limited supply and intense demand.
Here are three things you need to know before jumping into the fray.
1. A successful IPO could pave the way to Fiat Chrysler's next mega-merger
According to analysts, Ferrari will be valued at between $6 billion and $11 billion. The IPO is expected to take place early next year and could be very beneficial for Fiat Chrysler. After the merger of Fiat and Chrysler in 2014, the company needs cash in order to reduce its high debt level and fund new investments and research and development expenses.
Adding even more to its cash needs is Fiat Chrysler's desire to expand in order to catch up with Toyota (T) - Get Report and Volkswagen. CEO Sergio Marchionne expects the IPO to raise between $400 million and $600 million for the company.
A successful IPO could also spark another Fiat Chrysler mega-merger. Marchionne has already announced his interest in partnering with other automobile manufacturers to produce eco-friendly cars. In March, he suggested a merger to General Motors (GM) - Get Report CEO Mary Barra, but his offer was rejected. A successful Ferrari IPO will increase Marchionne's chances at future offers.
2. Ferrari shares will be sold at a large premium, but individual investors could buy FCA instead.
Although this is expected to be one of the most high-profile IPOs of the year, Fiat Chrysler intends to offer only 10% of the shares to the public. 80% will be distributed among the company's shareholders, and 10% will remain in Piero Ferrari's hands.
It is not unusual for individual investors to have such limited access to early shares. Given the world-class prestige of the Ferrari brand, investors will have to pay a large premium.
"For individuals, it will be almost impossible to get Ferrari at the (IPO) offer price," says Matt Kennedy from Renaissance Capital.
Despite missing out on the Ferrari IPO offer price, passionate Ferrari fans still have a roundabout way to benefit from the IPO. With 80% of the shares to be distributed among Fiat Chrysler shareholders, individual investors could buy Fiat Chrysler now in order to be guaranteed Ferrari shares after the IPO. Perhaps that was the motivation underlying FCA's 15% gain after the IPO announcement.
3. Details are not clear, so at this point an investment would be very risky.
It has not even confirmed that there will be any deal at all. According to Fiat Chrysler, regulatory requirements as well as tax and legal issues have to be solved before a spin-off becomes possible.
If Marchionne is not satisfied with the price after talks with institutional investors, he can still cancel the IPO. In this case, he would at least have temporarily boosted Fiat Chrysler's share price.
Investors who want to buy Fiat Chrysler should also take into account that once Ferrari is split off, Fiat Chrysler could lose some value. If Ferrari is really worth $11 billion, that's a hefty 60% of Fiat Chrysler's total value. In the end, Fiat Chrysler could lose value that it would have been cheaper to buy Ferrari at an overheated post-IPO price.
An additional factor that would contribute to the plunge in Fiat Chrysler's value: The company has said that more than $2.5 billion would flow from Ferrari to Fiat Chrysler, mostly in cash. Furthermore, Fiat Chrysler wants to transfer debt to Ferrari, but it is not clear how much.
Investors, and especially Ferrari fans, are obviously looking forward to owning a part of this popular brand. Nonetheless, high uncertainty at the moment makes all options risky. As with every IPO, the right timing will be crucial.
This article is commentary by an independent contributor. At the time of publication, the author held no positions in the stocks mentioned.