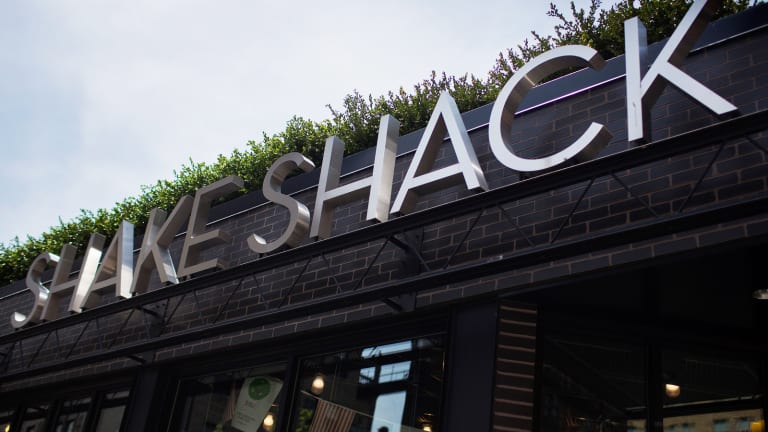 NEW YORK ( TheStreet) --  Shake Shack (SHAK) - Get Shake Shack, Inc. Class A Report  is about to find out that being a publicly traded company is very different than pitching one's potential to hungry institutional investors.
On Friday morning , the burger and fry joint, which prides itself on selling hormone-free beef and home-spun shakes, saw its shares more than double out of the gate from its IPO price of $21 a share. The company sold 5 million shares, raising $105 million to support its global expansion plans. At its IPO price, Shake Shack would be valued at more than $700 million, rich for a chain that is operating a mere 62 restaurants around the world and whose profit margins were under pressure in fiscal 2014, according to its prospectus.
With heightened interest from investors who are eager to find the next Chipotle (CMG) - Get Chipotle Mexican Grill, Inc. Report , Shake Shack will face over-the-top expectations. To keep early institutional investors in the stock and attract retail investors, Shake Shack will have to preserve a few of its recipes for success thus far, while improving upon some important areas. TheStreet looks at three things Shake Shack must do to keep its stock hot as it attains public-company status.



1. Preserve a unique hospitality-minded culture. 
A key ingredient to Shake Shack's business model is its concept of "Enlightened Hospitality" as put into practice by founder and noted restaurateur Danny Meyer. Enlightened Hospitality, according to Shake Shack, means "caring for each other, caring for our guests, caring for our community, caring for our suppliers and caring for our investors."
The concept is rooted in thorough employee training and above-industry-average pay. In fact, Shake Shack calls itself a fine casual restaurant for its speedy lines and personalized customer service. As noted in Shake Shack's prospectus, "Through our leadership development program, The Shacksperience, we teach our team members the principles of Enlightened Hospitality and how to live and breathe our Shack Pact, the agreement that encompasses our value system and brand ethos." Shake Shack seeks to recruit people who fall into the "51%er" category, a term the company uses to describe the emotional skills it views as necessary to thrive at its restaurants.
Shake Shack's approach to its employees stands in contrast to that of McDonald's (MCD) - Get McDonald's Corporation (MCD) Report , which for years has battled charges by employees of too-low wages and unfair treatment in the workplace. Shake Shack's approach instead closely resembles the practices and attention to employee culture seen at Chipotle, which have been instrumental in the burrito and salad bowl king's meteoric sales and earnings growth since its IPO in January 2006. "The name of the game is making sure the culture works, and is sustainable, and making sure that we have enough restaurateurs being developed," Chipotle co-CEO Monty Moran told TheStreet in August. 
With investor demands for strong profits, Shake Shack will have to ensure it stays true to its commitment to above-average pay and hospitality. One risk is that recruiting employees who meet its "51%er" benchmark may become a challenge as Wall Street looks for a robust number of new restaurant openings globally.



2. Become what is known as a lifestyle brand.

Investors have valued Shake Shack as a lifestyle brand in the mold of a Starbucks (SBUX) - Get Starbucks Corporation Report , a company that touches consumers in a variety of contexts. To justify that high praise, Shake Shack will have to pull off two things: continue to add more seasonal menu items for breakfast, lunch and dinner, and penetrate supermarket aisles with yummy shakes, frozen better burgers and frozen crinkly-cut French fries.
Encouragingly, Shake Shack may already understand the tall order in striving to become the next Starbucks, which has items such as pre-made fraps and packaged coffees in supermarkets around the U.S. "We believe Shake Shack has become a compelling lifestyle brand and has helped to pioneer the creation of a new fine casual category in restaurants," Shake Shack wrote in its prospectus.
Shake Shack holds what it coins an annual "Shacktoberfest." Its latest Shacktoberfest in October consisted of 10 days of special-edition beers, bratwursts, burgers and frozen custard treats. Shake Shack will have to hold more of these events to deliver the highly profitable sales Wall Street expects. But a problem in doing so is a small supplier base for one of its unique ingredients.
In fiscal 2013, Shake Shack purchased all of its ground beef patties from two suppliers, with more than 87% of its ground beef patties coming from one supplier. Potato buns for burger and custard base for shakes were sourced directly from one supplier. And the company's popular Shacksauce came from a single supplier.



3. Deliver the goods on sales and profits.
Investors don't expect the sluggish sales growth and mediocre earnings gains synonymous with most players in the restaurant industry for Shake Shack -- they want a super-sized performance. That makes it essential for the company to thoughtfully enlarge its menu, secure more suppliers for its products, preserve its employee culture and find success in new locations outside its home base of Manhattan. Based on its financial results, Shake Shack has some work ahead of itself.
The company forecasts its restaurants to deliver low same-store sales growth "for the foreseeable future." Its same-store sales growth stood at 5.9% in 2013, while for the 39 weeks ended in September, its same-store sales growth declined to 3%, according to its prospectus.
Operating profits have also been constrained both inside and outside of Manhattan. In its fiscal year ended on Sept. 24, operating margins at Shake Shack's Manhattan locations fell to 31.2% from 31.7% a year earlier. At non-Manhattan sites, operating margins were lower than those at Manhattan locations, and they fell 200 basis points year-over-year to 22.8%.

This article is commentary by an independent contributor. At the time of publication, the author held no positions in the stocks mentioned.