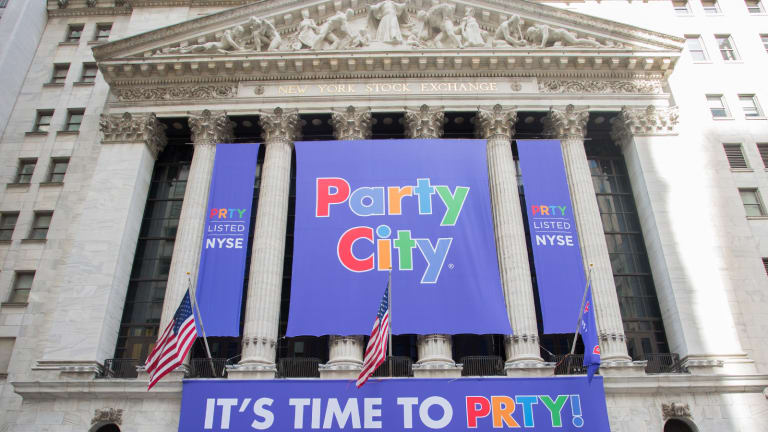 3 Things Party City Must Do Now That It's a Public Company
Share of Party City surged more than 20% in its IPO on Thursday. Here is what the party supplies retailer needs to do to keep investors excited.
NEW YORK (TheStreet) -- Investors greeted yet another initial public offering with open arms on Thursday, sending shares of party supplies retailer Party City (PRTY) - Get Party City Holdco, Inc. Report 21% higher to $20.45 in their trading debut. 
But the company's celebration could come to a swift end if it doesn't prove itself on several key fronts.
Party City sold 21.9 million shares at $17 apiece, raising about $372 million to help fund store remodels, new store openings, and pay down debt. Party City's private equity owners, Thomas H. Lee Partners and Advent International, didn't sell any stock in the IPO.
Party City's debut comes during a busy week for the new issuance market, with about $1.2 billion in deals having already priced or seeking to price this week. And many of the deals that have to market in the first quarter -- 34 in total at a value of roughly $5.4 billion -- continue to perform. The Renaissance IPO ETF (IPO) - Get Renaissance IPO ETF Report, a basket of approximately 60 IPOs that have recently gone public, is up 9.7% for the year.
But for Party City to maintain early investor enthusiasm, it will have to quickly show it can deliver on a few significant fronts.
1. Diversify beyond the Halloween business.
Party City sells Halloween costumes and related accessories at its stores and through 300 temporary "pop up" locations under the "Halloween City" banner. In 2014, Party City's Halloween business represented about 25% of its total domestic retail sales. It's a great business to be in for Party City, especially when Halloween falls on a party-friendly Friday or weekend (as it will in 2015). The retailer manufactures 31% of its own products, thereby enhancing profit margins.
Furthermore, the aisles of Wal-Mart (WMT) - Get Walmart Inc. Report, Target (TGT) - Get Target Corporation Report and grocery stores lack the broad selection of Halloween goods found at a Party City. But when Halloween falls mid-week, as it regularly does, this can lead to fewer parties and lower sales. Should there be rain in the forecast, it could reduce extra trips by people to re-stock candy and sales of pricey costumes.
As a result, Party City has to prove to investors it can be a successful year-round business, driving sales related to weddings, graduations and other life events.
2. Improve the sales mix.
Party City reported that its gross profit margin rose 140 basis points year-over-year in 2014. However, excluding purchase accounting adjustments, profit margins were down slightly on the year due to an unfavorable product mix that includes selling lots of licensed products that are less profitable than its own manufactured goods.
In order to make the licenses worth the investment, Party City must drive higher sales volumes of licensed productsyear round. If not, investors may become concerned that less profitable licensed sales are stealing the thunder from private label products.
3. Get more people through the door.
To justify its heady valuation, Party City will have to move its customer traffic counts into a new gear.
Same-store sales for the Party City brand, including e-commerce sales, increased by 5.8% during 2014 due to a 4.2% advance in average transaction size and a 1.6% increase in transaction count. Excluding the impact of e-commerce, same-store sales increased by 5.4%, as average transaction size rose 3.9% and transaction count improved 1.5%. In large part, the transaction count increases could be attributed to Halloween falling on a Friday last year.
Transactions count gains will have to reach north of 2% on the year, signaling Party City was making inroads into becoming a better year round business. The verdict is out so far. Party City recently noted that first quarter same-store sales will increase between 4.9% and 5.3%, moderating from the pace of growth seen during 2014.
This article is commentary by an independent contributor. At the time of publication, the author held no positions in the stocks mentioned.