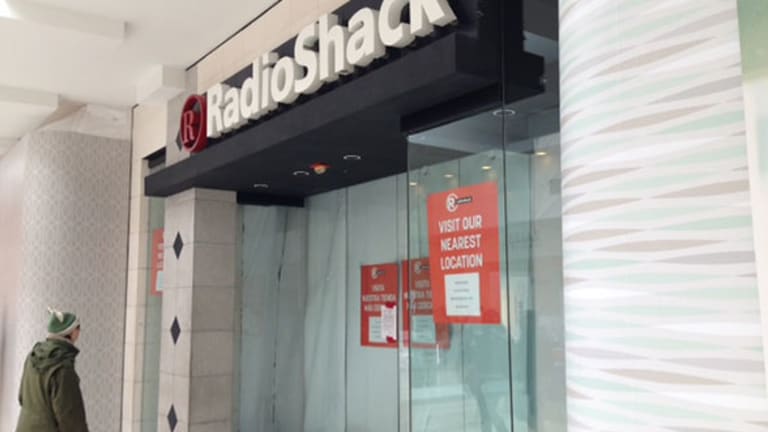 NEW YORK ( TheStreet) -- It wasn't too long ago that Best Buy (BBY) - Get Best Buy Co., Inc. Report looked destined to suffer the same fate as RadioShack, fading into bankruptcy in the face of fierce competition from the likes of  Amazon (AMZN) - Get Amazon.com, Inc. Report , Wal-Mart (WMT) - Get Walmart Inc. Report and Target (TGT) - Get Target Corporation Report .

But then something happened: Best Buy became the anti-RadioShack.


Under CEO Hubert Joly, Best Buy has transformed its giant blue-and-yellow stores into a destination for free-spending adults and videogame-seeking teens. Folks are able to talk the ear off retrained Best Buy "blue shirt" associates on the merits of one smart TV vs. another.
If customers are not inclined to hop in the car and visit a local Best Buy store, there is now a greater chance of finding a snazzy TV or tablet in stock at bestbuy.com at a price competitive with Amazon -- Best Buy ships merchandise from its 1,000-plus stores to satisfy online orders, known in retail circles as "omnichannel retailing." 
Since Joly became CEO in August 2012, Best Buy shares have doubled as the company has slashed about $965 million in costs from a target of $1 billion since it announced its restructuring plan in the fall of 2012. The cost savings have been reinvested into sprucing up the company's physical stores and Web site, building online infrastructure and adhering to a price-matching promise.
Here are three ways that Best Buy has insulated itself, for now, from becoming another headstone in a retail graveyard filled with companies such as Circuit City, Linens 'n Things, Blockbuster and RadioShack.
RadioShack was born -- and thrived -- in an era when unreliable electronics had to be constantly fixed, usually at home by the owner. The place to purchase those do-it-yourself essentials and grab some advice on how not to break the device further was RadioShack. It was also eyed as a teen destination to buy cheap, private-label batteries.
But as tech gear became inherently more reliable and stuffed with unreachable, rechargeable batteries, the need to venture to a mall-based RadioShack virtually disappeared. For those lingering tech tinkerers, a simple search on Amazon could have an item at their doorstep in a jiffy. Having Amazon Prime further sped up the ordering process.
Executives through the years at RadioShack never found the magic elixir to reinvent the company's reason for being and its drab stores.
Not so at Best Buy. With much larger stores than RadioShack (5,500 square feet vs. 20,000-45,000 for Best Buy), Best Buy finally recognized under Joly how to harness the big stores to its advantage. Through new sleek-looking shops located inside its stores from vendors such as Sony (SNE) - Get SONY GROUP CORPORATION SPONSORED ADR Report , Samsung (SSNLF) , Canon (CAJ) - Get Canon Inc. Sponsored ADR Report and GoPro (GPRO) - Get GoPro, Inc. Class A Report , Best Buy not only offers the latest in electronics and improved customer service, but it has managed to differentiate itself from the emotionless electronics sections of Wal-Mart and Target (TGT) - Get Target Corporation Report . The personalized human service found at its specialty shops is also an advantage over the click-and-buy experience at Amazon.
By the start of this past holiday season, Best Buy had ship-from-store capabilities for its merchandise in all 1,400 of its stores. In turn, the strategy reduced the likelihood of missed sales and helped to support stronger profit margins on clearance goods. It showed in the results of Best Buy's online business during the holidays. Domestic comparable-store online sales for the nine weeks ended on Jan. 9 rose 13.4%.
The impact was also evident for much of 2014 as Best Buy made the program available at more stores. For the nine months ended on Nov. 1, domestic comparable online sales surged 24.3%.  


3. RadioShack's prices were always viewed as expensive. Best Buy now matches others on price.
From its sizable battery section to, more recently, colorful ear buds and flying remote-controlled helicopters, RadioShack's supposed go-to sales categories were never looked upon by consumers as competitive on price compared with online and other physical retailers. The company's financial troubles likely precluded it from ever becoming too aggressive on prices in order to secure a sale and create good will among shoppers. 
Even now, with going-out-of-business "blowout" sales happening at RadioShack stores across the country, a two-pack of Energizer alkaline N batteries goes for $3.99 on the company's Web site, compared with just $2.87 at Walmart.com.

RadioShack's situation of poor price perception was not dissimilar to that of Best Buy. For years, Best Buy dealt with consumers navigating its aisles with smartphones to touch and feel products firsthand, only to order them cheaper from Amazon, a concept referred to as "showrooming."
The problem began to reverse course in March 2013, however, when Best Buy launched its price-match guarantee program. The company now matches the prices of all local retail competitors and their online operations, as well as national online rivals Amazon and Wal-Mart.
Although price matching has weighed on gross margins, it has helped Best Buy improve traffic and sales when it really counts, such as during the holidays or when a hot new tech gadget is being released.

This article is commentary by an independent contributor. At the time of publication, the author held no positions in the stocks mentioned.