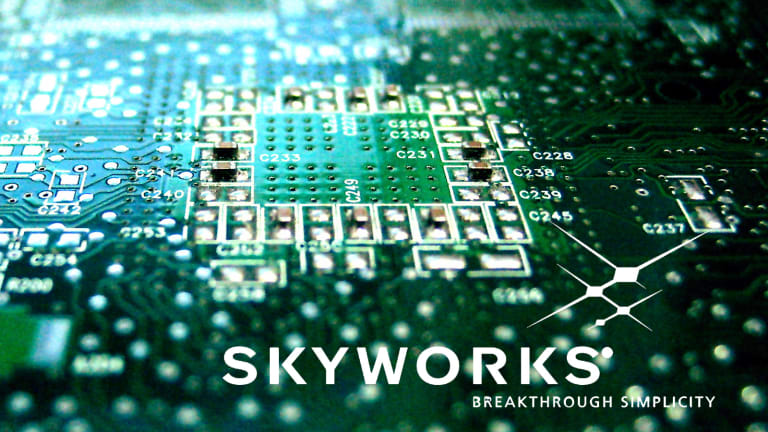 3 Tech Companies Poised to Exploit Our Connected World
Software and wireless solutions are disrupting many global industries, and there's no better indication of that than the robust enthusiasm for the connected marketplace.
NEW YORK (TheStreet) -- Wireless solutions and big data are increasingly being used by utilities and enterprises to integrate new products and manage energy solutions. And at the consumer level, we're seeing a growing willingness among consumers to implement relatively painless programs aimed at lowering their electric bills.
This presents massive opportunities for connectivity players like EnerNOC (ENOC) , Skyworks Solutions (SWKS) and Covisint (COVS) to help the smarter grid, the connected home, the connected car and the Internet of Things evolve and ultimately converge.
Think about it. Near real-time data is critical for devices to effectively communicate with each other, and also vital for accurately gauging energy usage. This is true whether you are charging an electric car, storing solar power in batteries, or looking to control energy costs in homes or commercial buildings.
That's why the integration of near real-time data into just about anything through analog and mixed-signal semiconductors like those from Skyworks has ramped up the opportunity to seamlessly connect cars, homes and gadgets. With 70 billion connected devices expected to be in operation globally by 2020, according to the company's website, connectivity stocks certainly look have a lot of room to run.
Skyworks CEO David Aldrich recently told Jim Cramer on CNBC's "Mad Money" that his company is expecting a 39% compounded growth rate for connected cars and a whopping 67% growth rate for the connected home.
This may also be why EnerNOC, which already works with some of the largest utility companies in the U.S., has just announced a deal to interpret battery storage data for Tesla (TSLA) . Considering EnerNOC's energy intelligence software can analyze millions of data points related to the purchase and usage of energy, this a company positioned strongly to benefit from the need to get the actionable insights required to make the power grid more flexible, thanks to a host of new connected devices being introduced.
Then there's Covisint. This is a small-cap stock that is gaining credibility for delivering trusted information anywhere through a secure, cloud-based platform. If more data is going to be needed to propel the future of the connected digital world, securing that data is critical.
That's what makes Covisint so special. This may be why the company, which does have a heavy focus on the connected car, counts GM (GM) , Ford (F) , and Daimler (DDAIY) as strategic partners. The company also has a budding relationship with Cisco Systems (CSCO) that appears likely to grow much more, considering the emphasis Cisco is putting on big data analytics and cloud computing, and as connected devices already outnumber the world's population 1.5 to 1 according to the company.
Of course, as all of these factors merge to advance the connected world, concerns about cybersecurity are certainly justified.
However, Skyworks works with the Department of Homeland Security, and David Brewster, president and co-founder of EnerNOC, recently shared with me via email that the company uses a framework developed by the SANS Institute (a private firm specializing in cybersecurity training and info-security) to assess their security posture.
Additionally, although no company is 100% safe from hacking, all of EnerNoc's data is is encrypted to make it unintelligible to cyberattackers.
One thing is for sure: Connectivity has huge potential, especially with new growth verticals coming from areas such as smart thermostats, mobile devices, car infotainment, wearables and more. This means investors getting into this space should think long-term. Delivering, analyzing and processing data is here to stay and EnerNOC, Skyworks and Covisint seem well-positioned to capitalize on that.
This article is commentary by an independent contributor. At the time of publication, the author held no positions in the stocks mentioned.