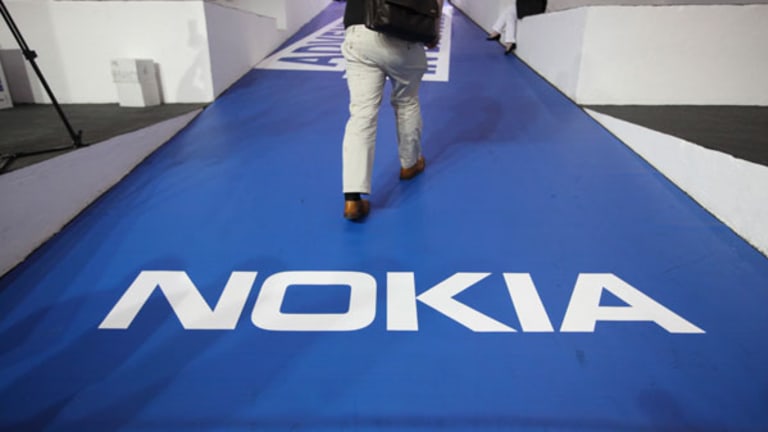 3 Stocks Under $10: 2 Buys and 1 Sell
Price alone does not justify buying a stock.
Price alone does not justify buying a stock.
NEW YORK (
) -- Who doesn't love a bargain? Whether at the grocery store or to get our oil changed, everybody loves a deal. In fact,
Groupon
(GRPN) - Get Report
has built an entire business model around our desire to spend less.
However, it's not the same on the stock market. Wall Street doesn't send out coupons, only reminders that, "Price is what you pay, value is what you get."
Even so, there remains an attraction to what seems like a "cheap" price. Investors are drawn to the perceived less-risky proposition of the per-share amount. But are they really less risky or is it the higher number of shares that one can presumably afford?
Read: Another Benefit of TARP: Uncovering Bank Fraud
Regardless of the reason, what remains true is that if the business does well, the stock price will follow. With that in mind, here's a look at three stocks that are trading under $10 -- two to buy and one to avoid.
Buy
Nokia
(NOK) - Get Report
The first stock we're going to take a look at is Nokia, which I'm recommending as a buy. Shares are currently trading around $4, down 2% for the year to date. But don't be fooled. Since reaching a low of $3.02 on April 19, the stock has been up by as much as 42% when factoring the $4.24 per share reached on July 9. Still, if you've been following this company for a while, you have every right not to be excited.
Despite these gains, we can say it pales in comparison to the $60 per share level that the stock reached in 2000. More recently, we know Nokia is still far from the $30 per share mark reached in 2008, which means that investors have lost more than 90% over the past decade. Companies don't reach the depths that Nokia has suffered without having grossly mismanaged its business.
However, there are now signs that things are beginning to turn around. I'm not suggesting that
Apple
(AAPL) - Get Report
and
Google
(GOOG) - Get Report
should suddenly fear their positions in the smartphone race. But I'm willing to now give Nokia's management credit for improving the company's financial position. They've done this, while at the same time keeping Nokia's head above water as it sorts things out.
For instance, in the most recent quarter, the company was able to 7.4 million of its flagship Lumia phones. Bears will argue that the company still fell shy of estimates by 700 thousand phones. Though this may be true, the 7.4 million still represents a 32% increase from the first quarter. Another thing; Nokia's loss of 227 million euros was 20% better than the expected loss of 276 million euros.
I'm not ignoring the reality that this company still has plenty of work to do. Returning value to shareholders is not going to happen overnight. But you don't have to look too far to see that the company is on an uptrend. More importantl, investors no longer have to question whether Nokia deserves consideration as a good turnaround story. Management is authoring a new chapter.
Read: Debt Stress Prevents 1 in 3 Americans From Vacationing
If things continue to progress as I expect they will, by this time next year this stock will disqualify itself as a candidate for best stock under $5. Within two years, it will struggle to stay under $10, which will be a great thing for investors.
Sell
Advanced Micro Devices
(AMD) - Get Report
Next on our list is Advanced Micro Devices, which is currently trading around $3.70 per share. On May 13, I told you that the
. There was just too much optimism for a company that I thought was performing average at bests. Now, let's remember that I recommended it as a sell while the stock was trading at $4.17 as the stock had made five new 52-week highs within a span of two weeks. In that article, I said the following:
"I don't see a compelling reason to buy the stock at these levels. What's more, since November 16 of last year, when AMD reached a $1.81, the stock is now up more than 120%. Again, while there are signs of improvement, these shares might have already reached their expected highs for the year.If management can execute and return the company to profitability then the stock may have some more legs, but at this point I think the safer play here is to take your profits and wait and see what the next quarter brings."
I remember being attacked by readers in the comments section, poking fun at my quote where I suggested that "Games aren't going to cut it." My point was despite AMD's weakness in the chip business, the company decided to bet heavily on the gaming industry - making chips for
Microsoft's
(MSFT) - Get Report
Xbox One console and
Sony's
(SNE) - Get Report
PlayStation 3.
I also questioned management's aggressive growth strategy, which would come at the expense of profits. I didn't trust that this was the right play given the deficits that AMD has had to work with. Well, these issues (among others) came home to roost in the company's
second-quarter earnings report
.
Despite posting 6.7% revenue growth and beating estimates by more than 5%, shares of AMD took a pounding, falling as much as 17% following the announcement last week. This is not something that you would ordinarily see for a tech company, especially given the fact that management guided for 22% third-quarter growth, which exceeded expectations.
The reason for the decline was that despite the growth projections, margins for the new gaming consoles were 50% below Street estimates. AMD guided for 10%, while analysts were looking for 20%. Again, this was precisely
more than two months ago -- games were not going to be enough, and margins weren't going to be there.
Today, the story has not changed, and the stock is down more than 20% since Friday. Given the company's lack of competitive leverage I can't (in good conscience) recommend these shares. If the PC industry makes a miraculous recovery, then I'll reconsider. But even during the PC boom, AMD was fighting
Intel
(INTC) - Get Report
and
NVIDIA
(NVDA) - Get Report
, which, in my opinion, remain better buys today than AMD. I maintain my 12-month price target of $3.50 on these shares, which is 5% lower than where the stock is trading today.
Buy
Sirius XM
(SIRI) - Get Report
Shares of Sirius XM have been on fire all year. The stock is currently trading around $3.68 per share after having begun 2013 at a price of $2.89. In fact, if you consider the recent 52-week high of $3.77 reached on July 15, the stock has gained as much as 30% year-to-date and 109% over the past year.
Remarkably, Sirius has posted these gains even as Apple and Google have entered the realm of music streaming where
Pandora
(P)
and
Spotify
(among others) were already seen as threats. The Street does not seem to care, even though Apple has entered Sirius' precious domain in the automobile dashboard.
I recently chronicled my love-hate relationship with this stock, while detailing both my
as an investor. But I don't believe that it's coincidence that the stock is climbing as the company is in the midst of the $2 billion share buyback program.
Not that it makes a bit of difference in terms of value, but it's important to also realize the company-initiated catalyst that is at play here. This makes buying the stock at these levels as close to a no-brainer as there can possibly be.
However, for Sirius, it's more than just the buyback program.
Liberty Media
(LMCA)
is now in full control of the company. Sirius is no longer bleeding subscribers and is now posting record numbers for revenue and cash flow growth. So, not only is the company operating on all cylinders, there are no meaningful signs of slowing down, including its recently announced 15% increase in net subscriber additions last week.
What's more, the company just also announced a new partnership with
AT&T
(T) - Get Report
to provide connectivity to its telematics platform that will arrive in new
Nissan
(NSANY)
vehicles. In other words, Sirius is working to become more than "just radio." While there are several unknowns with telematics such as what it will become and how much it will cost, it is clear that Sirius is not sitting idle -- waiting to run out of gas.
The company has found a way to profit from the "connected car," which is what Apple and Google are racing to produce. Is it possible that Sirius, which is not seen as a "tech company," will get there first? I wouldn't wait to find out. Shares are getting progressively more expensive. Investors that are looking for ways to play the audio streaming market that are also looking for some safety would do well taking a long ride with Sirius.
Value Coupons
I like a good turnaround story as much as the next person. But as Warren Buffett reminded, price alone does not justify buying a stock. While the share prices of these three companies are relatively cheap, their relative values are based on many other factors such as the quality of their management and (at times) strokes of luck.
In the case of AMD, though, we predicted the importance of weak margins and the risk in the model of betting too heavily on the gaming industry long before the Street realized that the company was going down the wrong path. These are the sort of clues that serves as due diligence. I call it "looking for coupons."
At the time of publication, the author was long AAPL
.
Follow @saintssense
This article was written by an independent contributor, separate from TheStreet's regular news coverage.
Richard Saintvilus is a private investor with an information technology and engineering background and the founder and producer of the investor Web site
. He has been investing and trading for over 15 years. He employs conservative strategies in assessing equities and appraising value while minimizing downside risk. His decisions are based in part on management, growth prospects, return on equity and price-to-earnings as well as macroeconomic factors. He is an investor who seeks opportunities whether on the long or short side and believes in changing positions as information changes.