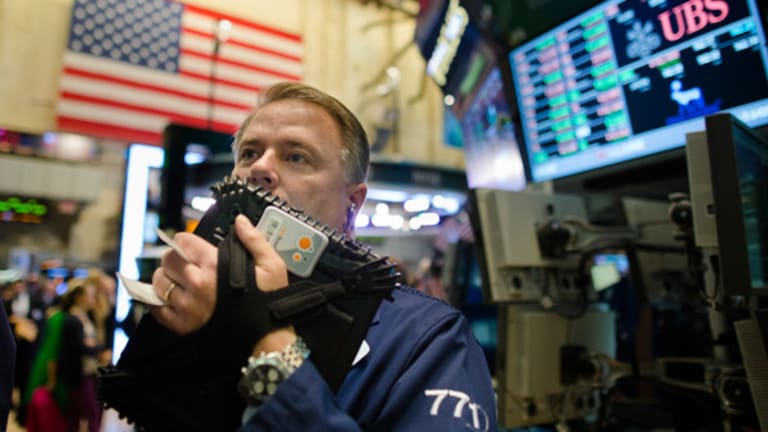 3 Stocks Trending Higher That Will Pay You to Own Them
If you're after price appreciation, dividend stocks are probably still your best bet. Here are three of the best.
NEW YORK (TheStreet) -- Focusing on dividend-paying stocks is an easy way to enhance your portfolio's performance. If you're already researching companies that are a good fit for your diversification program, chances are you're already making choices between dividend payers and non-payers.
Most companies send payments once per quarter, and every time you receive a payment your total risk is reduced. After a while, if you pick the right ones, you will receive an increase in payment. Hold the stock long enough and each year you could receive 20% or more of your purchase price. That's on top of whatever appreciation there may be also.
If you're after price appreciation, dividend stocks are probably still your best bet. As a general rule, all things being equal, dividend stocks outperform non-payers on average. They're more fun, too, because each payment received is like a gift. Maybe not as caring as a close friend's gift, but I look forward to each payment declaration and payment. If you're not already, I'm sure you will, too.
I've done a lot of the work for you and found three solid stocks that are a combination of strong chart performers and pay a sizable yield, for a winning combination. Take a look and see if they make sense to achieve your investing objectives.
U.S. Bancorp (USB) - Get Free Report
Background: U.S. Bancorp, with $321 billion in assets, is the parent company of U.S. Bank, the fifth-largest commercial bank in the United States. The company operates 3,086 banking offices and 5,086 ATMs and provides a comprehensive line of banking, brokerage, insurance, investment, mortgage, trust and payment services to consumers and businesses.
When the financial crisis was in full swing, U.S. Bancorp didn't turn into a zombie bank needing a bailout from the feds. It's comforting to know the bank isn't making crazy loans with total disregard for risk, even if the "everyone else" is.
Earnings Payout Percentage: 30%
The payout percentage is the amount of profits paid out in the form of dividends. In theory, the higher the percentage the more a dividend is at risk of a cut or elimination. Several factors are at play especially including future earnings estimates. I'm comfortable with a bank, especially U.S. Bancorp, paying 30% and consider it low enough to make the company a candidate for a dividend increase.
The last increase was the March 2012 payment which increased from the previous quarter's amount of 12.5 cents per share to 19.5 cents per share for a yield of 2.3%
The last reported short interest is paltry and without reason to consider it a meaningful influence at only 1.5% of the average trading float.
Host Hotels & Resorts (HST) - Get Free Report
Background: Host Hotels & Resorts is a lodging real estate company that currently owns or holds controlling interests in upper upscale and luxury hotel properties primarily operated under premium brands. Host Hotels & Resorts will be the premier lodging real estate company.
Host Hotels & Resorts isn't your typical vanilla-flavored dividend stock. It's real estate investment trust (REIT) and distinct rules apply towards REITs. They're required to payout at least 90% of income to shareholders, and in return they don't pay income taxes on the amount distributed. Other corporations pay calculate their income and pay taxes on that amount, then pay out dividends which are again taxed at the individual level.
Not with REITs, though. The earnings are only taxed once, at least at the federal level. I'm not a tax professional so, of course, verify with your tax adviser before making any decisions.
There is a potential negative with a REIT structure. Dividends tend to be more volatile on average than other non-REIT dividend payers. Host Hotels & Resorts is no exception. In 2008 before the financial crisis the company was paying about 20 cents per quarter. In 2009, it paid a total of 2.5 cents. Since March 2012, payments have increased, and the March 2013 payment was 10 cents.
This month the board raised the dividend once again to 14 cents a share for shareholders of record on March 31. That should make the ex-dividend date March 27. In other words, you need to own it by the close of March 26 to receive the next payment.
Fourteen of the 25 analysts covering the company give a buy recommendation, 11 analysts rate it a hold, and none of the analysts recommend selling. Investors are grinning from ear to ear, and analysts are, too. The shares have rocketed higher 19% over the last 52 weeks. Analysts have an average price target of $21.15.
With short interest above 5%, investors will want to monitor changes to know if short-sellers turn up the warning signals. Otherwise, the current 6.8% of the float short is relatively small and short covering may fuel continued appreciation.
Foot Locker (FL) - Get Free Report
Background: Foot Locker is a leading global retailer operating primarily mall-based stores in North America, Europe, Asia and Australia. The company operates in two business segments, the Global Athletic Group and the Northern Group.
Earnings Payout Percentage: 29%
Not unlike U.S. Bancorp, Foot Locker's payout percentage is reasonable. Foot Locker also announced a 10% hike in dividend from 20 cents to 22 cents for shareholders of record on April 17. This provides plenty of time to see if this one is right for you. The increase brings the yield to a exceptionally attractive 2.2%.
In the last month, Shares have moved 4% higher and about 17% in the last year.
Over half the analysts covering Foot Locker rate it as a buy or strong buy. The short interest is minor and not a cause of distraction. The small amount of short interest is 2.1%.
At the time of publication, Weinstein had no positions in securities mentioned.
This article represents the opinion of a contributor and not necessarily that of TheStreet or its editorial staff.