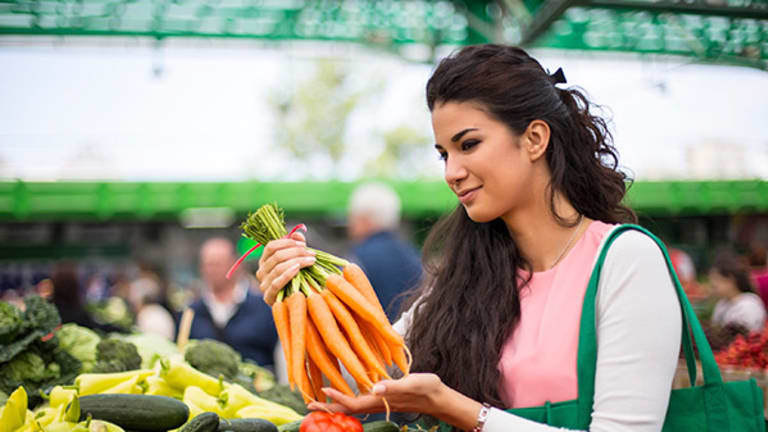 Publish date:
3 Stocks to Rise From the Appetite for Healthier Foods
Consumers are increasingly seeking out natural and organic products. These companies look like winners based on that trend.
Consumers are increasingly seeking out natural and organic products. These companies look like winners based on that trend.
There is a growing trend in this country toward eating healthier in general and, specifically, toward eating organic, and investors should take note.
Consumer demand in this segment has grown by double digits just about every year since 1990, according to the Organic Trade Association.
Between 1997 and 2015, sales of organic products increased from $3.6 billion to $43.3 billion and don't show signs of slowing down.
Below, we take a look at the stocks of three companies that could create growth in investors' portfolios over the next three to five years.
Organic agriculture, which is governed by strict government standards, requires that products bearing its label are produced without the use of toxic pesticides or synthetic nitrogen fertilizers, antibiotics, synthetic hormones, genetic engineering, sewage sludge or irradiation.
Organic is the most heavily regulated and closely monitored production system in the U.S., according to the OTA.
Here is an example of the process: Certified organic cheese must start with organic milk from a certified organic cow. The organic cow can't be given growth hormones or antibiotics, and its feed must be 100% organic.
Organic feed comes from land not treated with any prohibited substances (e.g., synthetic fertilizers and most synthetic pesticides) for at least three years prior to harvest. The land must be managed in a way that maintains soil fertility and minimizes erosion, while distinct and defined boundaries make sure that prohibited substances don't come into contact with organic fields.
The animal must graze on organic pastures for the entire grazing season, which is at least 120 days a year, and receive at least 30% of its nutrition from pasture during the grazing season.
It isn't difficult to appreciate how much of a commitment and expense this process requires for farmers and food producers alike.
Price premiums for organic food remain high as the demand for these products expands, according to a report from the U.S. Department of Agriculture, which was updated in May.
Just walk into a Whole Foods Market supermarket on any given Saturday and see the droves who are more than willing to pay up for organic. Sometimes jokingly referred to as "Whole Pay Check," this natural-food supermarket company has flourished since its humble beginnings in Texas in 1980 to now boast a chain of 112 stores across the country with annual sales $16 billion.
An article from the March issue of Food Business News quoted Angela Jagiello, OTA's associate director of conference and product development, as saying, "2014 marked the first year that conventional grocery sold 50% organic food."
She also noted that food service is an area of growth for organic, which may help restaurant operators reach new consumers.
The organic-food industry continues to consolidate.
Last week, The New York Timesreported that French company Danone, which sells Evian water and Stonyfield Farm yogurt, will purchase WhiteWave Foods, maker of Earthbound Farm salad greens and Horizon Organic dairy products, for about $10 billion in cash.
WhiteWave Foods is a holding in Jim Cramer's Action Alerts PLUS Charitable Trust Portfolio. See how Cramer rates the stock here. Want to be alerted before Cramer buys or sells WWAV? Learn more now.
A Wall Street Journal article characterized the agreement as the "latest in a flurry of food industry deals born out of pressure that longtime supermarket standbys face to adapt to changes in consumer eating habits."
After the deal was announced, Danone Chief Executive Emmanuel Faber said, "The reality has changed on the shelf. Looking at organic and non-GMO products, they are now much faster-growing than conventional" items.
Faber added that sales of those products are increasing around three times as fast as their conventional counterparts and are no longer considered part of a niche market.
Millennials are driving growth in the organic segment of the market, particularly in urban areas, according to the OTA.
The increasing use of mobile applications has fueled sales even further.
The number of shoppers who purchased organic online in 2014 doubled to 14%, according to Jagiello.
On Validea.com stocks using Guru Strategies are based on the published approaches of Warren E. Buffett and other Wall Street greats.
These strategies recently identified three potentially appetizing food industry stocks, representing a mix of stand-alone natural/organic food producers and one large corporation that has acquired organic brands.
1. Hain Celestial   (HAIN) - Get Report

This company manufactures, markets, distributes and sells organic and natural products in Canada, Europe, the U.K. and the U.S. Its brands include Almond Dream, Arrowhead Mills, BluePrint and Celestial Seasonings.
The Peter Lynch stock screen considers this company a fast-grower, and its price-earnings-growth ratio, which is a quick way of determining fairness of price, is a respectable 0.76. Hain Celestial's earnings-per-share growth of 34.6% is in this model's sweet spot of between 20% and 50%.
Hain Celestial passes the Martin Zweig screen due to its acceptable P-E ratio of 26.15. This model requires the ratio to be greater than 5 but less than 3 times the current market ratio.
The company's revenue growth of 40.48% exceeds average earnings growth of 34.62%, which indicates the potential for sales to support earnings growth over time. And comparable quarterly sales growth has increased considerably from 51.6% in fiscal second quarter quarter to an exceptional 1,128.5% for the most recent fiscal third quarter.
2. Hormel Foods  (HRL) - Get Report

This company is a multinational manufacturer and marketer of foods and meat products that purchased organic meats company Applegate Farms in May 2015 for $775 million.
The Buffett investment methodology likes the company's earnings predictability and growth and finds its low leverage favorable, with debt of $250 million, compared with annual earnings of $788.8 million.
Hormel Foods passes this model's requirement for consistently higher-than-average return on equity, with a 10-year average of 16.1%, and healthy return on total capital, with a 10-year average of 14.5%, compared with the minimum requirement of 12%. The Benjamin Graham model favors the company's hefty sales of $9.2 billion and low level of long-term debt of $250 million, compared with net current assets of $1 billion.
The company's 10-year total EPS growth of 122.5% well exceeds the minimum requirement in this screen of 30%.
3. Sprouts Farmers Market  (SFM) - Get Report
This food retailer offers natural and organic foods including bakery, bulk foods, dairy, frozen foods, meat and seafood, and produce.
Under the Kenneth Fisher investment model, Sprouts Farmers Market gets high marks for its modest price-sales ratio of 0.96, which must be under 1.5 to pass. Inflation-adjusted EPS growth of 63.59% more than satisfies this model's minimum requirement of 15%, and the company's extremely low leverage, with debt representing just 34.35% of equity, is a plus.
The James O'Shaughnessy screen likes Sprouts Farmers Market's consistent earnings growth as well as its modest price-sales ratio of 0.96 based on trailing 12-month sales, compared with the 1.5 maximum. The Lynch-based investment strategy favors the PEG ratio of 0.40, as well as the P-E ratio of 26.68, compared with the maximum of 40.
John P. Reese is founder and chief executive of Validea.com, an investment research firm, and Validea Capital Management, an asset management firm serving affluent investors and companies. He is also co-author of two investing books, including " The Guru Investor: How to Beat the Market Using History's Best Investment Strategies"(Wiley).
Under no circumstances does the information in this column represent a recommendation to buy or sell stocks. Reese appreciates your feedback.
At the time of publication, Reese was long HAIN and HRL, though holdings can change at any time.
Click here to send him an email.
TheStreet.com has a revenue-sharing relationship with Amazon.com under which it receives a portion of the revenue from Amazon purchases by customers directed there from TheStreet.com.