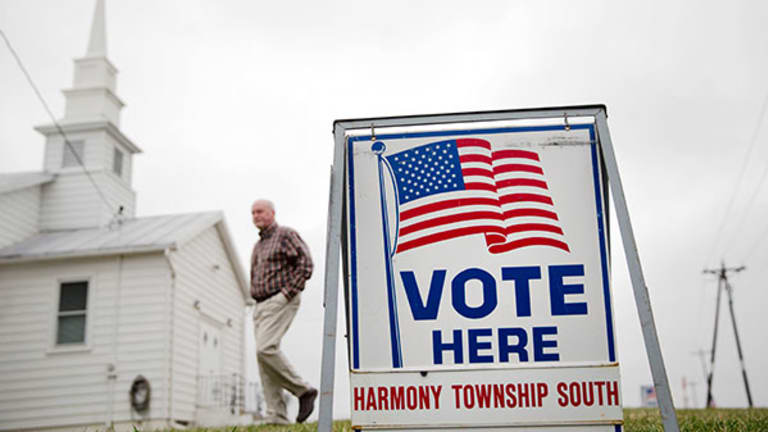 Publish date:
3 Steps You Can Take to Make Your Investment Portfolio Election-Proof
Don't wait until November to election-proof your investment portfolio. Here are three steps you can take today.
Don't wait until November to election-proof your investment portfolio. Here are three steps you can take today.
Editors' pick: Originally published Sept. 30, 2016.
Don't wait until November to election-proof your portfolio. Here are three steps you can take today.
1. Municipal Bonds
Municipal bonds yield 92% of what 10-year Treasury securities yield, representing an attractive value that should be able to absorb the impact of any potential changes to personal tax rates (see video). Exempt from federal income taxes, municipal bonds are yielding well above tax-equivalent break-even levels, and that shouldn't change come November. The two presidential candidate proposals call for a top income tax rate ranging from 33% to 43.6%; the latter includes a 4% surcharge on incomes of $5 million or more.
One area within the municipal bond market where investors might want to look is in the transportation sector. In December 2015, U.S. lawmakers passed a $305 billion five-year spending plan to improve the nation's roads, rails and transit infrastructure. Looking ahead, both presidential candidates want to increase infrastructure spending even further.
2. Dividend-Paying Stocks With Strong Fundamentals 
No matter who wins in November, most investors will still have the same investment goals. Dividend paying stocks can potentially help investors seeking to build long-term wealth, manage volatility, and generate income. Historically, stocks that pay dividends have produced higher returns and have done so with lower volatility, as measured by their standard deviation of returns, than stocks that do not pay a dividend (see Figure 1).
Figure 1: Dividend-Paying Stocks Have Produced Higher Returns and Lower Volatility
Source: Ned Davis Research (12/31/15). Past performance is no guarantee of future results. It is not possible to invest directly in an index.
Dividends are not the only factor to consider. It's important to zero in on companies that also possess a robust opportunity set for future cash flow growth and the discipline to allocate capital wisely. Many of the companies that fit the bill are well-known global champions-such as Nestle or Verizon-that possess robust shareholder yields which include share repurchases and debt pay-downs in addition to dividends.
3. Diversifying With Complimentary Exposures 
You've heard that there is no such thing as a free lunch. That's generally true except in the case of modern portfolio theory (MPT) where blending together uncorrelated investments can make a portfolio more efficient from a risk-return perspective. Convertibles have a favorable upside/downside capture ratio versus the stock market that can dampen volatility; convertibles act more like bonds when the stock market tumbles and more like stocks during bull markets. Traditional or liquid alternatives ranging from hedge funds to commodities can potentially also strengthen a portfolio so it can withstand multiple scenarios.
According to FiveThirtyEight, the presidential polls have historically become more accurate at predicting the winner 30 days following the second convention. Since 1972, the every candidate polling in the lead 30 days after the second convention has gone on to win the popular vote.
Of course, the aforementioned investment strategies represent tried-and-true insights that should remain relevant beyond this year's election to future ones.
This article is commentary by an independent contributor. At the time of publication, the author held no positions in the stocks mentioned.
All investments are subject to market risk, including possible loss of principal. Diversification cannot assure a profit or protect against loss in a declining market.
Past performance is no guarantee of future results, which will vary. 
This material is provided for education purposes only and should not be construed as investment advice or an offer to sell or the solicitation of offers to buy any security. Opinions expressed herein are current opinions as of the date appearing in this material only.
Standard Deviation measures how widely dispersed a fund's returns have been over a specified period of time. A high standard deviation indicates that the range is wide, implying greater potential for volatility.