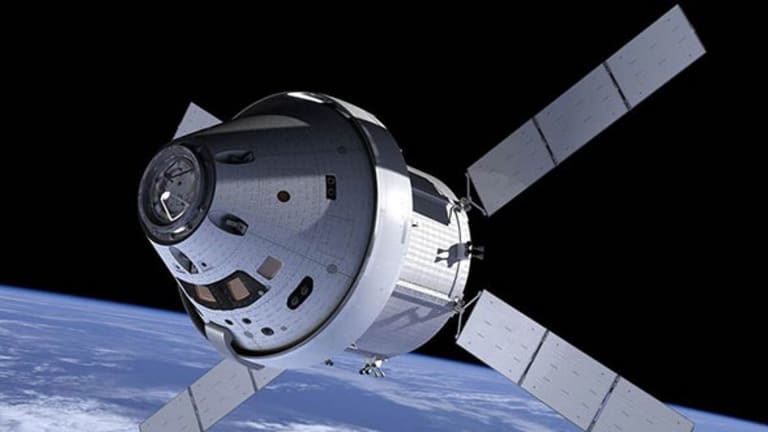 3 Space Industry Stocks That Are Delivering Astronomical Returns
Shares of these companies have shown consistent growth, which parallels the growing interest in space travel.
From the thousands of satellites orbiting the Earth to the dozens of new companies promising space tourism, it is fair to say that the future of space travel has been annexed by the commercial sector.
The private and commercial space industries grew by 9% in 2014 to a total of $330 billion worldwide, a third of which is due to commercial activity, according to "The Space Report" released by Space Foundation researchers.
Space technology investors now have the rare opportunity of establishing major footholds in an industry that is still very much in its infancy.
"As the space market grows, there will be opportunities for companies that provide key systems in the space supply chain, especially for those that can adapt to the needs of new entrants and new operators," said Ian Fichtenbaum, adviser to the board at NanoRacks, a private company that partnered with NASA to develop products to aid in commercial space travel.
The following three stocks have shown consistent growth, a trend that will no doubt parallel growing consumer and industrial interest in space travel.
1. Aerojet Rocketdyne Holdings (AJRD) - Get Aerojet Rocketdyne Holdings Inc. Report
Originally called Gencorp, this company produces propulsion systems for the aerospace sector. It is the leading provider in both the solid and liquid propulsion markets.
Aerojet Rocketdyne is best known for providing the rocket motors that got the Curiosity rover to Mars, as well as the fuel that propelled it.
The company reported full-year 2015 earnings of $1.7 billion, up from $1.6 billion in 2014.
Meanwhile, Raytheon recently signed a sourcing agreement with Aerojet Rocketdyne. The contract will allow both companies to provide more affordable propulsion systems by shaving millions off of sourcing costs.
Aeroject Rocketdyne's revenue will no doubt increase as propulsion systems from both companies become available to a larger commercial market.
Shares of Aerojet Rocketdyne are trading at about $17 apiece, up from $14.04 at the beginning of the year.
Investors should expect an admirable performance from this stock in the second half. Aerojet Rocketdyne is set to provide propulsion systems for some major rocket systems later, likely driving up its stock price.
2. L-3 Communications Holdings (LLL) - Get JX Luxventure Limited Report
This company provides communications platforms and instrumentation to a variety of industries, and its Vertex Aerospace division is notable.
L-3 reported first-quarter earnings of $2.3 billion, up from $2.1 billion in the fourth quarter. Those are poised to increase further as Vertex's recent $1.9 billion contract with the U.S. military begins to generate profits. 
Additionally, the Vertex division has also recently closed a $302 million contract with the U.S. Navy to provide maintenance and logistics. The division has also partnered with Iridium Communications to produce satellites for Iridium's L-band service, Iridium Certus. 
L-3 has built up an overall order backlog of $8.4 billion. In addition to aerospace systems, L-3 also provides a range of electronic and communication systems.
The corporation provides products for both the military as well as commercial customers. 
L-3 is trading at about $146 a share, up from a low of $115.52 early last year. If the stock follows this recent trend, investors can expect steady growth.
3. Orbital ATK (OA)
This company was formed last year from the merger of Orbital Sciences and segments of Alliant Techsystems. The company specializes in manufacturing aerospace platforms, primarily for the defense industry.
Orbital ATK is known for its Antares and Minotaur ground-launched rockets, as well as its Pegasus rocket, which is deployed aerially.
The company's shares suffered a massive drop to $63.57 from $130.31 early last year, but Orbital ATK is now trading at about $85. The firm's comeback can be traced to a long string of innovations, such as the unveiling of its Next Generation Launcher, which is intended to compete for U.S. military and national security contracts with SpaceX and the United Launch Alliance.
Orbital ATK made waves this year by advocating for the creation of a manned orbital lunar outpost. The outpost would be composed of the company's flight proven Cygnus spacecraft and would receive NASA's Orion craft in 2021.
Additionally, a self-reported contract backlog of nearly $15 billion is sure to maintain a stable increase in revenue for the foreseeable future.
Overall, space tech stocks offer a great opportunity for investors, though it is widely acknowledged that this industry is still very much in its early days.
Aron Kain, chief technology officer and vice president of engineering at BH Sensors, is already beginning to imagine the future of space technology.
"For the space traveler, what will the creature comforts and entertainment focus look like? For commercial exploitation, what new zero-gravity manufacturing advantages can be had?" he asked.
This next generation of rockets will no doubt source their propulsion systems from Aerojet Rocketdyne.
L-3 communications is sure to provide new innovative spacecraft with telemetry, communication and guidance.
As demand increases to transport payloads to orbit, expect a greater contract backlog for Orbital ATK.  
Investors can be sure that all three companies are sound bets for the future of commercial and private space travel.
"Space is a harsh, unforgiving and exacting environment that can be catastrophically intolerant to even the most trivial mistake, but if done right, the rewards can be equally astronomical," Kain said.
Marc Rosenberg & Makena Owens contributed to this article.