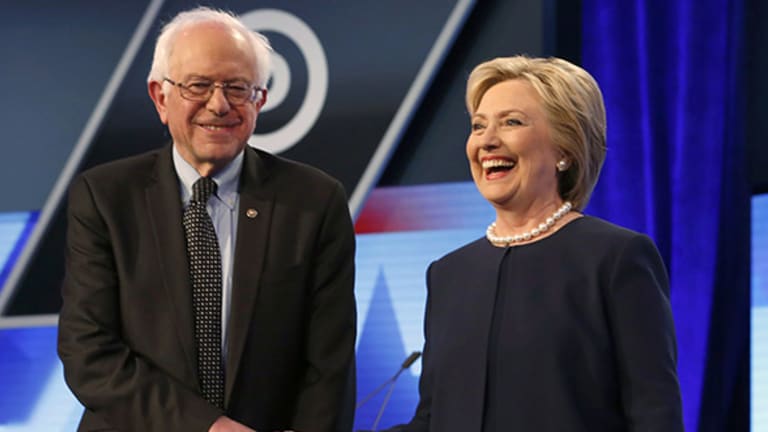 3 Signs Clinton, Sanders, Democrats Will Unite to Take On Donald Trump
The primary contest between Hillary Clinton and Bernie Sanders has at times been bare-knuckled, but here are three signs the Democratic Party will unite to defeat Donald Trump.
Editors' pick: Originally published June 10.
Democratic presidential candidate Bernie Sanders has delivered a surprisingly strong and sometimes harsh challenge to Hillary Clinton during the primaries. Three events on Thursday, however, indicate the Democratic Party could be moving toward reconciliation and unity as it shifts its focus toward confronting presumptive Republican nominee Donald Trump.
1. Sanders' Speech After Meeting With President Obama
On Thursday, after meeting with President Obama, Clinton's Democratic opponent Bernie Sanders said, "Needless to say, I am going to do everything in my power, and I will work as hard as I can, to make sure that Donald Trump does not become president of the United States." 
Sanders also said Trump would be a "disaster" as president. Toward the end of his speech Sanders said that he looked forward to meeting with Hillary Clinton in the "near future to see how we can work together to defeat Donald Trump and to create a government which represents all of us and not just the 1%." 
This means Sanders appears likely to bury the hatchet and support Hillary Clinton in order to have a Democratic president and ensure that the reality TV star and real estate magnate stays out of the Oval Office.
In an April interview, Jane Sanders, the wife of Bernie Sanders, hinted at the need for party unity and said she thought that when either Clinton or Sanders became the party's official presidential nominee, the other Democrat would support the winner.
In an interview this week with The Washington Post, Hillary Clinton said that she hoped that Bernie Sanders would be a full partner by fall. 
She said, "I think he and his supporters understand how much is at stake, that we need to join together to defeat Trump. And I'm going to really reach out, do everything I can to persuade him."
Bernie Sanders' speech after the White House meeting reflects his strong opposition to a Trump presidency. Sanders supporters will probably be nudged to support Clinton as November approaches. 
2. President Obama Endorses Hillary but Also Praises Sanders
On Thursday, after his meeting with Bernie Sanders, President Obama released a video supporting Hillary Clinton and stressing that there has never been "someone so qualified to hold this office." Obama said, "I know how hard this job can be, that's why I know Hillary will be so good at it. She's got the courage, the compassion and the heart to get the job done."
In his video President Obama also praised Bernie Sanders for an "incredible campaign" and "for bringing young people into the process." In his meeting with Sanders, he said he also thanked him for focusing on important issues like "economic inequality" and "the outsized influence of money" in politics.
Stressing the importance of party unity, however, Obama said, "Senator Clinton and Senator Sanders may have been rivals during this primary but they're both patriots who love this country and they share a vision for America that we all believe in."
3. Elizabeth Warren Supports Hillary Clinton
On Nov. 30, 2015, Sen. Elizabeth Warren was the only female Democratic Senator missing from an endorsement event and fundraiser for Clinton's presidential campaign. 
But on Thursday, in an interview with the Boston Globe, Warren endorsed Hillary Clinton for the president. She was quoted saying, "I'm ready to jump in this fight and make sure that Hillary Clinton is the next president of the United States and be sure that Donald Trump gets nowhere near the White House." 
Like Sanders, Warren is popular with the Democratic Party's progressive voters, and her support for Clinton could persuade some of them to vote for her.
Warren has often taken similar stances as Sanders on financial reform. Warren has proposed (along with Republican Sen. John McCain) a 21st Glass-Steagall bill, which aims to separate investment banking from commercial banking and reinstate some of the principles that were in the Glass-Steagall Act of 1933. Sanders has been a vocal supporter the current bill. 
In an interview this week with ABC News, Hillary Clinton declined to say whether she was considering Warren as her running mate, but she did say she has "the highest regard for Senator Warren." 
Democrats have already started working on unifying their party. In her interview with ABC News, Clinton had said that she wants to unify the party and praised Sanders for his "dynamic and exciting" campaign. She added that she wants his supporters to "know that I'm going to be working on a lot of the same issues that Senator Sanders and I spoke about, that we both care about, and that we have so much more in common than we do with the Republican presumptive nominee, Donald Trump."
This article is commentary by an independent contributor. At the time of publication, the author held no positions in the stocks mentioned.