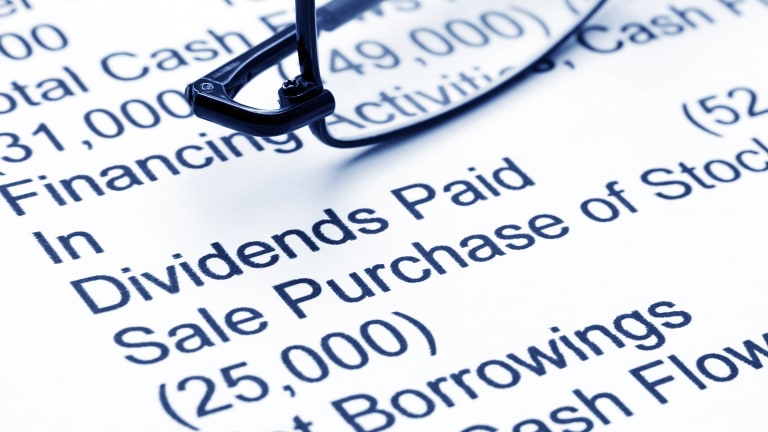 3 Reliable High-Dividend Stocks to Buy in May
Thomson Reuters, Simon Property Group and R.R. Donnelly have recently beaten earnings expectations and offer strong yields.
So far, close to two thirds of S&P 500 companies have reported their quarterly numbers, and more than three in four have beaten Wall Street's estimates.
However, it remains to be seen if positive earnings reports will translate to extended spikes in stock prices. If there's no rise, income investors can rely on these three safe dividend picks for the end of earnings season.
These companies have recently beaten analysts' estimates. They have made sound strategic decisions and are growing. Moreover, they have consistently offered dividends and boast attractive yields upwards of 3%. They are good choices for retirement planning.
Thomson Reuters (TRI) - Get Thomson Reuters Corporation Report
Thomson Reuters largely provides financial news, data and analytics and caters to law and accounting firms, corporations and governments.
In the most recent quarter, the company beat analyst estimates on earnings per share (EPS), continuing the trend of the previous three quarters. Helped by increased sales of its tax and accounting division, Thomson Reuters delivered earnings of 48 cents a share, versus the estimate of 44 cents.
What really makes Thomson Reuters an attractive income investment is the 3.3% dividend yield. And this yield comes even though the stock is trading close to its five-year high.
The stock has  consistently increased dividends over the past eight years, even during the peak of the financial crisis of 2008-2009.
Despite facing competition from smaller vendors and witnessing banks cut costs, Thomson Reuters has managed to perform well. To trim fat and strengthen operations further, the company is putting its intellectual property and sciences division up for sale. The unit generates under 10% of Thomson Reuters' revenue and is not a core business for the company, according to Bloomberg.
Most recently, the company said it would maintain its 34 cents a share dividend during the quarter and will pay it on June 15 to shareholders on record on May 19. This stock should be an integral part of your wealth-building strategy.
Simon Property Group (SPG) - Get Simon Property Group, Inc. Report
Simon Property is a retail real estate investment trust (REIT) that owns, develops, and manages retail properties such as malls and retail outlets.
Not only did the company beat earnings forecasts in the last four quarters, it also recently raised guidance on 2016 earnings. That's contrasts sharply to the grim picture of the American retail sector. The new range stands at $6.01 to $6.11, as against January's guidance of $5.95 to $6.05.
A major reason for confidence in Simon is its constantly expanding funds from operations (FFO). From $2.43 billion in 2011, Simon's FFO stood at $3.57 billion in 2015, up nearly 50% during the period.
Simon also raised its 2016 guidance of FFO, which is actively tracked to measure REIT's profitability. The company has raised FFO estimates to $10.72 to $10.82 a share, from $10.70 to $10.80 a share earlier as occupancy and per-foot rates have climbed.
The company stock's nearly 12% gain over the last year has been sweetened by its $6.4 per share annual dividend payout, translating to a 3.2% dividend yield for shareholders.
The consensus forecast among 23 polled analysts is that the stock will outperform the market.
With expanding FFO and improving rates, investors can expect SPG to continue its six-year dividend growth streak.
The ex-dividend date for the stock is May 13.
R.R. Donnelley & Sons (RRD) - Get R.R. Donnelley & Sons Company Report
R.R. Donnelly is a provider of print, digital and supply chain solutions and is a classic stock for steady income.
The company has paid uninterrupted annual dividends of $1.04 annually since 2004, irrespective of the ups and downs in economic cycles.
At just under 6%, the stock's dividend yield far outpaces the services sector average of 3.42%.
Similar to Thomson Reuters and Simon, R.R. Donnelly also beat analyst estimates on earnings in the most recent quarter, coming in at 22 cents a share versus estimates of 18 cents a share. Furthermore, the company has reiterated its 2016 outlook on net sales of $11.3-$11.5 billion. R.R. Donnelly may also complete its spin-off of LSC Communications and Donnelley Financial Solutions by October.
Three of four analysts covering the stock rate it an Outperform. Analysts have a 12-month median price target of $26 on the stock, an upside of 54.5% from current levels.
To book the dividend, investors need to buy the stock before May 11.
---
Ultimate Retirement Guide: Are you making the right investment moves for your retirement, or are you blowing it by making all-too-common money mistakes? There are crucial steps that you should be taking now, to build wealth over the long haul. To find out whether you'll have enough money in your later years, download our free report: Your Ultimate Retirement Guide.
This article is commentary by an independent contributor. At the time of publication, the author held no positions in the stocks mentioned.