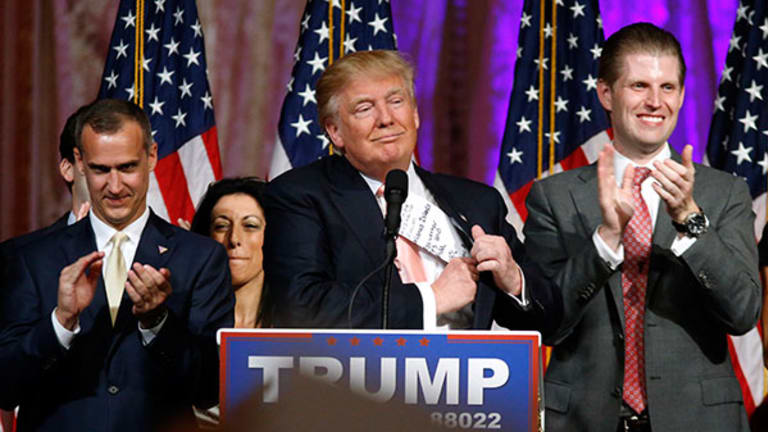 3 Reforms Proposed by Donald Trump That Could Hinder the Economy
The GOP presidential candidate's ideas on immigrants and jobs data, foreign workers and Silicon Valley, and tax reforms and the associated costs could do damage if they are enacted.
Last year in an interview with The Hill, Republican frontrunner Donald Trump called the Dodd-Frank Wall-Street Reform and Consumer Protection Act that became law during the Obama administration a "disaster."
The 2010 Dodd-Frank Act was established to prevent events similar to those that led to huge bailouts during the 2008 financial crisis, but it has been criticized by many Republicans, who say the law punishes small businesses.
But in the same interview with The Hill, Trump accused Federal Reserve Chair Janet Yellen of keeping interest rates low to make President Obama look good.
According to CNN Money, David McIntosh, the president of Club for Growth said in a statement, "Donald Trump is the worst Republican candidate on economic issues."
The front-runner for the Republican nomination has suggested reforms for the economy, many of which are based on some bold assumptions that some say could come at a huge cost.
Here are three reforms that Trump has proposed that analysts and observers say could hurt the economy. 
1. Immigrants and jobs
In a six-page document, he said that his immigration plan is based on three principles, one of which is to build a wall along the southern border, paid for by Mexico.
NPR described described this plan as being "like the candidate: flashy, strident and headline-grabbing."
On Jan. 11, Politico compiled the views of several economists on Trump's policies in a single article.
According to the article, Mark Zandi, chief economist for Moody's Analytics and an adviser to Sen. John McCain's (R-Ariz.) 2008 presidential campaign, said, "If Trump's policies were enacted, it would be some form of disaster for the economy. If you force 11 million undocumented immigrants to leave in a year, you would be looking at a depression."
This could considerably and adversely affect the "full employment" of the nation.
American Action Forum estimated the cost of Trump's immigration plan to be somewhere around $420 billion to $619 billion and could take 20 years.
The analysis also concluded that the implementation of his plan could reduce real gross domestic product by 5.7% or $1.6 trillion.
2. Foreign workers and Silicon Valley
The immigration policy proposal by Trump also emphasizes the need to hire from the domestic pool of unemployed workers before hiring a foreign worker. He also expressed his reforms for H1B visas under which U.S. employers hire foreign workers in specialty occupations.
According to The Washington Times, during the Republican debate at the University of Miami on March 10, the GOP front-runner said, "I know the H1-B very well. We shouldn't have it; it's very, very bad for workers."
"It's unfair to our workers and we should end it," Trump said, adding that that program should be evaluated and ended if needed within one to two years after he takes office.
CNN reported that deporting millions of immigrants is "exactly the opposite of what Silicon Valley and many large companies have called for."
Many states with high-tech culture and start-ups have a huge number of H1B applications and workers.
These are concentrated in states with vibrant start-up cultures, such as California, Texas, New York and Illinois, according to a map from the Office of Foreign Labor Certification.
3. Tax reforms and the associated cost
In an interview with Time Magazine last year, Trump said, "I have hedge fund guys that are making a lot of money that aren't paying anything."
Then he told CBS that those who work at hedge funds will pay higher taxes because they "are getting away with murder."
Hedge fund managers pay capital gains tax of 20% instead of 39.6% that is meant for the high-income bracket.
However, in order to change that Trump would have to restructure the tax system that allows the gains by fund managers to be treated as capital gains instead of ordinary income.
His tax reforms aim to achieve tax relief for middle-class Americans, a more simplified tax code, growth of the American economy and no addition in debt or deficit.
But an analysis of Trump's tax plan by Citizens for Tax Justice showed that it would cost $12 trillion, adding to the national debt over a decade.
The tax plan would "balloon the national debt or would have to be paid for with a mix of spending cuts and tax increases," according to the report.
This article is commentary by an independent contributor. At the time of publication, the author held no positions in the stocks mentioned.