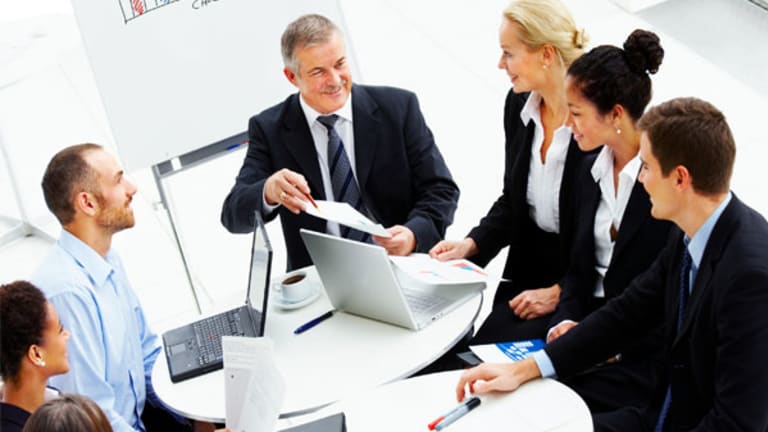 3 Recession-Busting Stocks to Consider
Rely on companies that target financially secure customers, not middle-income Americans impacted by economic uncertainty.
NEW YORK (TheStreet) -- Jim Cramer made an excellent point Friday night on his Mad Money television program on CNBC, noted here by Scott Rutt of TheStreet:
Make no mistake, the indecision in Europe will cause a global recession, and no one is immune to this crisis ...
However, Cramer said there are still bull markets out there, albeit small ones, and there are still companies immune to Europe's woes .
Though Cramer might not share my overall sentiment, he did call out
Lululemon
(LULU) - Get Report
, which reports earnings Thursday, as one company to keep an eye on. He argues that a strong report from LULU could propel other growth stocks.
I agree. And I also add another angle to consider as LULU gets set to report.
I am long and quite bullish LULU. I tend not to like being long this type of stock, particularly via options, ahead of earnings. With LULU, I make an exception.
I have faith in CEO Christine Day's retail strategy. No discounts. Limited inventory.
Speaking of inventory, the company spooked Wall Street a bit, as inventories
more than 80% between the end of the 2010 and 2011 fiscal years. Because I have as much faith, if not more, in LULU's affluent target customer, I expect her (and him) to have gobbled up that inventory over the last several months . . . at, for the most part, full retail. This equals massive revenue and profits.
I live amongst loyal Lululemon shoppers. I take Spinning class with many of them several times a week. I check stores frequently in Santa Monica and San Francisco. In both cities -- and in dozens of other places like them -- the Lululemon logo is on the streets. This is not a fad for the fickle; it's here to stay.
It's a dynamic similar to the one that keeps
Apple
(AAPL) - Get Report
humming along.
Apple achieves high societal status. Like LULU, Apple products are aspirational to many. But it is absolutely not a fad.
Silly bandz. Japanese erasers. Pillow pets
. These things are fads among an unreliable set of buyers. (Ask my eight-year old).
Beautifully made products that serve practical and psychological needs are hardly fads. Apple and Lululemon have made the connection; they're both officially part of their core customers' lives.
And, most importantly, this is a customer that either does not care or tends not to need to ask how much something costs. Walk along shopping streets in cities where the affluent reside. You'll ask yourself, "
What economic uncertainty
? and
Is there really a chance of another recession
?" Not here. At least not among the urban and semi-urban "elite," for want of a better word.
If we're really headed toward a global recession or some other significant economic explosion, I want my money in LULU, assuming Thursday goes as expected. And, regardless of almost anything, I, despite my long-term bearishness, want to be long AAPL. When wide swaths of market uncertainty exist, I consider AAPL a flight to safety for the same reasons I like LULU. Apple's target market will continue to buy Apple's forthcoming products until Apple gives them a reason not to.
While not in the same class as LULU or AAPL,
Tesla Motors
(TSLA) - Get Report
should withstand any broad market turmoil the next several months bring. The electric vehicle maker delivers its luxury sedan, the Model S, later this month in the U.S.
As of the last
update
in May, Tesla counts over 10,000 Model S reservations. While refundable, that's $5,000 a pop, waiting to be booked as revenue (in addition to the full payment for the car) once delivery takes place.
Like LULU, Tesla targets a very specific niche. And it only uses resources in the markets where this demographic resides. It's about to open stores in Santa Monica and Scottsdale to complement existing showrooms in West LA and Phoenix. It's already in most of America's affluent enclaves, ranging from Manhattan to Seattle to Washington, D.C. to Orange County, Calif.
Given the uncertainty, I cannot understand why investors would park money in mainstream automakers such as
Ford
(F) - Get Report
and
General Motors
(GM) - Get Report
.
If you believe in Ford and GM's long-term story, without doubt, it's best to accumulate when everybody else runs scared. I am on board with that strategy, however, expect to sit on relatively dead money for some time. That's the safe route and, if I had faith in Ford and GM's futures (I really do not), I might be inclined to take it.
If I am looking for a top performer over the next six to 18 months in the auto industry, TSLA wins by far. It faces much less uncertainty than makers that rely on middle-income Americans for millions of vehicle sales per year. Tesla sells a focused product, at a premium, to the type of consumer who signs the check for a Model S wearing a Lululemon T-shirt with the latest iPhone in their chest pocket.
This article is commentary by an independent contributor, separate from TheStreet's regular news coverage.
At the time of publication, the author was long LULU.