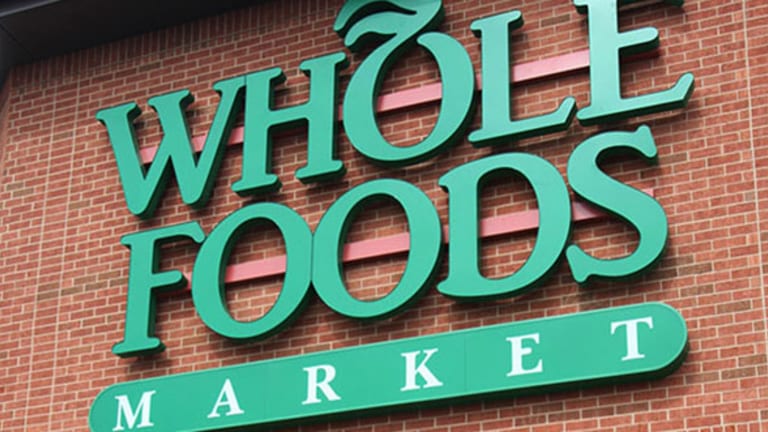 5 Reasons to Be Troubled by Whole Foods' Latest Results
The embattled organic food grocer may have beat earnings expectations, but there are still reasons to be concerned about the company.
Updated to include comments from earnings call and the Thursday stock price.

Whole Foods (WFM) still has some work to do in stabilizing its business.
On Wednesday, the embattled organic food grocer reported first-quarter earnings of 46 cents a share, surpassing forecasts for 40 cents a share. Same-store sales fell 1.8%, compared to Wall Street's forecasts for a 2.2% drop. The company hiked its full-year earnings outlook to $1.53 a share, from the $1.50 a share offered three months earlier.
"Overall, I think the tone of the quarter is that we're moving forward; we're making progress step by step," said Whole Foods co-CEO Walter Robb on a call with analysts.
Shares of Whole Foods initially rose about 5% in after-hours trading Wednesday, as better-than-expected earnings led investors to believe the grocer was finally turning the corner amid lower prices and cost cuts. But the stock quickly reversed as executives made several cautious statements on the call with analysts. After the opening bell Thursday, the stock was falling by 1.3% to $28.50.
TheStreet takes a brief look at the top reasons why investors may have cooled on Whole Foods' latest results.
1. Sales trends are still pretty ugly.
Sales trends have actually worsened from the first quarter. According to Whole Foods, same-store sales for the first three weeks ended Feb. 7 fell 2.8%. Although the company said results were hampered in part by inclement weather, it declined to quantify the impact.
What it did quantify was that the underlying business remains weak.
"We also saw our two-year comparable store sales [trend] decelerate in non-weather [impacted] regions, as well as weather-affected regions," remarked Whole Foods CFO Glenda Flanagan on the call. 
2. Whole Foods is feasting on its pressured stock.
The company announced a massive new $1 billion share repurchase plan back in November. And it's wasting no time in purchasing a stock that has lost a whopping 45% in the past year vs. a 12% drop for the Dow Jones Industrial Average. Whole Foods bought back $634 million or 21.2 million shares of its stock in the first quarter.
The question is: with the stock still under pressure, is Whole Foods spending its money wisely by purchasing its stock?
3. Profit margins are hurt by lower prices.
Amid investments to make its notoriously expensive organic products more affordable, Whole Foods' gross profit margin fell 83 basis points year over year to 34%, narrowly missing Wall Street's estimates of 34.1%.
President and COO of Whole Foods A.C. Gallo said, "There's a fair number of items we've lowered prices on so far this year, and have plans to do more as the years go on." A good portion of Whole Foods' investments in lower prices have been targeted to daily staples such as fresh fruit, vegetables and milk. 
4. How confident is Whole Foods in its turnaround?
Despite a better-than-expected quarter for profits and a dose of optimism by Robb, Whole Foods looks a bit unsure of the pace of its turnaround. Whole Foods reiterated its 2016 sales growth guidance of 3% to 5%, as well as its 8.5% profit margin target for earnings before interest, taxes, depreciation and amortization.
In effect, Whole Foods has hinted that its first-quarter earnings beat was fueled more by share buybacks than by a sustainable improvement in results. Whole Foods' diluted share count fell about 6.7% year over year in the first quarter due to its repurchase activity, which helped to prop up earnings per share.
5. The competitive environment remains ruthless. 
Unfortunately for Whole Foods, the competition in the organic food space has not died down -- if anything, it has gotten more intense. Companies such as Kroger (KR) - Get Kroger Co. (KR) Report and Target (TGT) - Get Target Corporation Report continue to stock their shelves with cheaper organic alternatives to Whole Foods, while Trader Joe's remains a tough competitor in many markets.
"There are lots of competitors and everybody's active right now. It's a very evolving marketplace," said Robb, adding, "We feel good about our tracking tools [for competitor prices] and we're getting a lot more aggressive ourself with promotions and price investments."