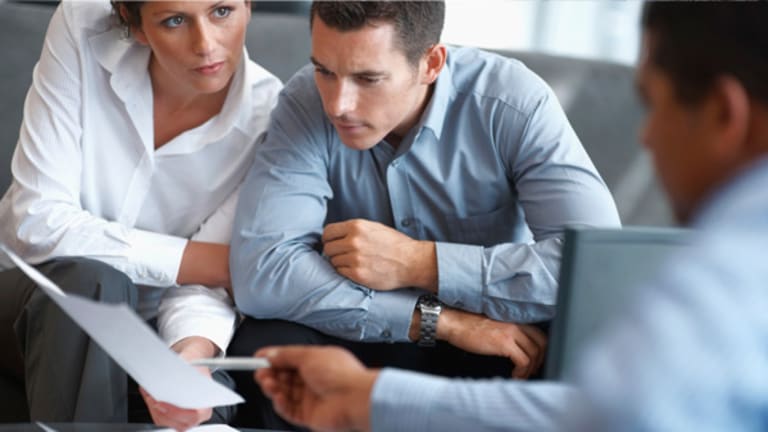 The following commentary comes from an independent investor or market observer as part of TheStreet's guest contributor program, which is separate from the company's news coverage.
NEW YORK (
) --
Federal Reserve
Chairman Ben Bernanke once again is center stage on Wall Street, as the Federal Open Market Committee meets this week. Will investors be greeted by some big news from Bernanke? Will we see a big market response thanks to some insights from the Fed's leader or any of its representatives?
Highly unlikely. The sad reality is the Fed just doesn't have a whole lot left to offer -- aside from being the punching bag of Ron Paul and other critics. And to be completely honest, Bernanke and the rest of the Fed don't really seem all that interested in making a lot of noise right now. Rather, the central bank is simply contenting itself with defending its track record and pointing to a hopeful future.
Federal Reserve Chairman Ben Bernanke
Also see: Top 5 Blue-Chip Stocks To Buy
In the words of Ben Bernanke, the Federal Reserve "continues to explore ways to further increase transparency about its forecasts and policy plans."In short, expect the final FOMC session of the year to be long on cheerleading and self-justification, and short on any material policy actions.
Also see: Never Sell These 3 Stocks
It all adds up to a whole lot of nothing from the Federal Reserve -- both in the short term and for many months to come. And here's why:
Rates Going Nowhere
The federal funds rate is the central bank's most integral tool to spur economic growth, but that tool has been blunt for quite some time. In Dec. 2009, the fed funds rate was lowered to effectively zero. So it simply cannot go any lower. And if you listened to Ben Bernanke in early August, you will recall the Fed chairman was clear about plans to keep interest rates at record lows until mid-2013.
Also see: Economy's Latest Enemy -- Mother Nature
The central bank is waiting for a sign that the economy is out of danger before raising rates -- and it'll be waiting for a long time. The debt crisis in Europe weighs on the market, unemployment remains high, housing remains brutalized and consumers are starting to get jittery again.
Even the Fed Can't Agree With the Fed
The most interesting policy possibilities from the Fed are not what it will decide, but how members of the Fed committee will debate past actions and the present course of the central bank.
The FOMC had three dissents to its Aug. 9 statement signaling rates might stay near zero for two years, calling for raising rates to stave off inflation sooner rather than later. Two other Fed members believe monetary policy decisions should be more liberal and that the central bank should continue to stimulate the economy and job market at all costs. For instance, the president of the Federal Reserve Bank of Chicago proposed pushing short-term interest rates at near-zero until the unemployment rate drops below 7%. That could be quite some time -- and a stark contrast to the tightening called for by inflation hawks on the other side of the table.
It ultimately is up to Big Ben to decide whether the central bank should go to even greater lengths (and expense) to stimulate growth.
Operation Twist taught us just how creative the Fed is willing to get, but amid growing dissent and division it is becoming increasingly difficult for the Fed to take any action.
QE3 Is Dead In the Water
Some folks continue to insist Bernanke will push for another round of quantitative easing -- despite the lack of any such proposal at the last few meetings as QE2 has drawn to a close. Comments by several Fed officials hinted at another round of quantitative easing if the economy continues to deteriorate, but surely the red-hot run of October has provided a stark contrast from the gloom of August when such speculation over QE3 arose.
Most practically, the political environment in Washington is antithetical to those efforts. Aside from philosophical arguments about the role of the Fed and long-term inflationary fears, there is a very good case to be made that QE2 did not result in material improvements to the economy. The job market remains ugly and lending remains stagnant.
Republican members of Congress -- and presidential candidates -- have created quite a hostile environment for any Fed plans to "print money out of thin air," and back in September we even had a blunt letter from Republican leadership in both the House and Senate warning Ben Bernanke to sit on his hands and do nothing. The Fed embarked on Operation Twist anyway, but a push into QE3 would create a firestorm in the run-up to debt debates and a discussion over the role of government by the congressional super committee across November and December.
In short, even if there was the will within the Fed to launch QE3 (which is questionable) and even if there was an ironclad case for QE3 (which there isn't), there are a host of outside influences that would undermine the effort. So it's a nonstarter.
Jeff Reeves is the editor of InvestorPlace.com. Write him at editor@investorplace.com, follow him on Twitter via @JeffReevesIP and become a fan of InvestorPlace on Facebook . As of this writing, he did not own a position in any of the aforementioned stocks.
More From InvestorPlace:
Top 6 Dividend Picks For November
3 Technology Stocks With A Ghastly Future
BofA Customers Beat Occupy Wall Street to the Punch
This commentary comes from an independent investor or market observer as part of TheStreet guest contributor program. The views expressed are those of the author and do not necessarily represent the views of TheStreet or its management.