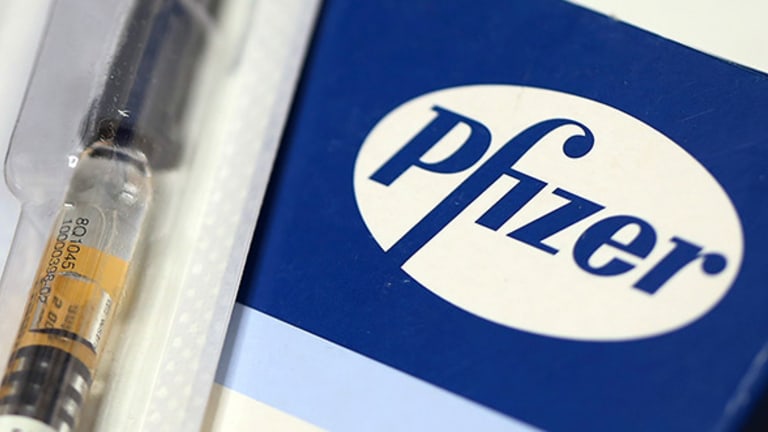 3 Reasons Pfizer Is the Strongest Big Pharma Play Now
Pfizer is gaining ground with its tumor-killing and immuno-oncology drugs.
Pfizer is gaining ground with its tumor-killing and immuno-oncology drugs.
NEW YORK (TheStreet) -- Think of the best drug companies as cash machines riding a massive demographic wave. This is the aging populations of developed countries that need more meds and the growing middle classes in developing countries with the income to afford them.
Further, drug companies have been getting hammered over the past month or two, with biotech leading U.S. stocks to their worst quarter in four years. 
So pharma deserves a spot in your portfolio and now is a good time to buy. Dow component Pfizer (PFE) - Get Report is the best choice. Besides its 3.5% dividend yield, here are three reasons why:
1. War on Cancer
Just a few years ago, Pfizer had almost no presence in the market for anti-cancer drugs. The lion's share of its profits came from just two drugs: Lipitor(lowers cholesterol) and Viagra (for erectile dysfunction).
But Pfizer is gaining ground in this rapidly expanding field, challenging such established rivals as Merck (MRK) - Get Report and Bristol-Myers Squibb (BMY) - Get Report .
Pfizer now has eight approved cancer medicines, four of them launched in the last four years. Additionally, it has three other drugs in late-stage testing -- usually the last round before seeking regulators' approval -- and 14 other drug programs in early stages.
The company has been expanding its reach both in tumor-killing drugs and the new class of drugs called immuno-oncology that stimulate the immune system to mount a stronger defense against cancer.
Ashton Evans, an analyst at Edward Jones, said that Pfizer has "the scale and R&D experience to be a major player in the immuno-oncology market. We've seen them do a lot in a short time."
Evans believes that by 2020 Pfizer could boost its cancer drug sales to about 10% of revenue, up from about 4% of its $50 billion in annual revenue now.
The Food and Drug Administration just gave the go-ahead for Pfizer's skin cancer immunotherapy avelumab.
"By harnessing the body's immune system, we may be able to provide hope to patients fighting Merkel cell carcinoma," said Mace Rothenberg, Pfizer's senior vice president of clinical development.
2. Strong Financials
Pfizer's net profit margin of 22.2% outperformed the industry average of 18.7%.
The company's last earnings report, at the end of July, beat analyst estimates. Pfizer reported earnings a share of 56 cents, exceeding analysts' consensus estimates by about a nickel. The company earned $11 billion during the quarter, in line with expectations.
The share price of around $30 is no higher than it was nine months ago, which, given the company's growth prospects, shows potential to rise. The current debt-to-equity ratio, 0.53, is below the industry average of 0.72, suggesting that management has done a good job of keeping debt levels under control.
Also, Pfizer's price-earnings ratio of 21 is much lower than Bristol Myer's ratio of 53. Merck's ratio of 15 is good, but its near-term growth prospects are less than Pfizer's.
3. Patent Protection 
The key to evaluating drug stocksis to weigh the number of drugs that will lose patent protection against the number of treatments in late-stage clinical trial. Once a patent expires, generic drugs flood the market, triggering steep declines in gross margins and net profits.
Pfizer has several well-established products that will remain patent-protected for several years, including Lyrica (which treats fibromyalgia and shingles), Celebrex (arthritis), Enbrel (plaque psoriasis) and Zyvox (bacterial infections).
Eli Lilly (LLY) - Get Report, on the other hand, is seeking new sources of profits, after what its CEO recently conceded was "the loss of significant revenue for Cymbalta and Evista following the expiration of our U.S. patents." Merck's Gardasil vaccine against human papillomavirus is also coming under increased competition from other big drug firms.
If you're looking for stable exposure to some of the biggest investing themes of the next few decades, Pfizer is certainly a great bet for the reasons above. However, if you're looking to assume more risk (and target the higher potential rewards that come with it), an emerging technology story with major healthcare (and defense) applications could be right for you. Better yet, the main companies behind it are publicly traded, and being totally ignored by mainstream Wall Street analysts. Watch this free presentation now to learn more.
This article is commentary by an independent contributor. At the time of publication, the author held no positions in the stocks mentioned.